Fundamental Analysis For Novices Business Climate Indicator
Welcome to the educational video where in this session, we will be looking at Fundamental Analysis For Novices!
The Business Climate Indicator or BCI
So what is it, and how does it affect currency trading? Trading is a multifaceted and multi-layered business machine. Now just because the majority of new forex traders hardly ever bother with fundamental analysis, which, incidentally, is why over 70% fail, in institutional trading, traders will look closely at all fundamental indicators, of which the BCI is an important one. These institutions also have professional economists and analysts looking at this kind of data and relaying their findings to the trading desk, who will act on the views of the analysts. In essence, you are up against these teams when you trade, so it is better to be knowledgeable on such subjects in order to more fully understand price action.
Manufacturing is the process of taking raw materials, substances, and components and turning these into finished products that can be sold in the marketplace, both at home and abroad. There are many ways that analysts look at the health of a nation, but the BCI is a key barometer. It looks at the development conditions of the manufacturing sector.
In the Euro area, a sample of 23 thousand companies representing all sectors within manufacturing, including automotive vehicles and parts, planes, trains, transportation equipment, machinery, electrical sector, chemicals. Energy, construction, food industry, textiles, and consumer goods. Millions of people are employed in this sector.
Each month respondents are asked, during a brief prearranged phone call, five key questions: the number of new orders, for domestic and export consumption, production volumes, their inventories for the last three months, and their outlook for production volumes. The respondents are also asked if the situation has improved, deteriorated, or remained the same.
The results are converted into a unit measurement and released to the market at set times, subject to an embargo.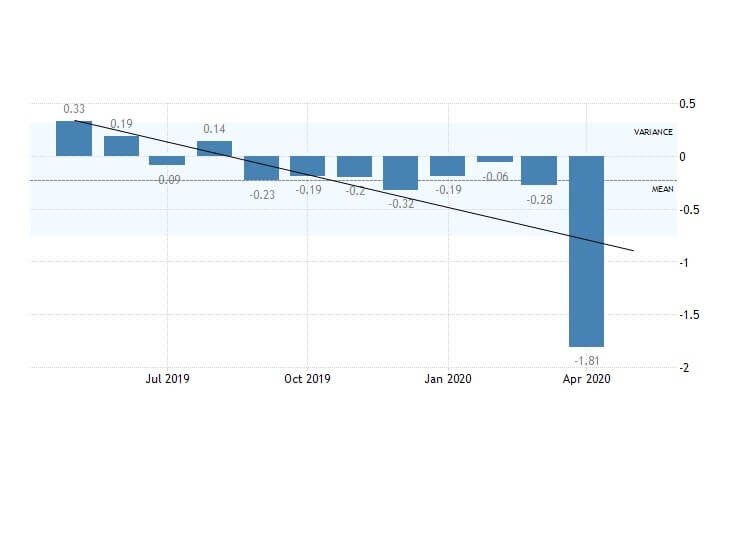 In the combined Eurozone BCI, numbers above 0 suggest increased confidence in near future business performance, and numbers below 0 indicate pessimism towards future performance. The minus numbers in this chart reflect the devastating effect that the coronavirus pandemic has had on manufacturing recently.
So, how to use this information when trading currencies. Quite simply, the worse the number, the worse the economic outlook for a country. However, keep an eye out for the release of this information in your economic calendar. And note, that the eurozone comprises 27 countries all releasing their individual BCI each month, and where 19 countries are using the Euro as their currency. Therefore, If you see sharp, unexpected moves in the BCI release, wait for the big guns to set trend direction and then jump on it according to your own trading methodology.