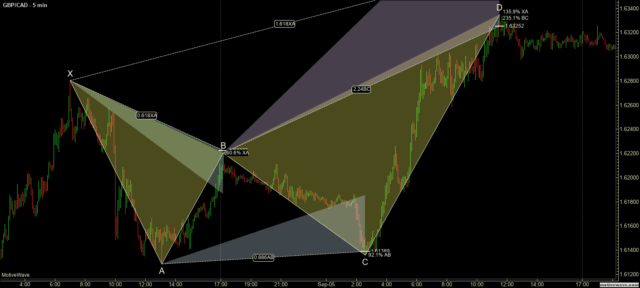 The Crab Pattern
The crab pattern is another of Carney's harmonic patterns and one of the first that he discovered. The essential condition of this pattern is the extremely tight and resistance endpoint of 161.8% of the XA leg.
Like almost all harmonic patterns, the potential reversal in price action after this pattern has been complete is generally fast, violent and powerful. However, Carney gives special attention to this pattern and reports that it is usually the most extreme of all harmonic patterns.
The pattern is not as frequent as others due to its five-point extension structure. It is desirable to utilize an oscillator to filter entries of this pattern according to any divergence between price and your selected oscillator.
Crab Pattern Elements
B must be a 61.8% retracements or less of XA.
The BC projection can be quite extensive, generally 261.8%, 314%, or 3618%.
An AB=CD 161.8% or an Alternate AB=CD 127% is required for the formation of this pattern.
The extension of 161.8% of XA is the end limit of the pattern.
C has an expansive range between 38.2% and 88.6%.
Sources: Carney, S. M. (2010). Harmonic trading. Upper Saddle River, NJ: Financial Times/Prentice Hall.  Gilmore, B. T. (2000). Geometry of markets. Greenville, SC: Traders Press.  Pesavento, L., & Jouflas, L. (2008). Trade what you see: how to profit from pattern recognition. Hoboken: Wiley.