Reversal Patterns is an indicator created in July 2017 by developer Pro Berza. This tool contains both the Engulfing Scanner and the Pinbar Scanner. The indicator comes with several types of alerts that make it easy for a merchant to expect a pattern to be formed, to be pointed out, and then check the table to see what a larger historical tells him.
Overview
The Pinbar, or Pinnochio bar, is a great chandelier pattern that can produce good commercial results if traded correctly. The main idea behind these patterns is that the price wants to trick us into thinking in the wrong direction. When you form a Pinbar Alcista, for example, try to convince us that the price goes higher, but in reality, the price is going down at the end of the bar.
These patterns can be powerful reversion signals when used in the right way and in the right location. In addition, Pinbar's patterns can show us profit points, which can give us the opportunity to enter a trend already started.
The engulfing pattern is a chandelier pattern that can usually be found after a period of pressure up or down. A bullish pattern is usually found near the end of the downward movement, while a bearish pattern will be at the top of an upward movement.
When an Engulfing pattern has formed, the idea behind it is that the investor feeling has changed from bullish to bass or from bassist to bullish. This is the point at which we prepare for a potential investment that can lead to good results.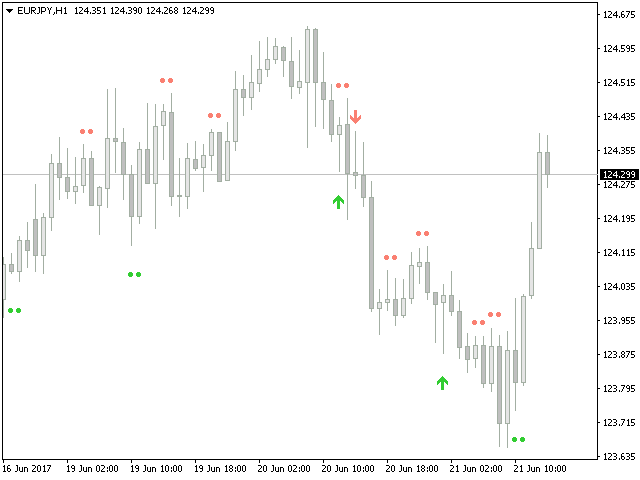 The main parameters of this indicator are as follows:
Custom period – time frame, in which you want the indicator to scan patterns. This parameter could be one of these:

Current TF – M1, M5, M15, M30, H1, H4, D1, WK1, MN1.

Max bars look back – how many bars again the indicator will start monitoring at startup. This is useful for viewing historical settings.

Scan engulfing – enables/disables scanning for possible Engulfing configuration patterns.

Scan pinbar – enables/disables scanning of potential Pinbar configuration patterns.

Pin bar minimum tail length percentage – the percentage of the length of the tail compared to the size of the candle. The longer the percentage, the better.

Style width pinbar – output size for Pinbar pattern.

Style bullish color engulfing – color output when we have a bullish gobbling pattern.

Style width engulfing – output size for Engulfing pattern.

Do send notification – sends a notification when a pattern configuration has been formed (enables MT 4 Tools options notifications).

Do send mail – send an e-mail when a pattern configuration has been formed (enable Metatrader 4 Tools Email Options; fill in the required fields).

Do show alert – display an alert and play a sound when a pattern configuration has been formed.

Do show comment – show a comment in the upper left corner of the chart when a pattern configuration has been formed.
Service Cost
If you are interested in buying it anyway, this indicator is available on the MQL market at a price of 45 USD. A free demo is offered, but at this time, it is not clear as to how long the free testing period lasts. It could very well be that the demo is strictly a one-time demonstration, used to show end-users how the indicator functions only. 
Conclusion
In short, we are talking about an indicator with some complexity, because it is not always easy to make decisions contrary to what the market apparently provides. We think this indicator is more suitable for advanced traders, who have a better knowledge of the markets and are more accustomed to operating in trend exhaustions.
We have not found comments from users who have tried this tool, so we do not have an idea about its real utility. We think it is best to try the free demo version in order to make a better assessment of this indicator.