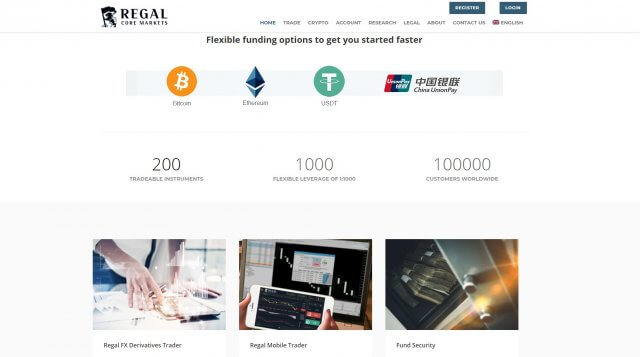 Regal Core Markets (RCMFX) is an offshore Forex and CFDs broker on indices, commodities, and cryptocurrency, founded in 2019. Their website is well-built and available in English and Chinese, although we have detected a lack of relevant information on the business features of their accounts, such as types of accounts they offer, expenses and processing of withdrawals, the minimum deposit to open an account, etc.
Regal Core Markets is registered in Vanuatu and is licensed locally by VFSC. The VFSC license is probably the easiest to get for a small broker who is starting his business. Local authorities in Vanuatu require only USD 2,000 of capital before providing the company with a license to become a "Securities Distributor". If we compare this requirement to the AUD 1.000.000 required by the Australian Securities and Investments Commission (ASIC), we see that the difference is enormous. Also, ASIC imposes funds segregation accounts for customers. This policy prevents brokers from accessing their client's accounts.

Regal Core Capital, informs on its page that it maintains segregated accounts, this is usual in some offshore brokers; they comply internally with specific requirements of the significant regulators because for the lack of the necessary money initially, they cannot access them. Another specific aspect of Regal Core Markets is that they seem to be aimed at the Chinese market, as this is the only other language version available, other than English.
Finally, we haven't been able to find out if Regal Core Markets is a broker that applies an STP / ECN policy or is a " Market Maker ", broker. His website says nothing about it, so we can imagine that if he were an STP broker, he would probably advertise it. Although we insist that being a Marmet Maker broker is not a bad thing, it's just that being your client's counterpart can create a particular conflict of interest.
ACCOUNT TYPES
Regal Core Markets does not specify on its website what types of account it offers. We believe that there is no choice but to contact the customer service to find out what different possibilities there are, or only provide a single standard account.
PLATFORMS
Regal Core Markets offers its customers the Metatrader4 (MT4) platform. This is the most widely used currency trading platform in the world. Most traders prefer to continue using MT4 even though Metaquotes has already developed its most modern version, the MT5, years ago.
MT4 has excellent graphics capabilities, while the software is quite light on your computer. That said, its most significant feature is the programming environment: the add-ons to the platform can be easily programmed through the MQL language, and it is relatively simple. The most popular tools you can find in the MQL market are technical indicators and automated trading systems, called Expert Advisors (or EAs).
LEVERAGE
With leverage, you're using borrowed capital, as the margin, to increase the potential returns on investment. Leverage is used to increase your purchasing power significantly and allows you to open significant positions with a small investment.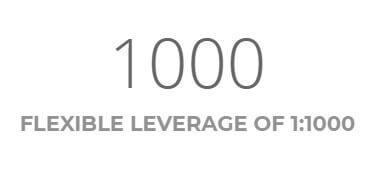 Regal Core Markets offers leverage of 1:500. For example, with a deposit of 1000 USD, you can trade with the equivalent of up to 500.000 USD. This leverage is too high, and initially, we can ask to lower it to a level of 1:100, for example. Always remember that while leverage increases your earning potential, it also increases the risk of loss and therefore requires minimal training.
Beginners often underestimate the importance of risk management in trading. A very high leverage relationship does not mean that a broker is offering you better trading conditions. A higher level simply means that you may have higher risks, both in terms of profit and loss.
TRADE SIZES
According to the operations we have been doing in the Regal Core Markets demo account, it is not possible to trade with micro-lots (0.01 lots), and the minimum trade size is a mini lot (0.10 lost). This is a small inconvenience for beginner traders who do not want to take many risks, and who start their operation with micro-lots.
TRADING COSTS
According to the operation we have been doing in the Regal Core Markets Demo account, we can say that there are no commissions for lots operated and that the broker's profit is based on the spread (the difference between the purchase price and the selling price).
Additionally, there is the expense of the swap, which is common in all brokers, and that is, any position held overnight, which will incur a maintenance cost (interest). This amount can be negative or positive depending on the instrument and the direction of the position, and its amount is fixed by the central banks of the base currency of the open position.
ASSETS
With Regal Core Markets, you can trade in currencies (Forex), and CFDs on indices and commodities. These are all the assets you can trade with; the list is not very extensive:
Forex: EUR/USD, EUR/GBP, GBP/CHF, USD/TRY, USD/JPY, EUR/CHF, AUD/JPY, USD/CNH, GBP/USD, EUR/JPY, CHF/JPY, GBP/CAD, AUD/USD, GBP/JPY, NZD/JPY, AUD/CAD, USD/CHF, EUR/CAD, AUD/NZD, NZD/USD, USD/CAD, EUR/AUD, and EUR/NZD.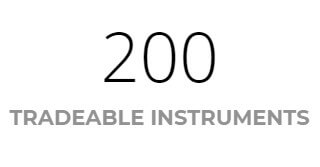 Indices: SSEC (Shanghai Composite, HIS (Hang Seng), N225 (Nikkei 225), FTSE (London Stock Exchange), DAX (Frankfurt Stock Exchange), CAC40, Pan-European Stock Exchange), SMI (Swiss Stock Exchange), MerVal (Buenos Aires Stock Exchange), BVSP (BM&F Bovespa Stock Exchange), NASDAQ Composite, S&P 500, S&P TSX Composite (Toronto Stock Exchange).
Commodities and metals: gold (XAU), silver (XAG), palladium (XPD), platinum (XPT), natural gas, unleaded petrol, Brent crude oil, WTI crude oil, soy, wheat, corn, cocoa, cotton, sugar.
Cryptocurrencies: Bitcoin (USD), Éter (USD), Bitcoin cash (USD), and EOS (USD).
SPREADS
The spreads in Regal Core Markets are variable, and according to the information we have extracted from your commercial platform we detail what affects some pairs.
EUR/USD from 1,4 pips, GBP/USD from 1,4 pips, USD/JPY from 1,5 pips, USD/CHF from 1,6, USD/CAD from 1,6 pips, AUD/USD from 1,4 pips, or NZD/USD from 1,8 pips.
The offer of spreads is not bad, also knowing that there is no commission for lots traded. Sometimes spreads are not the essential commercial aspect, as customers value a lot of other factors such as customer service, speed in processing collections, and payments… etc., but long-term trading costs can be an important factor.

MINIMUM DEPOSIT
There is no information on the minimum deposit required to open an account on the Regal Core Markets website. We consider it an error to omit this information, as it is in the interest of any trader to know the minimum amount to be able to trade with any broker.
DEPOSIT METHODS & COSTS
Regal Core Markets accepts payments by bank transfer, credit or debit card, Skrill, and China Union Pay. It also accepts deposits in cryptocurrencies such as Bitcoin, Ethereum, and USDT. Certainly, this broker has a pretty solid variety of deposits, covering the most traditional methods, a popular Western electronic wallet, and the most used payment system in China.
The costs associated with the deposits have not been reported, but they usually do not cost the customer, except for those who want to make a bank transfer and therefore have to pay their bank commission.

WITHDRAWAL METHODS & COSTS
Withdrawal methods are usually the same methods available for deposits. However, withdrawals must be processed by the same system by which the previous deposit was made. This is due to the international anti-money laundering laws. Withdrawal costs are another piece of information missing from the Regal Core Markets website.
WITHDRAWAL PROCESSING & WAIT TIME
We have no information about withdrawal processes and waiting times. Usually, and analyzing the deposit methods that this broker offers, we dare to say that the waiting time of all of them can be 1 working day, except for international bank transfers, which can take 2 days 5 working days to see the money in your account.
BONUSES & PROMOTIONS
Regal Core Markets does not currently have any current bonuses or promotions. Nor do we know that he has had any active promotion in the past.
EDUCATIONAL & TRADING TOOLS
Regal Core Markets does not have any educational resources for its clients. As a tool, it only has an economic calendar. We always say that an economic calendar is a very useful tool, as it allows us to know the most important daily events, and that they can affect the assets we may be trading.
CUSTOMER SERVICE
To contact customer service, we have 3 ways to do it. Regal Core Markets does not provide us with a phone number, but it does have an email, a contact form, and an online chat. Your email address is: contactus@rcmfx.com 

DEMO ACCOUNT
Regal Core Markets offers its customers a demo account. It is common for traders to open a Demo account before depositing money into a real account. It is also essential to know that the Demo account retains the same live prices and market conditions, simulating the exposure in a real account. The demo account of this broker can be downloaded directly from your website in a very simple and automatic way. In less than a minute you have it activated.
COUNTRIES ACCEPTED
There is, on the Regal Core Markets website, no information regarding citizens who may or may not open their account. When this happens, we usually go to the registration page and display the list of countries to try to find out which countries are missing from the list and which, theoretically, cannot trade with that broker. The surprise was when we accessed the Regal Core Markets registration page and found that the country tab does not exist, and in this way, anyone, from any jurisdiction, can open an account with this broker.
CONCLUSION
Regal Core Markets is an off-shore Forex broker. Having a license in Vanuatu is not the most protective regulation for the customer; it is very little. The trading platform is one of the best they can offer us, for its simplicity and solidity (MT4). The spreads are correct and average for the current state of the industry, and the leverage is very high, ideal for the riskier traders.
Here are the advantages and disadvantages we see in this broker:
Advantages:
It has the MT4 platform

Demo account available

Spread reasonable
Disadvantages:
Off-shore regulation

Lack of relevant information on their website

Minimum trade size of a mini lot (0.10 lots)