Igor Korepin is the creator of this indicator, created in June 2015, although with several later updates. The developer presents this indicator thought in monetary indices, and it can also analyze and control the market situation widely.
The indicator displays indices of eight major currencies and can also calculate indices of any other currency, metal, CFD, etc. You won't need to study dozens of charts to determine strong and weak currencies, as well as their current dynamics. The picture of the entire currency market during any period can be seen in a single indicator window.
Main Features
It forms indices of eight major currencies, automatically determining the indices of the current instrument, as well as the best indices available at the moment. You can display only the required indexes in option and one of the indexes not included in the main group.
It allows you to quickly switch to any currency pair or open a chart of the desired instrument directly from the control panel. The indicator works both in standard mode with historical data and in real-time mode with tick data.
The reference point and the drawing depth are established using a vertical line available for movement. It has an integrated set of classic technical indicators – MA, MACD, CCI, RSI, Stochastic. The market situation is monitored through an integrated system of notifications.
The prefixes and postfixes of a symbol are determined automatically. It is possible to select a currency, whose index will be used as primary in the calculations. Graph of the correlation dependence between currencies in one click.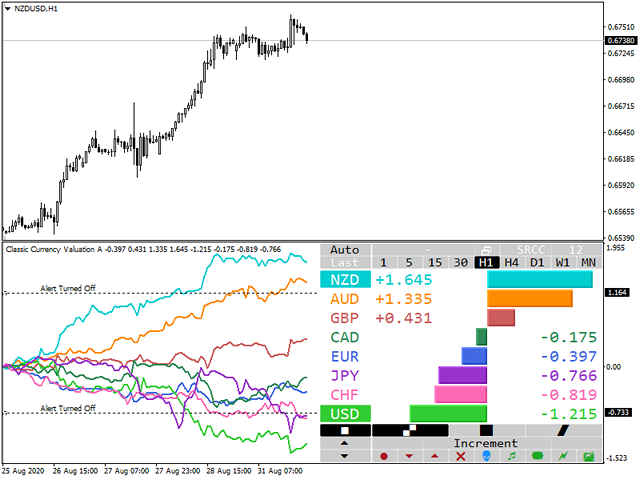 Advantages
-It is very easy to use – you do not need to prepare for the first use.
-Quick navigation – choosing the required currency pair or opening a new chart is easy.
-Exotic instruments – analyze the movements of metals, oil, and other raw materials.
-Real-Time Mode – The tick chart of all coins shows the best times to enter.
-The situation is under control – allow the notification system and never miss a strong movement in the market.
-Only seven currency pairs for calculations – the indicator is useful and easy to use.
In summary, we are looking at a handy indicator and suitable for every beginner trader. Please, ease of use and a very friendly interface. Users who have tried this indicator have been, for the most part, very satisfied with it, so we think it is an indicator to consider in our list of favorite indicators.
We have only found one thing against, it is not for sale, it is only available for rent at a price of 35 USD for a period of 3 months. You also have a demo version for your free trial.