ProfitLevel is a foreign exchange and CFD broker operating out of Cyprus and is regulated by the Cyprus Securities and Exchange Commission (CySEC). Their priority is the protection and security of their clients' funds as well as offering strong trading conditions and platforms along with the top quality customer service team. We will be using this review to look into the services being offered to see what they are providing and to help you decide if they are the right broker for you.
Account Types
It appears that there is only one account type on offer and you automatically get it by signing up, a few small details about it include a minimum deposit requirement of $100 leverage up to 1:200 for professional users and a spread starting around 3 pips. Throughout this review, we will be looking into the trading conditions and other features offered and all will be relevant to this account.
Platforms
ProfitLevel is currently offering just a single trading platform, the good news is that it is an extremely popular and well-known platform, so what is it? MetaTrader 5. MT5 is used by millions and for good reason. Offering plenty of trading and analysis features to aid in virtually any style of trading. 
Leverage
Leverage depends on son a number of factors, ProfitLevel is following the new regulations put in place by the ESMA, so for retail clients, the available leverage is:
30:1 for major currency pairs;

20:1 for non-major currency pairs, gold, and major indices;

10:1 for commodities other than gold and non-major equity indices;

5:1 for individual equities and other reference values;

2:1 for cryptocurrencies
For clients considered as professionals, the maximum leverage is increased up to 1:200.
Trade Sizes
Trade sizes start from 0.01 lots which are also known as micro-lots, they then go up in increments of 0.01 lots so the next trade would be 0.02 lots and then 0.03 lots. There is no indication of maximum trade size, however, we would recommend not trading in sizes larger than 50 lots, as the bigger a trade becomes the harder it is for the markets or liquidity provider to execute the trade quickly and without any slippage. There is also no mention of the maximum number of open trades allowed.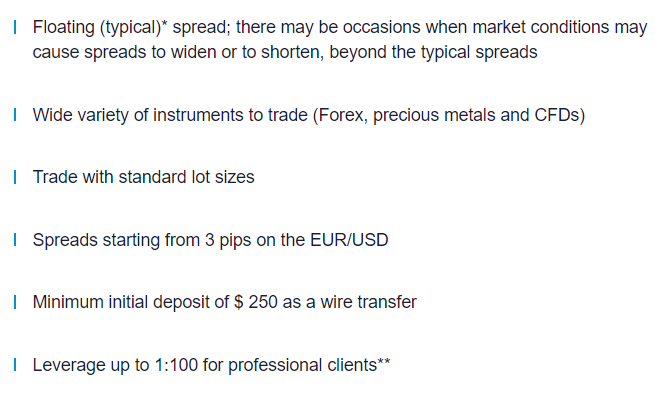 Trading Costs
There is no added commission as the account uses a spread-based system that we will look at later in this review. The account does have swap charges, these are interest charges that are incurred for holding trades overnight, they can be both negative or positive and can usually be viewed from within the trading platform of choice.
Assets
There are plenty of assets and instruments available to trade, ProfitLevel has broken them down into 4 different categories, we have listed them out along with some examples of the assets available in them.
Forex: Over 60 different currency pairs are available to trade from major pairs, minor pairs, and exotic pairs, some of these include AUDCAD, EURPLN, GBPCHF, EURUSD, NOKSEK, USDCHF, and ZARJPY.
Commodities: Lots of commodities are also available including the likes of Gold, Silver, Natural Gas, Brent Crude Oil, Cotton, Coffee and, Sugar.
Indices: A nice selection of Indices is also there including Germany 30, France 40, Australia 200, US 500, Nasdaq, and Dow Jones.
Shares: Plenty of different shares available from three different regions which are the EU, Hong Kong, and the US, some shares include Amazon, Goole, Tesco, BMW, Tesla, and IBM.
Spreads
Spreads start from around 3 pips, the spreads are variable (also known as floating) so this means that when the markets are being volatile, the spreads will often be seen higher. It is also important to note that different instruments and assets have different starting spreads, so while EURUSD may start at 3 pips, other assets like GBPJPY may start slightly higher.
Minimum Deposit
The minimum amount required to open up an account is $250, once an account is open the minimum will drop down to $100 for any subsequent top-up deposits.
Deposit Methods & Costs
Just two different methods are available for depositing, these are Bank Wire Transfer and Credit/Debit Card (Visa and MasterCard). ProfitLevel does not add any fees of their own, however, you should check with your bank or card issuer to see if they add any fees of their own.
Withdrawal Methods & Costs
When withdrawing, only Bank Transfer is available, just like with deposits, ProfitLevel does not add any fees of their own, however, you should check with your bank or card issuer to see if they add any fees of their own.
Withdrawal Processing & Wait Time
ProfitLevel will process withdrawals within 1 business day once they receive the request, it will then take a further 1 to 5 business days for the money to become available based on your bank's own processing time.
Bonuses & Promotions
We could not locate any information on the website in regards to bonuses or promotions so it does not appear that there are any active ones at the time of writing this review. If you are interested in bonuses then be sure to check back regularly or get in contact with the customer service team to see if there are any upcoming bonuses or promotions.
Educational & Trading Tools
The usual economic calendar is available which shows you upcoming news events and the currencies that they may affect. Apart from that, there doesn't appear to be anything in regards to education or trading tools. This is a shame as a lot of brokers these days are looking to help their clients improve and become more profitable with educational courses or tools to help them trade or analyze. It would be nice to see ProfitLevel do something similar for their clients.
Customer Service
ProfitLevel is offering a number of different ways to get your queries or questions over to them. There is a general phone number and email address to get through to the standard support department, there are also a  number of different departments including phone order placement, customer support, compliance, payments, and sales each with their own phone number and email address so you can get in contact with the department that you need.
Demo Account
Demo accounts are available and they mimic the conditions of the live account, the demo account lasts for 30 days, and then it will expire, you can open up a new one once it expires though. The demo account allows potential new clients to test out the trading conditions of the servers while letting current clients test out new strategies without risking any of their own capital.
Countries Accepted
The information about which countries are accepted and which are not is not present on the website, so if you are interested in joining, be sure to get in contact with the customer service team to check if you are eligible for an account or not.
Conclusion
Just having one account available, ProfitLevel is keeping things simple, they do not offer any commission-based account yet their spreads are still relatively high which can make trading quite expensive. There are a lot of instruments and assets available for trading which is always a good sign. Limited methods for depositing and withdrawing can be a little off-putting but there are no added fees which is a big plus. Lots of ways to get in contact with the customer support team are also nice. If you are able to look past the high trading conditions then ProfitLevel could be appropriate, but there are far cheaper brokers available.