Judging by the price of this Expert Advisor designed for the Metatrader 4 platform, one could this is a very popular and reliable product with consistent results. Pirate One is a rather vague automated trading solution made by Anatoliy Lukanin from Russia. The developer has 20 products and 2 signals published in the MQL5 market.
Recently, we have noticed a large number of signals are closed, probably because of catastrophic results caused by March 2020 extremes in volatility. This means the developer has used a single strategy with a few adaptations to generate these signals, eventually breaking down on heavy world events. Pirate One is initially published in November 2018 with few updates related to the functionality and setting options. The latest version is 1.90 from 15th March 2020 that is adapted to the current COVID-19 situation although just with a closing time function.
Overview
The provided overview page does not tell much about this EA. Based on the first header description, Pirate One is a nighttime scalper EA working in low volatility market periods after the US session. Several indicators are integrated for trade entry and filtering while the exit is defined with a Take Profit or a kind of Stop Loss order. According to the author, Martingale and Averaging methods are not used.
Virtual pending orders are optional, these will not leave a trace on the broker servers. Useful for those that suspect Stop Loss hunting by their broker, for example. The EA also supports dynamic trading lot size allocation which increases with successful trading. This strategy may be related to scaling in but there are no more details. Dynamic lot allocation is usually related to volatility adjustments using some of the volatility indicators.
Pirate One is not universal and cannot be traded on every instrument or timeframe. The developer suggests EUR/CHF, EUR/GBP, and GBP/USD or CHF/JPY, EUR/AUD, and USDCAD for testing. Risk Management needs to be strict, overexposure to one currency is never advisable but especially with this EA. There are several reports that the losses are a few times larger than profit trades, which is also confirmed by looking at the performance charts published. Even the developer is not sure the EA will have the expected performance, does not want traders to go with all the currency pairs and to start with minimal trading sizes.
The trading timeframe is fixed to M15, you will need an ECN five-digit broker account, tight spreads are always recommended. Interestingly, this developer has a referral link for the Alpari broker published, which is rare to see. In the Comments section, there is also a bonus banner with a referral link.
Settings for Pirate One are not allowing you to select any trading strategy or indicator. You will have the option to set a fixed trading lot or based on the percentage of funds available. Take Profit can be set to virtual or on the server and the levels for both Stop Loss and Take Profit can be adjusted in points. Filtering in case of wide spreads is defined in the MAX_SPREAD_OPEN clause, for Slippage is also available. Since the EA trades around the day closing time, swaps could be charged (or credited) if traders have overnight positions open.
For this purpose, Pirate One has the Filter Swap options to disable trading or positions, allow or only filter triple swaps. Some way of adjusting how frequently the EA is trading can be defined in the DEALS_ON_THE_BAR clause. This will enable or disable the EA to trade before a bar has closed, multiple times. If Take Profit or Stop Loss is not reached the EA has the mechanism to close that trade on unknown parameters.
The screenshots provided present the EA performance, however, the modeling quality is 90% done in the MT4 Strategy Tester module. This is not enough for scalping EAs such as this one. Still, some conclusions can be made. Pirate One has a very high success rate. On all screenshots, the profit trades percentage is at least 98%. This means there are many small winners and a few big losers, effectively making this EA risky in the long term. Time tested on the screenshots is around 210 days if the EA is applied to the M15 timeframe as suggested. For this time, using a 1000 deposit, Pirate One generated 13532 net profit with 260trades and 35.71 absolute drawdown. Maximal drawdown is 1542.05 although note that the average losing trade amounts -496.31 while profit trade is just 62.8.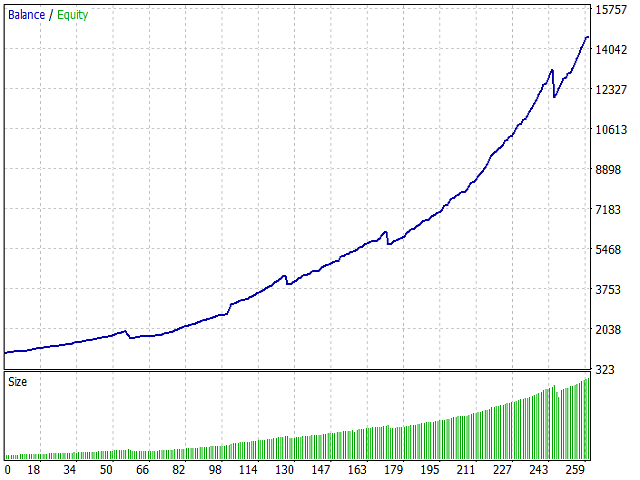 The numbers are similar on all screenshots, have a distinctive exponential-like gain curve. Dips are also clear on some, but most of the screens show smooth growth. It is hard to ascertain if these presentations are valid, 90% quality modeling is not enough for scalping EAs, and there is no way to know what settings are used here. In the comments page, the developer attached many screens of the MT4 charts with this EA attached showing a total daily profit, but the actual performance is not confirmed on the benchmark sites such as the Myfxbook. Whatsmore, now that the signals are not available anymore, Pirate One would need testing. A demo is downloaded 793 times, showing low interest in testing it.
Service Cost
Pirate One is above average when it comes to the price, similarly like the rest of Anatoliy Lukanin's products. For $500 you will have 5 activations and for $100 you will be able to rent it for one month.
Conclusion
Only 4 reviews are published, giving this EA 3.5 stars on average. We have picked one low rated review that has a good short description of what can happen with this EA:
"250 for 3 months…on a real account (SO different from backtesting), default setting: many wins, but when you lose, you lose all the gain, so I have lost money."
Good reviews mostly come from users who have gained profits and appreciate the Stop Loss function. Note that changing the Stop Loss can greatly change the performance of Pirate One. Since the price Is above most premium EAs with better history, description and presentation is ambiguous, consider this EA only if you have great long term results in backtesting and forward testing on a demo account.
This Forex service can be found at the following web address: https://www.mql5.com/en/market/product/33037