Founded in 2008 Pelliron Universal Inc. is not new to the business although has not reached the popularity or the scope of successful brokers that are much younger. Allegedly based in Saint Vincent and the Grenadines, one of the favorite offshore places for brokers, both legal and illegal. The company website does not show professionalism in the content and the design. We have also noticed that the content is not always written in proper English, does not have much useful information, no support, no Demo account option, meaning this could be the early signs the broker, if legit, does not have much to offer. Whatsmore, we have confirmed that Pelliron is not licensed to provide CFD or any kind of financial instruments trading. Pelliron presents a world map of its services, showing clients from usually restricted countries like the United States, Japan, and China. Within this review, you will see if there is something that you might like with this broker still.
Account Types
Pelliron does not have multiple account types to choose from. Only two account types are available but with some special traits. Swaps do not exist apart from Cryptocurrencies, and additionally, Prillon features a deposit interest of 36% per annum under specific conditions. Instruments do not have 5 digits, the minimal price change is on the 4th decimal. The spreads are fixed although it is common to see spread modifications or complete trading restriction upon News events or high market volatility.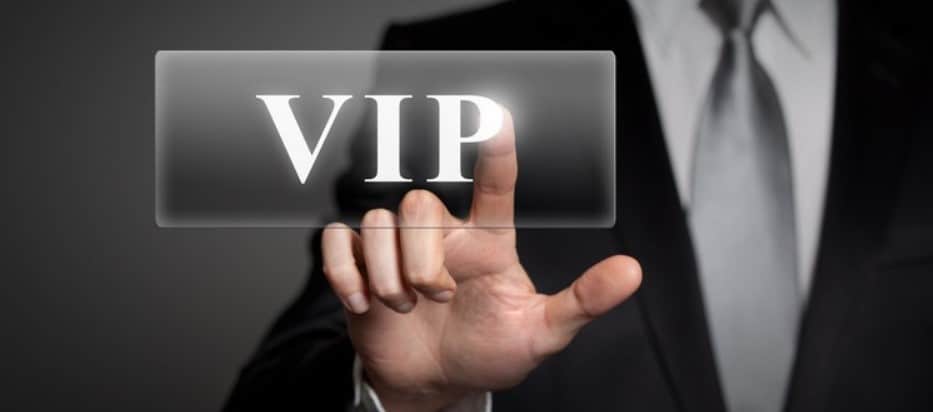 Deposit interest is rare to see among brokers, let alone the 3% monthly. There are trading conditions, traders need to execute more than 3 lots per $1000 of the balance and not to withdraw funds for that month. This feature can be combined with other bonuses and promotions. The payment will be credited based on the Equity level at the end of the month. After 90 days of inactivity, the client's account will be considered dormant. The broker will "archive" this account and all bonuses will be canceled. Interestingly, Pelliron will not reactivate this account once archived and the only way to obtain residue funds is by opening a new account and use the transfer function from the Clients Area.
Pelliron also offers a VIP Club for clients with big deposits. Mentioned deposit interest is increased to 4% per month. Consequently, the trading volume condition is also increased to 4 lots per 1000 units of available funds. Furthermore, the account also has a Cash-back of $10 for all transactions exceeding the trading volume condition for the 4% interest. Pelliron will compensate all bank expenses for the deposits for members of the VIP Club.
Platforms
Pelliron has only Metatrader 5 platform available. New brokers cannot apply for Metatrader 4 license as it is discontinued by MetaQuotes Corp. MT5 can be downloaded for all computers using Windows and Mac systems as well as for Android and iOS mobile devices. Web MT5 is also available without any need for downloads or installation. The MT5 platform quickly found Pelliron Universal servers with a ping of 63ms. All settings are at defaults and the platform is updated to the latest version. The executions times are extremely slow compared to other brokers. The average was always above 6 seconds which is not acceptable for any fast trading strategies.
There is enough information for each trading instrument, swaps rates are omitted as this broker does not deal with swaps. For Crypto, where swaps apply this is not stated. The 1M chats were very choppy, showing very low liquidity even for EUR/USD pair. Price movements are also sudden and intermitted. Whatsmore, trailing stop placement is not allowed and trading contract sizes are not standard. We have further detected errors in the Clients Area app that is based on Yii Framework 2.0. Overall, Perillon provides poor technical trading conditions.
Leverage
The leverage is set to 100:1 by default and as described in the Trading Conditions. We have confirmed this level within the MT5 platform for all Forex currency pairs, including exotics. For crypto, the leverage is 1:10 and for Gold, the broker defaults 1:100.
Trade Sizes
Pelliron does not have 5 digits quoted and does not offer micro-lot trade sizes. The minimum trading size is 0.1 lots although for BTC/USD 0.1 lot is 1 BTC, which is not the standard contract size. 1 lot should be 1 Bitcoin, otherwise, traders cannot trade anything less than 1 BTC with this broker. The minimum step volume is also 0.1 lots. The maximum trade volume is 100 lots that apply to Forex pairs, metals and crypto. For stocks, the maximum is 1000 lots. Stop level for Forex pairs is 3 points, for Gold is 50 points and for Oil 5 points.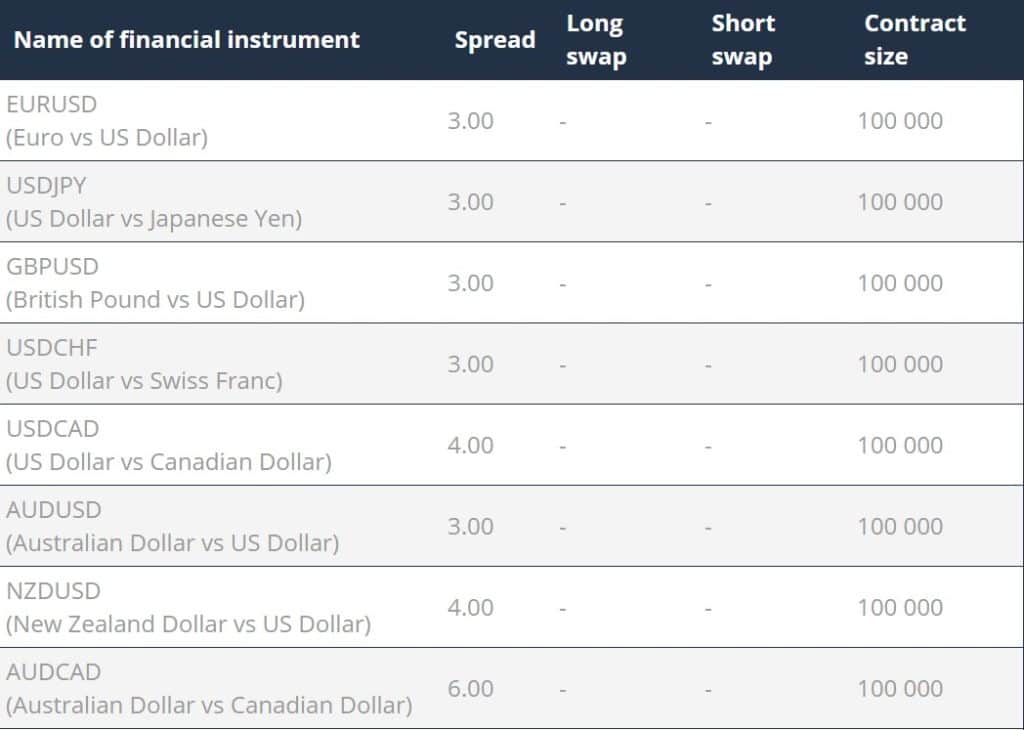 Trading Costs
Since Swaps are not calculated with Pelliron and also no commissions are charged, there are no trading costs apart from spreads that will be evaluated in the Spreads section. Any account-related fees are not disclosed in the legal documents or on the web site.
Assets
The broker has 6 categories of assets offered. Forex has 42 pairs covering all the majors and a decent number of exotics. Alternative forex traders can find MXN, TRY, CNH, RUB and Scandinavian currencies like SEK and NOK. SGD and HKD are also on the list. TRY is present as a quote currency for EUR and the USD.
In the Index category, Pelliron has 12 listed. These are the most common indices in addition to Hong Kong 50 Index, CAC 40, Spain 35, and Dollar Index Futures. The Dollar Index was closed for trading. Precious Metals are limited to two, just spot Gold and Silver are offered. Commodities are limited only to energy assets. They are Brent and WTI Oil and Natural Gas.
Cryptocurrencies have a somewhat longer list than Commodity and Metals category. A total of 5 are listed, Bitcoin, Bitcoin Cash, Ripple, Ethereum, and Litecoin. This list range is still below average although at least the major Cryptocurrencies are available.
Stocks offer follows similar, shortened range. All of the companies belong to the US markets, namely NASDAQ and NYSE. Equity traders that want location diversification will have no options with Pelliron because of this. A total of 28 companies are listed, all major and popular like Microsoft, Apple, Intel, Bank of America, Amazon, Facebook, etc.
Spreads
Pelliron offers fixed spread that is subject to modification in cases of volatility. Spreads are from 3 pips for major Forex pairs as stated. For example, EUR/USD has 3 pips spread, EUR/JPY has 4, GBP/NZD has 5, AUD/CAD 6, NZD/CAD 7 pips, etc. From the more exotic currencies, we have detected 70 pips for USDMXN, USD/SEK 60 pips and USD/RUB 205 pips. Spot Gold also has higher spreads at 50 pips and Silver 10 pips. Cryptocurrencies are a bit lighter on the spread so BTC/USD has 25 pips. Remember that cryptocurrencies do not have swap typed into the MT5 instrument specs window, but they exist per Trading Conditions. The exact amount is stated at zero for all crypto at the moment for this review. All energy assets have 5 pips spread.
Minimum Deposit
Pelliron has one of the highest minimum deposits requirement in the industry at $2000. For the VIP Club status, one would need $100.000.
Deposit Methods & Costs
Pelliron mentioned deposits by bank transfer, cards, WebMoney, and Netteler. The Credit/Debit card option does not exist within the Clients Area. To many investors, this could be a red flag as you are not protected by VISA /MasterCard consumer policies. Furthermore, it also means that it is hard for the broker to find a PSP company as many want to avoid chargebacks percentage. There are no costs related to deposits except for bank transfer costs.
Withdrawal Methods & Costs
Pelliron follows the same typical procedure that withdrawals need to be requested and they will be transferred using the same method as deposit, under the client's name. There are no mentioned costs charged by the broker. Pelliron uses RBK.money, a Russian PSP.
Withdrawal Processing & Wait Time
The broker states that funds should be credited to the trader's account within 3-7 business days. The processing is requested through the Client's Area. Pelliron also has a Withdrawal and Refund policy. Probably one of the most important points in these documents is point 7. Of the Refund policy where it is stated that the client will not file a chargeback while or after using Pelliron's services. If this happens it is considered a breach of the Client's Agreement. If a chargeback is filed nevertheless, the broker will freeze the account and send the funds after all the fees. This policy does not hold any legal value. If the chargeback is valid, no fees can be applied to this procedure as the broker is charged by the PSP and VISA/MasterCard.
Bonuses & Promotions
Pelliron mentioned bonuses in forms already described as deposit interest rates and zero Swap rates. In the Partnership section, the broker vaguely describes additional benefits for 3 programs. We are not sure if these programs are for referrals or any trader following complex conditions listed under each program.
1+1 Partnership Program provides 100% additional funds from the broker. The bonus will be released in stages and the requirements are based on trading volume. There are many conditions and some are specific for each stage.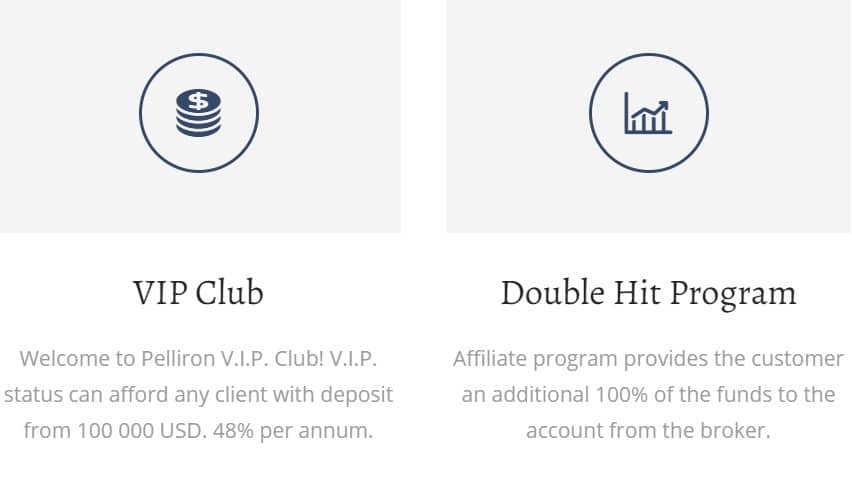 Double Hit Program. Similarly to the above Program, the broker will add a 100% bonus under certain trading volume conditions. The program is structured for different deposit amounts, 10k, 15k or 20k USD.
Trading Account Insurance Program. Pellion will reimburse the client who has lost all the deposited funds. The conditions are based on trading volume and also on other conditions like using a Stop Loss order on every trade. All the programs can be combined with the deposit interest rates feature.
Educational & Trading Tools
Relevant sections to Education would be Markets & Investing that includes 8 articles about trading and concepts. Some of these are very informative, especially for beginner traders. Wealth Management and Investment Planning, for example, have a better content quality that commonly seen with other brokers.
The News section is about global and news from Pelliron. Global news encompasses the latest from Reuter and other agencies and most of the content is secondary research. On the other hand, the news is fresh and holds the same quality out of the press. The company news is just the latest update on trading conditions, schedules, etc.
Economic Calendar is available although it is the same we see coming from MetaQuotes. There is no news type or selective filter for this Calendar and the only good part is the description and the chart of historic event levels.
Customer Service
Pelliron does not have a chat service. Interested parties will have to rely on the email and the phone line. The support is claimed to be 24/7. This was not true for us at the time of writing this review.

Demo Account
The Demo Account is not presented by the Pelliron. To be precise, the word "Demo" is not present anywhere on the site or the legal documents. Yet Demo Account is available by following the opening process within the MT5 platform. The leverage is fixed at 1:100 and you will be given 100.000 funds. There is only one server from Pelliron Universal, so you will have the same conditions as with Live account.
Countries Accepted
There are no restrictions and no specific information about prohibited countries. Judging by the lack of any supervision or regulation, everyone can apply.
Conclusion
Pellion Universal capital and management come from the former Soviet region and their target customers are in the same area. This is further supported by the IT architecture developed in Russia and the Russian PSP provider. As we go deeper we find out that the company has a few scam reports from users in Romania and Moldova. There are also trails of frequent broker location switches in different parts of the globe, mostly small island countries. Legal documents are not transparent enough, have too many clauses that put investors at very high risk, like the Chargeback point in the Refund Policy.
On the other side, Pelliron has somewhat developed a social network page that shows fresh in house-made video reports. For traders that want to take the risk with an unregulated offshore broker as Pelliron, they might enjoy the deposit interest features and permanent swap free trading that long term traders will appreciate. Wide fixed spreads become less impactful for such trading as the price movements are many times bigger than the spread itself on these, higher timeframes.