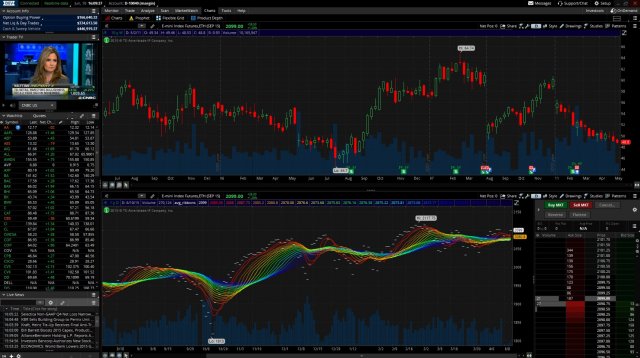 The ThinkorSwim trading platform was launched by TD Ameritrade to provide traders with essential trading tools through their browser, desktop, or mobile devices. If you choose TD Ameritrade as your broker, you can choose between the ThinkorSwim platform along with the broker's own mobile platform (named TD Ameritrade mobile), NextGen web platform, and Classic web platform. Overall, ThinkorSwim seems to offer the best market access and features out of these options. Take a look at ThinkorSwim's features, market access options, and some of the conditions for the supporting broker below.
Features:
Trade forex, equities, options, ETFs, futures, and more
Free "papermoney" account that works like a demo account with $100,000 worth of virtual funds
30-minute platform walkthrough with a pro
24/5 trading
Economic Data tool
Built-in search engine that allows one to find key economic indicators
Custom Alerts with preselected list of popular events and option to choose your own alert parameters
In-App chat with trading specialist and ability to live share your screen for convenience
Chat Rooms where traders can share ideas, strategies, and other knowledge
Charting feature that displays social data in graphical form
Access to 400+ technical studies
Add visuals to your charts, including selection of 8 Fibonacci tools and 20 drawings
Build your own algorithms with thinkScript
Ability to identify entry and exit strategies thanks to SizzleIndex
Live streaming media for fast news updates
Filter stocks
Access to Markets
The ThinkorSwim platform offers access to certain markets, depending on whether one is using the browser-based version that doesn't require installation, the mobile version, or the desktop download.
Desktop Download: forex, stock/ETFs, futures, options
Browser Version: forex, stock/ETFs, futures, bonds & CDs, mutual funds, options
Mobile version: forex, stock/ETFs, futures, options
TD Ameritrade
If you want to use the ThinkorSwim platform, you'll need to open an account through their broker, TD Ameritrade. You may have heard this name before, as this broker is well-known and generally liked by their clients and review sites. You'll definitely want to check out their website and read everything yourself before opening an account, however, we've provided a simple overview of what conditions with this broker are like below.
Standard, Retirement, Education, Specialty, Managed Portfolio, and Margin Trading accounts
Commission-free trades online or $0.65 per contract on options
Transparent fees
No minimum funding requirement to open an account; margin or options privileges require a $2,000 deposit
Interest is applied on eligible account balances
Conclusion
ThinkorSwim is one of a few trading platforms offered by the well-known broker TD Ameritrade. If you want to use the platform, you can sign up for an account through the broker with no minimum deposit requirements. There are also some added benefits to using this broker, like applied interest on accounts and free commissions. The ThinkorSwim platform also offers several perks, including access to a wide variety of financial markets, special tools, a built-in search engine, and many other features. Unlike many of their competitors, all of these features and tools are unlocked for free as long as one opens an account through TD Ameritrade. Many others charge monthly fees or place harsh limitations on free versions of their accounts. Overall, the ThinkorSwim platform is a solid option that deserves more recognition in the world of forex trading.