"The Brutal" Odin trading robot is advertised as the #1 trading robot on forexrobottrader.com. This particular expert advisor was created by the late Don Steinitz and ownership has likely been passed down in the time since, but the new team behind the bot doesn't represent themselves on the website.
Overview
Odin bot runs on the popular MetaTrader 4 platform and capitalizes on the ultimate convenience that those seeking out expert advisors are looking for, by offering to do everything without asking the trader to lift a finger. This makes Odin bot a good choice for beginners, especially with simple setup instructions in the picture. Odin features price plotting to help show where the price has been and where it is going, allows users to work with optimized settings for more than 20 common currency pairs, and offers automated protective stops to lock in profit.
A built-in calculator automatically determines which lot size is the safest to use, with support for micro lots, mini lots, and full lots. The service offers a real-time broker shield and follows a "legendary grid trading strategy" that distinguishes the most effective entry and exit points in real-time with no lag.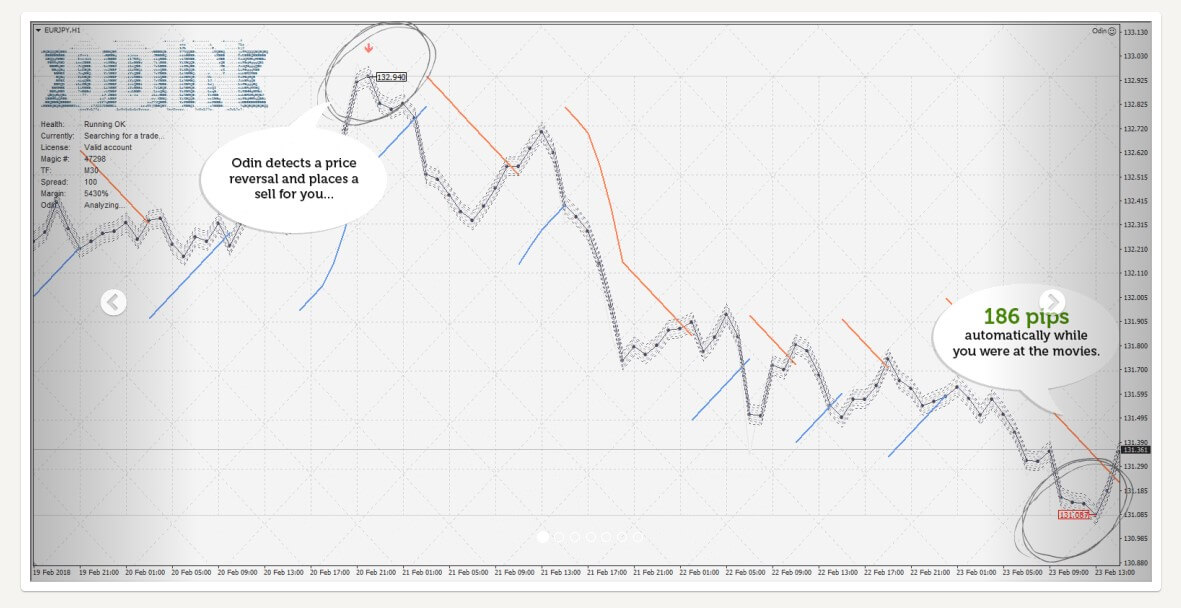 Despite all of those features, there are some things about Odin bot that aren't entirely attractive. Grid trading isn't the most reliable because bots tend to open too many trades at once, which causes a real problem if things don't go according to plan. The live trading results on the site seem somewhat suspicious, and the creator of Odin bot has passed away. The website doesn't tell us who is now operating the site, although everything still seems to be running according to plan.
Service Cost
The cost of Odin bot is usually $199, but there is currently a 35% discount that brings the price down to $129. This is paid for a lifetime license, so traders won't need to pay any reoccurring fees. The service also throws in one of the following free robots with each purchase:
HAS Forex Robot
Hedge Forex Robot
Factual Breakout Indicator
Pterodactyl Forex Robot
Directional Forex Robot
WaveRunner Forex Robot
Volatility Forex Robot
Equity Trail Forex Robot
You'll only be able to select one from the list, but the additional robot is a nice touch. Odin also offers free demo accounts and doesn't seem to pressure clients into switching to a live account by implementing expiration dates or other measures.
Conclusion
Odin bot is available for a fair price and it is possible to make a profit with the bot under the right circumstances. Prior experience is not a must here, but it would be helpful.
The website features some published trading reports and 5-star reviews. You won't want to rely solely on Odin bot's own word since the information there can be skewed in favor of the bot. Elsewhere, reviews are mixed, with some users giving the bot a 5-star rating and others limiting their review of the product to a mere one star. The website makes it seem as though traders will earn millions using the bots, so unfulfilled expectations or lack of prior experience could be the cause of some of those reviews. Still, Odin bot only manages a mediocre 2.5-star score, so this is a sign that the bot is not nearly as profitable as advertised.
This Forex service can be found at the following web address: https://www.forexrobottrader.com/forex-robots/odin-forex-robot