The Netsrac ADR Dashboard can be found on the MQL5 marketplace, we have added a link to the indicator and the end of this FX service review. First uploaded on the 10th of December 2018, the indicator has received a few updates and the most recent one was on the 28th of February 2020 and is currently at version 3.3. The indicator was created by Carsten Pflug.
Overview
Netsrac ADR Dashboard is an indicator designed for use with the MetaTrader 4 trading platform, it will help provide you with a quick overview of the daily, weekly, and monthly ranges of an asset. "In "single asset mode" the dashboard shows you possible reversal points directly in the chart, thus making statistics directly tradable. If a configured threshold is exceeded, the dashboard can send a screen alert, a notification (to the mobile MT4), or an email.
The information provided can then be used to help information confirm other signals that you have.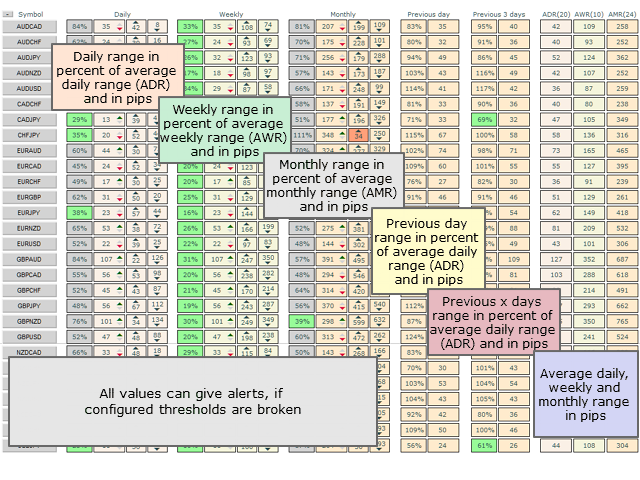 Service Cost
The Netsrac ADR Dashboard can be purchased as a one-off payment for $59 which is a limited free version of the indicator, there is also the option to rent the indicator this can be done on a monthly basis which will cost you $19 per month, you can also rent if for a six month period which will cost you $30 for the full six months.
A free demo version is also shown, it will have some limitations but they are not made clear on the site, it still may be worth downloading to try out even with the limitations that it will have.
Conclusion
At the time of writing the Netsrac ADR Dashboard has 4 reviews, the reviews have given it an overall rating of 4.5 out of 5.
"Great dashboard!!! It still has some things to improve but it's a really good instrument I like it very much!!! Carsten is also very helpful!!" – A 5-star review.
"I am quite familiar with ADR indicators, and this is without a doubt the best and most powerful ADR indicator I have seen thus far. It takes a little time to learn how everything works, but the developer is very helpful to answer questions and to provide solutions if needed. I have complete confidence in this product and in the ability of the coder (Carsten) who created it. Highly recommended!" – A 5-star review.
"Excellent Indicator. If you can add another column for the underlying trend short term and long term trend this will be a perfect indicator for level traders." – A 4star review.
Along with the positive reviews are a number of comments, the developer seems to be responding quickly to any comments that come up which shows that he is still actively supporting the indicator and its clients. This is a great thing to see, even with so much positivity, be sure to try the free version or to contact the developer with any queries to help ensure that the indicator will suit your needs before making a rental or purchase.
This Forex service is currently available at the following web address: https://www.mql5.com/en/market/product/33805