Momentum Classic can be viewed within the Experts section of the MQL5 website, we have added a link to ti below as there may be others with similar names. The expert advisor was created by Ivan Pochta and was first uploaded to the MQL5 marketplace on the 20th of November 2018. It has received a number of updates, the latest update was on the 27th of January 2020 and this brought the expert advisor up to 3.2.
Overview
Momentum Classic is an expert advisor that works with MetaTrader 4, it is a completely automated expert advisor nad works by looking for impulses in the market which will signal a trade entry. It will only open trades in the direction of the impulse and trade and will not place reverse trades, it is built on price action principles and is measuring the strength of momentum and not only the deviation and volatility.
The expert advisor has been designed to work with the following pairs and timeframes:
M15: AUDUSD, EURAUD, EURGBP, EURJPY, EURUSD, GBPJPY, GBPUSD, NZDUSD, USDCHF, USDJPY, XAUUSD.
M30: AUDUSD, EURAUD, EURGBP, EURJPY, EURUSD, GBPJPY, GBPUSD, NZDUSD, USDCHF, USDJPY, XAUUSD.
H1: AUDUSD, EURAUD, EURGBP, EURJPY, EURUSD, GBPJPY, GBPUSD, NZDUSD, USDCHF, USDJPY, XAUUSD.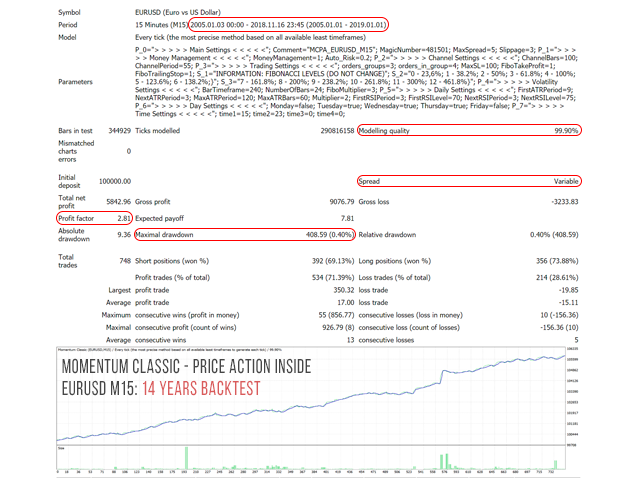 There are also a number of parameters available to alter to better suit your needs, some of these include adding a comment, using fixed lots or not, to set risk level, money management, supported currency pairs, timeframes, suffixes, prefixes, and more.
Service Cost
The expert advisor is currently on sale and can be purchased for $400, its normal price is above this but we do not know what it is. The expert advisor can also be rented for different periods of time. To rent it for 1 month it will cost you $75 per month, for three months it will cost you $150, and for one year it will cost you $250. There is a free version available too, this has some limitations however we are not fully clear on what the limitations are.
Conclusion
At the time of writing, there are currently 29 reviews for this expert advisor, they are giving it an overall rating of 4.5 out of 5.
"The separation between entering and leaving positions by brokers is severe. So both the backtest and the forward test must be the tests of the broker that you use. The number of positions fluctuates from 1 to 4 and the SL value changes every time, so it is difficult to manage risk. In addition, one entry has up to four positions, so if you consider it as one position, the number of entries is not large. However, since the profit is increasing, the star is 3." – A 3-star review.
"This EA is very good, and the author is very helpful, thank you for your good job." – A 5-star review.
"I think that Ivan is a good developer and I encourage him to continue with the good work. I trust his EA and I think I will use them for the future." – A 5-star review.
So the reviews are looking very positive, there are also over 200 comments, the creator of the expert advisor is replying to each one which indicates that there will be some good customer support once the expert advisor has been purchased or rented, we would, however, recommend that you download and try out the free version before making a purchase just to make sure it works for you and suits your needs.
This Forex service can be found at the following web address: https://www.mql5.com/en/market/product/25517