MercadosG is a Chile-based ECN proxy broker of CMC Markets but also serving residents of Chile with their brokerage. It has a surprisingly developed structure for trading. Wide range of instruments and using a specific platform make this broker unique. The MercadosG broker is not regulated by any authority but leaves the impression that a lot of effort is made towards reaching high quality of service level to traders.
At a glance, traders will see a lot of features and assets that are very rare to see available for trading, some specific for Chile. MercadosG looks like it has received the know-how in the financial derivatives trading business from the top management of the IG group, a well-known veteran in CFD trading and also the owner of trading information resource, DailyFX. The members of this group are also shareholders of MercaodsG. This review will disclose what is really underneath this broker.
Account Types
There are two account types you will see. The Metatrader 5 and The New Generation Account. The MT5 Account has two options – Intro and Executive. This information is not apparent during the registration process at all, this is what we found out from the support. The Intro account does not have a minimum deposit, the Executive has a minimum of 5.000.000 Chilean pesos. The accounts differ only by the spreads. Opening an account obliges you to answer an extensive questionnaire that will assess you as a customer and also as an agreement that you accept all the risks.
You will be able to select CLP as the account currency if you want. After completion, login credentials are released and queries for the ID documents upload. We have noticed that the demo account and live MT5 account have different spreads, so if you are opening a live account after a demo, expect some differences. EAs and scalping are allowed.
The other account type involves trading with the Next Generation platform. This is a proprietary platform by the CMC Markets broker. In essence what you will be doing is opening an account with the CMC, not with the MercadosG. The only countries that could be selected here are the UK, Chile, and Peru. This is the CMC Markets registration process for their account, not for MercadosG, as can be seen in the footer of the page.
Platforms
The MT5 platform, once installed, will take about a few minutes to communicate with the server, which is unusual, some traders would close it as nothing suggests it is not stuck. The execution times on the MT4 desktop platform were surprisingly good and about 32ms, which is admirable comparing to other ECN brokers. The MT5 is available for iOS and Android. The MT5 Web Trader is also there for access without installation. In the specification window information about the leverage is missing.

Now, the New Generation platform is a proprietary web platform by CMC Markets. This platform received many awards but in essence, it is available only for CMC Markets. The platform has many advanced features such as Client Sentiments tool that feeds on the CMC clients data pool, Pattern Recognition Scanner, module linking and customization, CMC Chart Forum integration and more. This platform is rich in features but in reality, it is used only for CMC clients and limited in terms of additional indicators and EA imports. Traders will use tools and patterns only what this platform has and this model is used nowadays to control what consumers consume and also what traders trade.

Leverage
Information about leverage levels is not on the web site itself. Only careful statements about the risk leverage may bring in the FAQ section. The leverage is expressed as margin % in the spreads document that is available in the Information from the MT5 about leverage is not filled in. From the support, we found out that the maximum leverage possible is 1:100 and it can be reduced. This is the same for both MT5 account types. The leverage will vary depending on the asset traded.
Trade Sizes
Since MercadosG is operating for the residents of Chile the trading account with the MT5 will be in CLP or Chilean Pesos. The minimal volume tradeable is 0.1 lots which are rigid for fine risk management. MInimal volume steps are also 0.1 lots proving that clients will have to employ bigger capital to stay in line with more conservative risk management. One Chilean Peso equals 0.0014 United States dollars at the moment of writing this review.
Trading Costs
MercadosG does not charge commissions and relies on spreads only. The swaps rates are good and there is a lot of positive interest for some assets. For example, the EUR/USD pair will have 5.45 points positive swap on short positions. USD/JPY also has a positive 0.5 point. There were no obscene high leverages that traders should be worried about but we always urge to check instrument specifications before opening positions.
Assets
The assets range from MercadosG are above average and some assets are not available to trade usually with other brokers. Tailored for clients from Chile, traders can find USD/CLP and EUR/CLP pairs. Also very exotic are currency pairs form Latin America, USD/BRL and USD/PEN (Peruvian Nuevo Sol). All forex major crosses are not listed like the NZD/JPY, still, more than 20 pairs are enough for many. More common exotic pairs like the USD/TRY, USD/RUB and others are there too. The only drawback to all this is the trading sessions. For example, if you want to trade Chilean Peso, the USD/CLP pair trading is available from 11:30 local time till 13:45.
From precious metals gold, platinum, silver, and palladium are open for trading. Again, like with some currencies, the trading session is not usual and there is a one-hour break form 18:00. Cryptocurrencies are popular in Latin America for many reasons. MercadosG knows this so they have some major Crypto listed. Bitcoin, Bitcoin Cash, Ripple, Litecoin, Ethereum, and Dash all denominated in USD are open but not 24/7.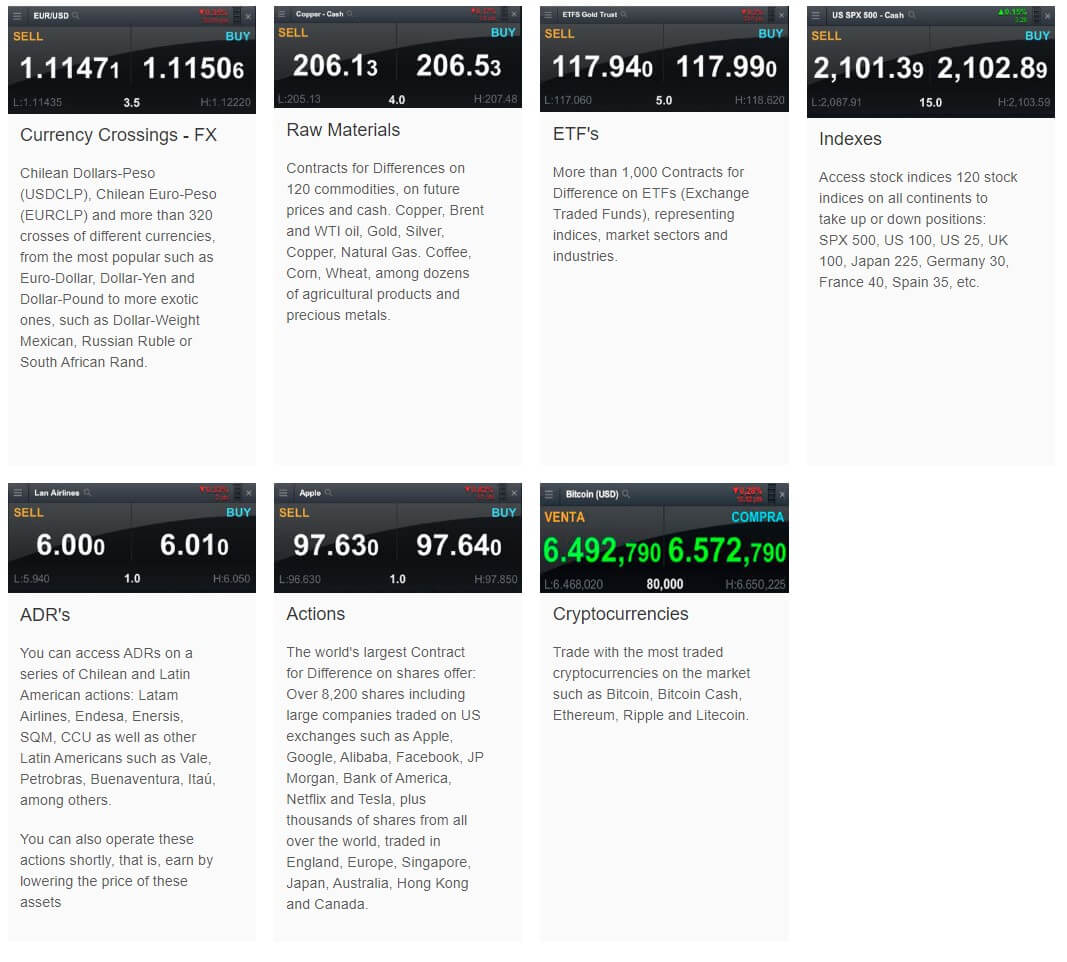 Now for stocks and indices CFD trading, the list of available companies is great. As with Forex, some extreme exotics could be found that are interesting for clients from Chile. For example, you can trade Banco de Chile or Banco Santander Chile, Brasilian Bovespa 50 Index and many more instruments specific for Latin America. One ETF is also listed and it is the MSCI Chile Investable Market Index Fund. Trading sessions for equities are limited too.
Commodities are not excluded. Traders can find, apart from major Gas and Oil commodities, Soybeans, Coffee, Petroleum and other uncommon assets.
Note that these assets are from the MT5 Intro Account with the MercadosG, not the CMC Markets that are linked through the New Generation Platform Account.
Spreads
The MercadosG has two MT5 Accounts – Intro and Executive. The Intro has variable spreads that are not great but still acceptable for traders that do not follow fast strategies on the 1M chart. The EUR/USD spread is from 2 to 3 pips, but for USD/CHF pair is 0.5, or USD/SGD – just 0.7 pips! On the Executive Account, the spreads get lower by approximately 20%.
MercadosG looks like it is not unique because of the special assets listed for trading, but also because of the interesting, low spreads for more exotic pairs.
For Bitcoin, the spread is 49 which is not a bad spread comparing to other brokers. Other cryptocurrencies have similar spread participation not exceeding 2%.
Minimum Deposit
No minimum deposit limits for the Intro type account. Also, for the New Generation platform account, there is no minimum. Note that this is the CMC Markets policy since MercadosG is just a proxy for that broker, using all the marketing and assets available form the CMC's Next Generation Platform.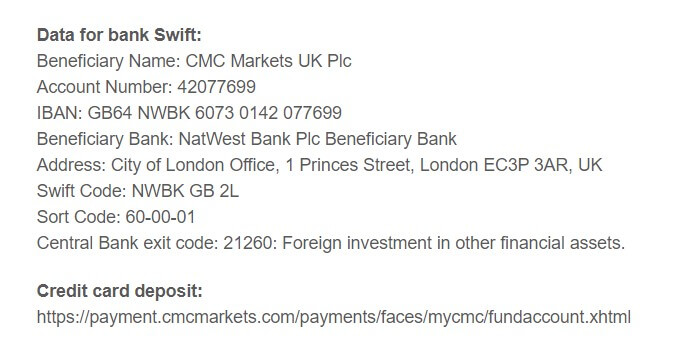 For the MercadosG Executive MT5 Account, there is a minimum deposit of 5 million Chilean Pesos. Around 7000 USD for the current rate of 0.0014 USD per 1 CLP.
Deposit Methods & Costs
MercadosG states that there are two methods for deposits, by credit cards and bank wire transfer. As we found out, only bank transfers are possible and as this broker accepts only clients from Chile, they need to have bank accounts in that country. The cost of the transaction is covered by the client and depends on the bank.
Withdrawal Methods & Costs
Same as deposits, no way to withdraw to a credit card or any e-wallet. The only method is by bank transfer. There are no fees charged by the MercadosG although some fees may arise from the client's bank.
Withdrawal Processing & Wait Time
As with any bank transfer, it may take up to 7 business days for the funds to reflect on the client's account. MercadosG states that the withdrawal requests are processed within 24 hours from their side.
Bonuses & Promotions
We are informed by the support that this broker does not offer any promotions or bonuses. No referral programs either.
Educational & Trading Tools
MercadosG has an educational section on their web site. It is organized in several sections comprising of some educational material for beginners, local and international reports and news, seminars, and general trading information from the press. At the time of writing this review, all of the information found here is outdated for at least 4 months. The news relevance, though, was good and the reporting had quality. It was probably abandoned due to low interest. The educational part is still valuable, offering some useful material for trading, not just some basics. Sadly, the seminars included were deleted from YouTube.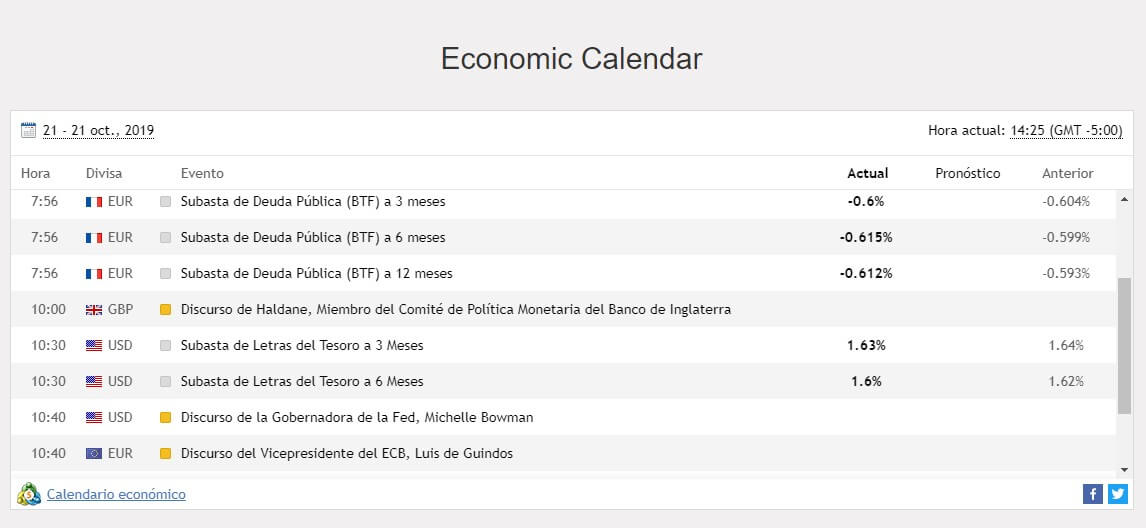 Trading Ideas are a kind of trading signal service for email subscribers. According to their statistics, they have a 68,4% positive trades ratio. As this is just a number of trades excluding the actual gains, this may not reflect a positive balance. Actual gains are historically listed individually for each signal. The economic calendar is there, but there is nothing special about is as it is the standard MQL5.com feed.
Customer Service
MercadosG chat representatives respond within four minutes but the flow is not there. With every additional question, you need to wait another few minutes. They are knowledgeable enough but do not answer with additional relevant information and do not seem very courteous. We are not sure if they are busy or just not very interested in answering questions. You can also start a WhatsApp webchat too if the usual chat channel is not enough. Support can also be contacted by phone.
Demo Account
The demo account is not time-limited as long traders are active. It is only available as Metatrader 5. The process is rather simple but you will have to use your email to access. The spreads you will see are coming from a single MercadosG server and looks like it is the same for live accounts. In the demo account, you will see the trading cost for the Executive, not the Intro live account.
Countries Accepted
MercadosG own brokerage service is reserved for clients from Chile only. The New Generation Platform Account is a proxy to the CMC Markets and has nothing to do with MercadosG except to be used for promotional purposes.
Conclusion
On the MercadosG web site, you will see all the features, regulation and assets marketing as it is MercadosG own service. In essence, a good part of this comes from the CMC Markets. The regulation and the Compensation Scheme comes from the FCA and FSCS, MercadosG is not regulated or supervised by any authority. Still, even if this somewhat manipulative, MercadosG will state his role with the CMC clearly in the FAQ section accessible at the bottom of any web site page, just not during the account opening process. As a Metatrader 5 only broker for residents of Chile, it has unique assets specific for Latin America that traders appreciate. On top of that, EAs and scalping are allowed, the trading costs are low enough and the overall assets range is good.