MagnumFX is an online Forex and CFD broker that is based in Cyprus and regulated by the Cyprus Securities and Exchange Commission (the "CySEC"). MAgnumFX have set out their core values around their clients, aiming to offer integrity, opportunity and to build and maintain their positive reputation. We will be using this review to look through their rather limited site to see what information we can find on their trading conditions and so you can decide if they are the right broker to suit your trading needs.
Account Types
There isn't an account information page or any information on the trading accounts at all, so because of this, as we go through this review we will outline any information that we find, if there is multiple information pertaining to multiple account types we will outline them in each section, otherwise, everything in this review will be relevant to the available account.,
Platforms

MagnumFX is currently offering just the one trading platform which is MetaTrader 4, the platform is used all over the world by millions of traders and comes with a whole host of helpful features. It can be used anywhere as a desktop download at home, a mobile application on the move or as a web trader on any device. It also has access to a database of thousands of indicators and expert advisors which allows for advanced analysis and automated trading, the platform also offers features such as one-click trading, multiple charts, multiple timeframes and can be used in multiple languages.
Leverage
MagnumFX is following the guidelines of the ESMA which means thair leverage is rather limited, the recommendations state the following:
Leverage limits on the opening of a position by a retail client from 30:1 to 2:1, which vary according to the volatility of the underlying: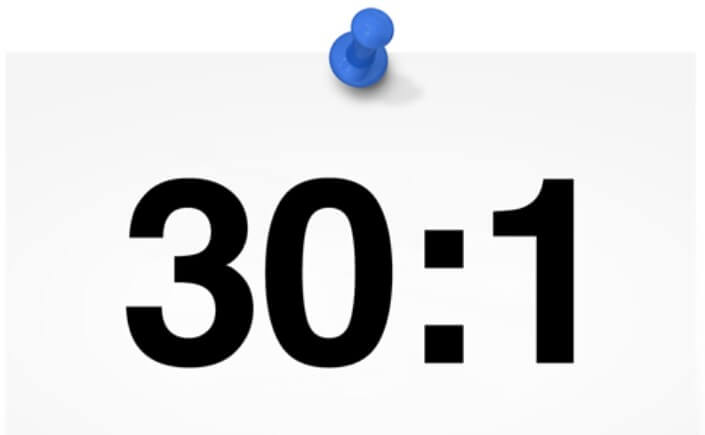 30:1 for major currency pairs
20:1 for non-major currency pairs, gold, and major indices
10:1 for commodities other than gold and non-major equity indices
5:1 for individual equities and other reference values
2:1 for cryptocurrencies
Being limited to 1:30 can restrict not only risk management strategies but also the profit potential of an account.
Trade Sizes
Minimum trade sizes start from 0.01 lots and go up in increments of 0.01 lots. There is no information on the site regarding a maximum trade size or how many trades you are able to have at any one time.
Trading Costs
There isn't any information on the site regarding trading costs, this goes for both commissions or swap charges. We would expect there to be some swap charges present as it is the norm, they are charged when you hold a trade overnight and will be visible within the MetaTrader 4 trading platform.
Assets
There is not a full breakdown or product specification available from MagnumFX which is a shame, many potential clients should be looking to see if their preferred asset and instrument is available to trade, not knowing could cause them to look elsewhere. A product specification can also give a lot of information about the trading conditions such as spreads and commissions, so not that being available is a shame.

Spreads
The spreads are another entity that we are not sure of, there are no examples or mentions of spreads, so their starting values are not known, we do know that the spreads will be variable which means they can be influenced by the markets, the more volatility in the markets the higher the spreads will go, different instruments will also have different natural spreads.
Minimum Deposit
There isn't any financial information available on the site, this includes what the minimum deposit value may be.
Deposit Methods & Costs
As there isn't any financial information available we do not know which methods are available to deposit with, we also do not know if there are any added fees. This is vital information as clients need to know how they can get their money into the broker, they do not want to sign up only to find that they cannot deposit as they do not use the available methods.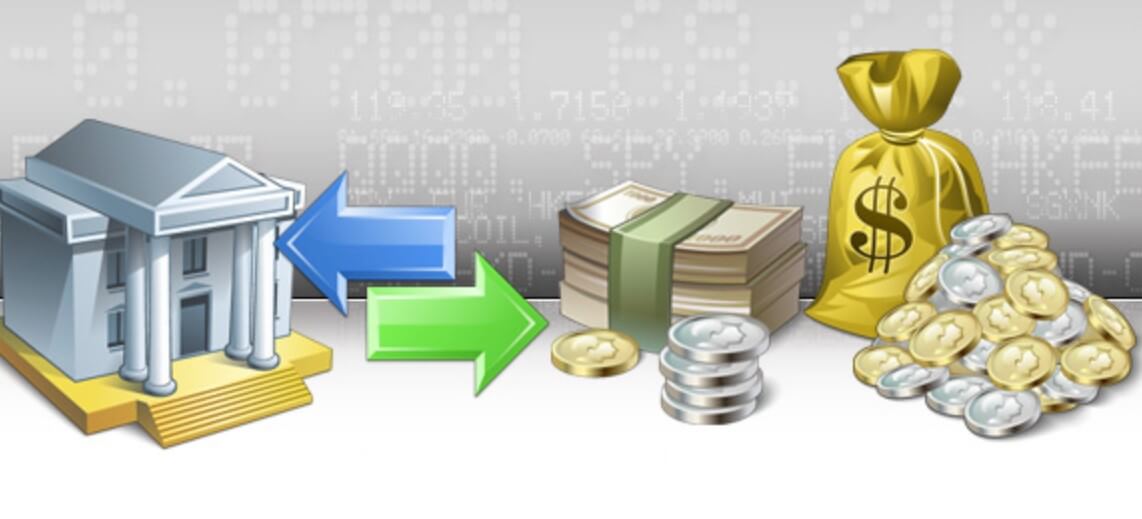 Withdrawal Methods & Costs
Just like with the deposit methods there is also no information surrounding the available deposit methods or any potential fees and commissions for withdrawing. Once again it is important for potential clients to know how they can get their money back and if it will cost them to do so.
Withdrawal Processing & Wait Time
As we do not know what methods are available to withdraw, we also do not know how long it will take, MagnumFX also does not state what their aim for processing times are, we would hope that any requests would be fully processed within 7 days of the request being made.
Bonuses & Promotions
There are no active bonuses or promotions from MangumFX at the time of writing this review, this does not mean that there won't be any in the future though, so if you are interested in bonuses you could always contact the support department to see if there are any coming up that you could take part in.
Educational & Trading Tools
This is another aspect of the broker that is lacking, there is no information on the site in regards to education or tools. Many modern brokers are now trying to help their clients improve through the use of analysis or education, so it would be good to see MagnumFX do something similar.
Customer Service
There are a few little ways to get in contact with the MagnumFX customer service department, they haven't stated what their opening times are but you are able to get in contact using the postal address provided, as well as the available phone number and email address.
Address: KPMG Center, 1 Agias Fylaxeos Street, 2nd Floor, Office 1, 3025 Limassol, Cyprus.
Phone: + 357 25 053547
Email: info@magnumfx.eu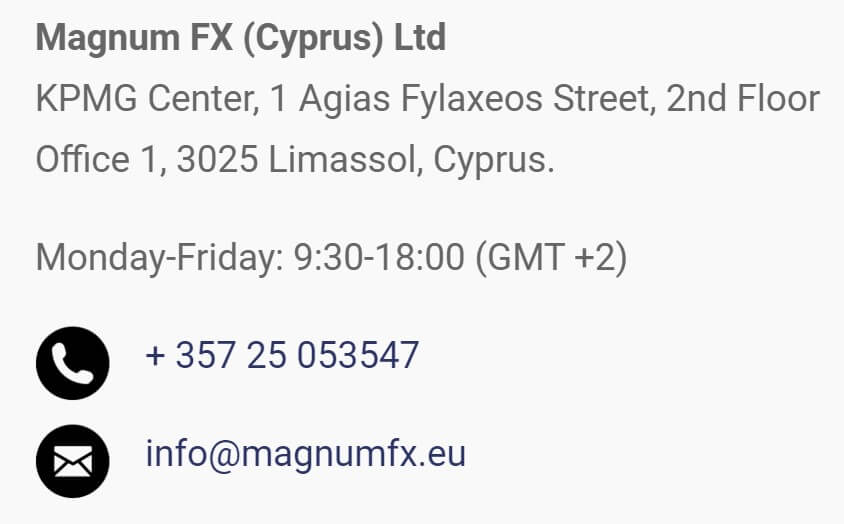 Demo Account
There isn't any information on the site that indicates that there are demo accounts, you would be able to open one up through MetaTrader 4 but not directly through the site so the trading conditions within those demo account would be unknown. Demo accounts are important for a broker as they allow you to test out new strategies as well as the trading conditions without any real risk.
Countries Accepted
This information is not available anywhere on the website, so if you are wanting to get more info on your eligibility we would recommend contacting the customer service team to find out if you are eligible or not.
Conclusion
There isn't a lot of information available on the website, we have an understanding of the trading platform available and the amount of leverage that is being offered. Apart from those aspects, there is not a lot of information around the trading costs, available assets or funding methods. Without any of that information being available, we would have to recommend looking elsewhere for a broker to use.