This tool is tracking the entire market for commercial opportunities for all symbols and time frames. You don't have to look at all the charts, for all the symbols, and for all the time frames. This scanner will let you know on your computer, or on your mobile when a business opportunity has been found. This tool is designed to scan all Forex currency pairs, for all time frames, to find a crossing of the main MACD and signal line.
The MACD is used to track trends. The MACD is calculated as follows: 12 EMA periods and 26 EMA periods (default values). A MACD signal is the EMA-9 of the MACD line. The most decisive signal of the MACD is when the indicator crosses the signal line up or down. This gives us a sign that a trend may be changing direction.
Note: This indicator will not display information on the chart. It is a scanner and will provide only MACD trading alerts.
MACD Strategy for Trading
MACD's strategy is trading when there is a cross of the MACD and the signal line. However, you may not want to act at every sign. You will have more profitability when you trade in favor of the trend.
This tool implements various filters to provide the most efficient MACD signals:
Signals will be filtered when not following the MACD trend. E.g. If the indicator line is at the bottom (below zero), no bullish signals will be reported.
The scanner has a built-in trend filter, to provide only trending signals.
Will select signals if the MACD is low. If the value of MACD is low, it means that the 12-period EMA and the 26-period EMA are close to each other. This time, there is no powerful trend, and it is not advisable to trade in this condition.
Recommendations for Trading
As for each indicator, longer lead times are more reliable than shorter lead times. For this reason, the proposal is to use the scanner only for high time intervals (H1 or higher).
It is advisable not to trade when there is important news expected that same day. Critical news can lead to unexpected movements in the market, which cannot be identified by any indicator. Do not enter the market when the price is close to an important support or resistance area.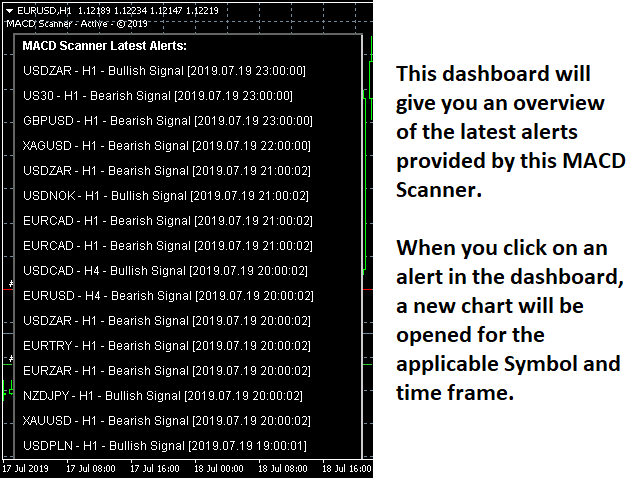 Characteristics of this Indicator
Scan all the symbols visible in your Market Watch window, or all the symbols available to your broker at the same time.
The indicator just has to be installed on a graph to scan the entire market.
The trader specifies which timeframe you want to monitor. Each timeframe can be selected in the settings.
The panel will display the latest alerts provided by this scanner. When you click on an alert, a new chart will open for the applicable symbol and time frame. The new table will highlight the alert with a vertical line.
Alerts will be received at the MT4 terminal for each business opportunity found.
You can get alerts on your mobile phone, so you never miss a business opportunity.
Low CPU usage. Alerts for MACD Main/ Signal crosses, with a trend filter.
Alerts when MACD line 0 is crossed.
This indicator was created by Victor Christiaan in April 2019 and has a lot of positive reviews and feedback from users. MACD has always been a widely used tool for all types of traders, so we can advise this indicator for you to add to your trading. The purchase price is 30 USD and you can also rent it for 10 USD per month. A free trial version is also available.