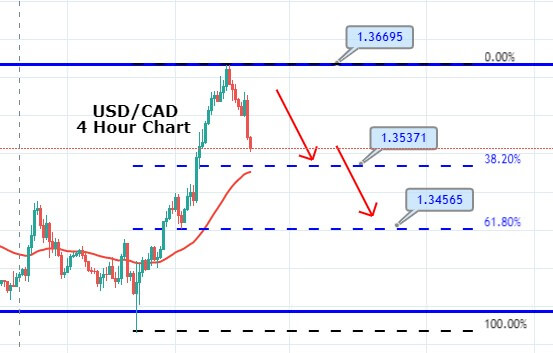 The USD/CAD Currency Pair Hit The Fresh Session High Around 1.3500 Marks Due To Combination Of Factors. The USD/CAD pair was closed at 1.36295 after placing a high of 1.36317 and a low of 1.33969. Overall the movement of USD/CAD remained bullish throughout the day.
USD/CAD on Thursday rose from ashes like a phoenix after trading lower for past days due to general commodities weakness. The WTI crude oil dropped about 8% lower on Thursday and dragged commodity-linked Loonie with itself, which afterward pushed the USD/CAD pair higher.
The selling bias of crude oil was due to the fresh prediction of the long road towards economic recovery by the Federal Reserve, which exerted downside pressure on the oil market. Decreased crude oil prices pushed the currency pair USD/CAD in an upward direction to post daily gains.
On the other hand, the US dollar strength also added in the upward trend of USD/CAD after the better than expected US economic data and risk-off market sentiment. The reason behind the risk-off market sentiment was the gloomy outlook of the US economy from the Fed in its monetary policy meeting report on Wednesday. Fed promised to maintain the interest rates at its current level of 0-0.25% near zero until 2022.
On Thursday, the economic docket, the Unemployment Claims from last week, decreased to 1.542M from 1.550M of expectations and supported the US dollar. The PPI for May also reported an increase to 0.4% from the 0.1% of expectations and added support to the US dollar.
The strength of the US dollar from positive macroeconomic data and risk-off market sentiment gave a boost to its buying and raised its bars on the board against its rival currencies, including CAD. The heavy buying of the US dollar added in the upward trend of USD/CAD pair, and hence, the pair rose above 1.3600 level on Thursday.


The USD/CAD prices are trading with a bearish bias of around 1.3580, falling from 1.3660 level. The MACD and RSI were in overbought range, and the pair has closed three black crows are driving bearish movement in the market. Let's consider taking sell to target 38.2% Fibonacci retracement at 1.3570 level today. 
Entry Price – Sell 1.35903    
Stop Loss – 1.36303    
Take Profit – 1.35503    
Risk to Reward – 1
Profit & Loss Per Standard Lot = -$400/ +$400
Profit & Loss Per Micro Lot = -$40/ +$40