Infinox Capital Ltd is registered in the United Kingdom and registered and licensed under the Financial Conduct Authority (FCA). This broker opens its services for clients who wish to not only trade individually but also offer Introducing Broker and Affiliate programs to those who wish to expand on their income outside of their trading portfolio. Infinox is also well established, and have been offering their trading services since the year 2009 so it is safe to say they clearly know how to maintain a client base and offer the right service to suit their trading needs.
Account Types
Infinox offers 3 live trading accounts for CFD trading:
IXO (Infinox tailored trading platform): no commission fees
MT4 STP: no commission fees
MT4 ECN: 5 GBP (round turn) commission fees but access to lower spreads
All accounts offer the same instruments and spread however the IXO platform is the only one in which clients have access to Equity CFDs. If however, you would rather trade Futures rather than CFD, there is an alternative trading platform available (CQG).

Platforms
As mentioned above, Infinox offers its trading services compatible via MetaTrader 4 platform as well s their own IXO platform which is tailor-made. Clients can choose whichever they prefer, with the same access to the same markets for trading. Of course, the difference between the two platforms is aesthetics as well as the fact that the IXO platform does not charge commission fees. Therefore, expect the spreads to be slightly marked up as the broker would, in turn, earn profit from the spread in this case.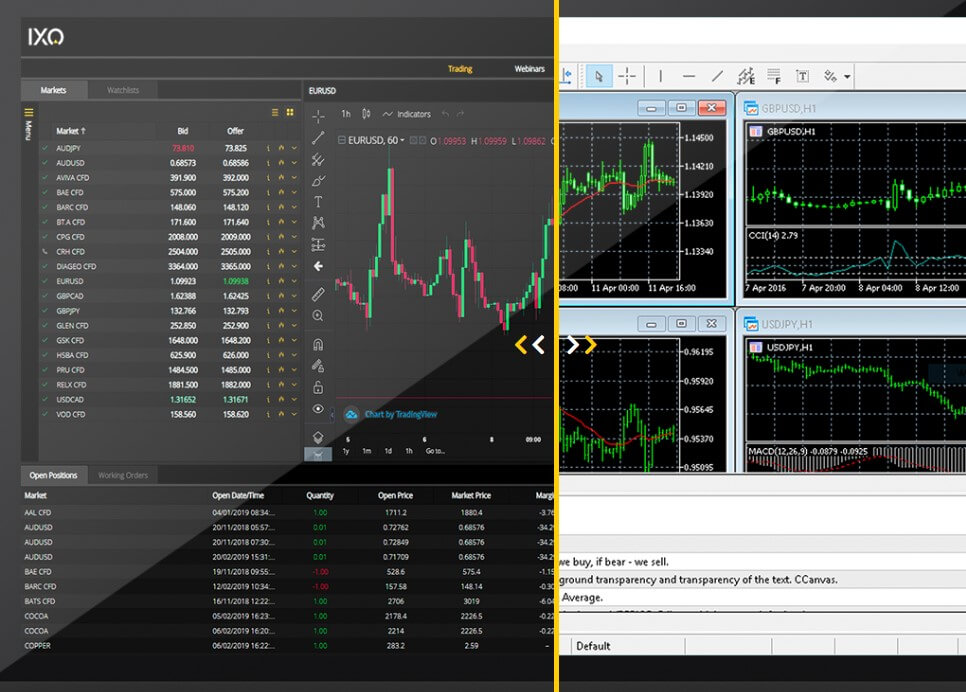 Clients who opt to use MetaTrader 4 can Download MT4 on their Desktop PC or Mac, and Android/ iOS versions are also fully compatible. The IXO platform is only available via the Desktop version.
Leverage
The maximum leverage on all CFD trading account is set at 1:30. This is, of course, to comply with the regulation policies that Infinox adhere to. While this leverage cap is low and not competitive, traders can still make a great profit, but this would mostly be a result of a large initial deposit, to begin with. Equity will need to be maintained when trading with such leverage caps. The maximum leverage allowance is as follows for all instruments:
FX Majors: 1:30
Commodities: 1:10
Equities: 1:5
Cryptocurrencies: 1:2
Trade Sizes
The minimum trade size requirement is 0.01 lot, which is standard for the vast majority of brokers, but the maximum is set relatively low at 40 lots for Forex trading.
Trading Costs
The commission fees are not applicable to all trading accounts but bear in mind that where commissions are NOT charged, the spreads on that account option will be marked up.
IXO: 0 commission fees
MT4 STP: 0commission fees
MT4 ECN: 5 GBP RT commission fees
Assets
Infinox offers a fairly wide and competitive range of tradable instruments to their clients, which include: Forex currencies (49+), Indices, Commodities, Equity CFDs and Futures. we advise you to open an Infinox Demo account to see the complete and full list of tradable instruments available. Infinox did previously offer Cryptocurrencies but no longer do, the reason as to why this is the case is unclear.

Spreads
Infinox offers their clients variable (floating) spreads, all of which 'typical' spreads are available, for ALL instruments directly on the website, however, to view all LIVE floating spreads, you will need to open a demo account. On the whole, even just looking at the typical spreads, Infinox offers competitive spreads across the board, especially for Forex currency Majors and Commodities.
Minimum Deposit
The FAQ page states that the minimum deposit required to start trading with Infinox is just £1 or equivalent in your base currency so this leaves the initial deposit entirely down to the client to deposit as much as he/she wishes to fund their account with, without any pressure to deposit a specific amount.
Deposit Methods & Costs
According to the FAQ page, Infinox accepts clients to fund their account via the following:
Debit or credit card
Skrill
Neteller
Bank transfer
Infinox does not charge its clients for making a deposit via the above methods available.

Withdrawal Methods & Costs
The withdrawal methods available with Infinox are the same as the deposit methods listed above, and the only fee-free withdrawals would be for the GBP trader account holders. If, for example, you have your account in EURO currency, you will be charged a 7 EUR fee but the first withdrawal of the month is totally free of charge.
Withdrawal Processing & Wait Time
Infinox process all their withdrawals within 3-5 working days, however, Neteller withdrawals are processed within the same day, and usually is the fastest method. Although wait time after processing can sometimes vary, Infinox does stick to their timescales and does not disappoint their clients with any delays.
Bonuses & Promotions
Infinox does not offer any deposit bonus schemes or such promotions, which of course reminds us this is a fully regulated broker, who cannot offer such schemes under strict regulatory policies.
Educational & Trading Tools
Infinox offers a small selection of reading material on trading and how it works, but it is not very thorough so if you are looking for some in-depth reading and learning to do, you may be better off approaching alternative avenues. However, not to worry as many free online trading education resources can be found online.

Customer Service
One thing that really stands out positively with this broker is the Infinox Customer Support team. They are available to contact via email, telephone and live chat during the hours of 8 AM – 6 PM between Monday and Friday. You will find customer support by Infinox more than satisfactory, with their prompt and professional responses. This level of quality in a customer support team is not all that easy to come across in a broker so it is refreshing when you find it as this adds a level of reassurance and confidence among the clients, knowing a representative is easily contactable and will deliver fast responses.

Demo Account
Infinox does offer a demo account so for those who are either just starting out in trading and wish to take some time to practice, this tool is available. Alternatively, if you simply wish to backtest a simulation of the live trading environment, the option is there, prior to opening a live account right away. Of course do bear in mind that while the demo account reflects the live trading conditions, it cannot take into account some real-life instances that occur in live trading, such as slippage.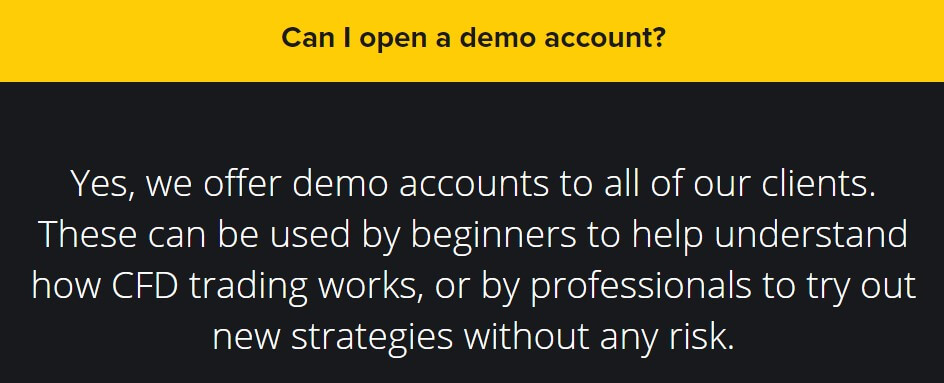 Countries Accepted
The Infinox website disclaimer does state that these trading services are not directed at residents of the United States, Belgium or any particular country outside the UK or any country or jurisdiction where the use of these trading services would be contrary to local law or regulation. Of course, to register for a live account, all clients must go through a KYC process and submit a document proof of Identification and proof of address residency. At this point, you will be notified if your residency allows access to Infinox trading services or not.
Conclusion
On the whole, Infinox offers a very competitive trading service, as far as regulated brokers can offer. Their selection of tradable instruments is wide and the selection of trading account types are fair and justified and clients have the choice of trading on IXO or MT4 platform, as they wish. In addition, the customer support team are consistent in terms of speed of response, quality of response and professionalism.
One major downside to trading with this broker, however, is that those clients who do not hold a GBP account, are subject to paying incredibly expensive withdrawal fees, which can really stack up if you are withdrawing frequently. This is essentially a double-edged sword whereby the client may choose to keep on trading and try their luck, as opposed to withdrawing their profits as they earn them, meaning they will be more inclined to keep their funds with the broker and continue trading.
Overall Infinox is a good choice of broker to consider, even if you are not wholly experienced as a trader, this broker offers simplicity and straightforwardness for their clients, and a reliable 24/5 support team to assist you along the way.