IMT Trade is an exclusive brand created by Glastrox Trade Ltd, a licensed Investment Firm regulated by the Marshall Islands Business Corporation Act with authorization number 91438. This group of traders, IT specialists and programmers have created this brokerage specifically for clients in Vietnam, where they have a number of offices around the county.
On their About Us page, this broker states that they collaborate with a regulated entity that operates the online trading platforms where client's orders are executed and that they offer their clients multi-lingual support 24 hours a day.
All deposits in IMT Trade are insured just as in any bank, and they boast a number of advantages namely; fair conditions to all traders, a personal approach, a high level of security and privacy, innovative solutions, daily improvement, and a 100% commitment. They seem to offer 2 main types of accounts with a vast option of trading instruments available on both account types. Keep reading to find out more about this broker and whether IMT Trade would be a good choice for you.
Account Types
This broker offers 2 types of accounts, namely the Live Account and the Live Premium Account. With the former, clients can undertake any transactions on the market that they choose plus getting access to regular webinars, seminars and also training sessions. Like the Live Premium Account, the Live uses the MT4 platform. The Live Premium Account comes without charges and clients can open this account for a minimum deposit of $1000.
Both accounts can be opened using either USD, EUR or GBP. Although it is not stated on their Accounts page, we did find mention of an Islamic Account being available on their Terms and Conditions page. Here the broker states that clients who adhere to Islamic beliefs can speak to the broker and trade on a Swap Free account. Clients who are interested in this type of account should be wary as the broker also notes that the company may add a commission upon each and every trade executed on the Islamic account and the company may also restrict the customer from hedging their positions.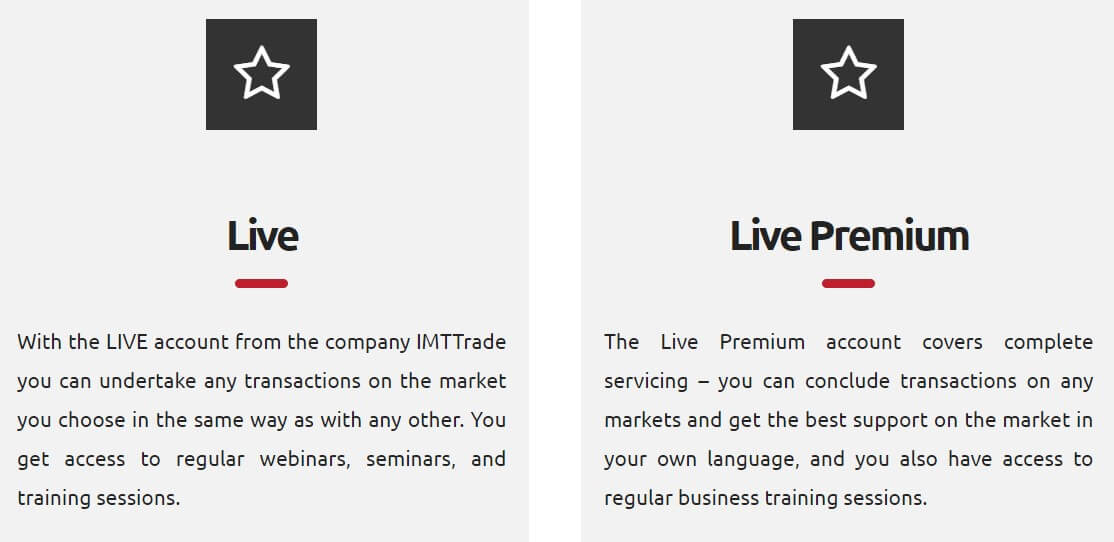 Although spreads are not clearly outlined on their Accounts page, they do mention in their Terms and Conditions page that the broker reserves the right to widen its variable spreads, adjust leverage, change its rollover rates and or increase the margin requirement without notice. This obviously provides more questions than it does answers, which is very unappealing to potential clients. We did reach out to IMT Trade to find out more details about their account, but they just sent us a link to their Accounts page, which is missing a lot of essential information.
Clients can only open one account with this broker and any duplicate accounts will be closed without notice.
Platforms
IMT Trade offers the most popular and well-trusted MT4 Platform. This platform, that can be used either on a web browser or through an application is easy to install and contains loads of specialized features that will help you trade. Features include advanced technical analysis, Economic calendars, reliable data protection and a vast array of technical indicators that beginner, as well as professional traders, can use to strategize their trading endeavors. You can find a download link for this popular Platform on IMT Trade's website.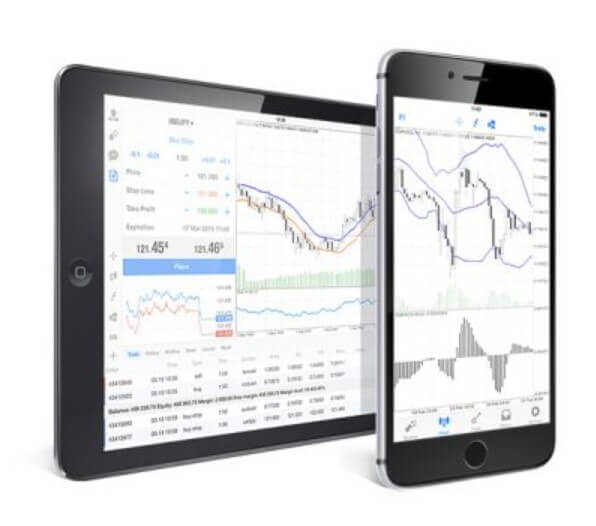 Leverage
Leverage provided depends on the actual value of the tool being used. Clients can take a look at what leverage ratio this broker offers by going on their specific instruments page. The highest leverage we saw for FOREX was of 1:500, but we cannot certify if this is the highest and if this leverage is offered to all accounts available. When we asked customer support for more information, they simply directed us to the same page we were on, so we cannot comment any further on this.
Trade Sizes
The maximum order size available for trading with IMT Trade is 20 lots, whereas the minimum size of lots depends on what asset the client is trading. You can find a list on the trading conditions for each asset to view the minimum and maximum trading sizes available.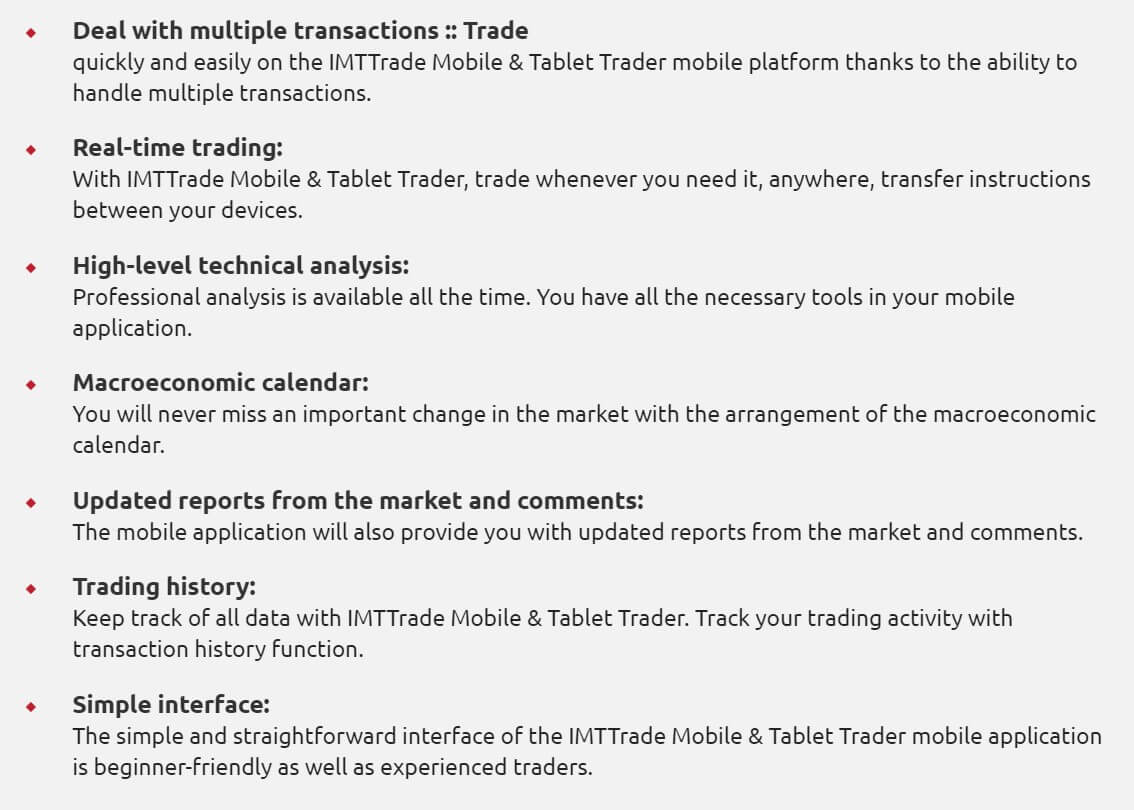 Trading Costs
Like most information on this broker's website, information about trading costs isn't very clearly outlined. They do state that the trading of their assets entails no fees and that they only make a profit through spreads which fluctuate between 0% to 0.0012%. Since offshore brokers tend to hide important information such as trading costs, we went through their terms and conditions page to make sure no other hidden fees are applied. As we've mentioned before we did find that Islamic Accounts may be susceptible to commission fees on all trades executed, but we did not find the specific amount.
We also found that this broker may share charges with partners, affiliates, business introducers and agents in connection with transactions carried out on their clients' behalf. Although they do not give any specific information about these fees, they do state that anyone who would like more information can contact them privately.
Assets
Clients have quite a wide range of assets available for trading including more than 100 currency pairs including AUD/CAD, CAD/CHF AND EUR/USD just to mention a few, over 10 commodities including Rice, Platinum, Soybeans, Sugar and Cotton amongst others, a number of Indices including UK100, DE30, DollarIndex, and US30, etc and also a number of Stocks and Bonds. This broker does not have any cryptocurrencies available for trading, but otherwise, their options are quite varied and attractive for a number of potential clients.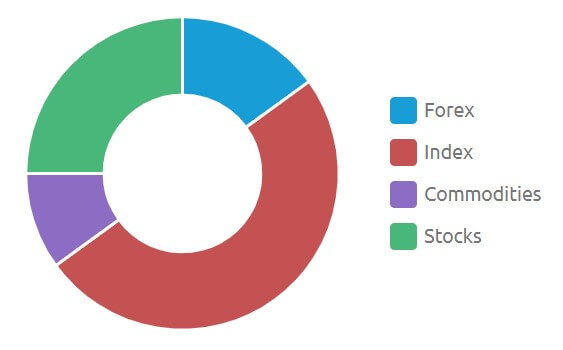 Spreads
This broker uses mainly floating spreads but through the information they provide on their website, we did notice that their spreads are generally actually quite high. For example, at the time of writing this review, one of the most popular currency pairs EUR/USD had a difference between the BID and the ASK price of around 3 Pips, which is approximately double to what other brokers offer for the same currency pair. If you'd like to get a better idea of what spreads you can get with this broker, you can go on each asset's particular page and work out the spreads from the swap rates.
Minimum Deposit
The Minimum Deposit required to open up a Premium Live Account with IMT Trade is $1000, whereas there is no information regarding what amount clients need to deposit to open up a Standard Live Account.
Deposit Methods & Costs
This broker doesn't clearly outline what depositing methods are available for clients to fund their accounts. We did ask them via email and this was their response, "It really depends on the country you are depositing from. Normally it is E-Wallets like Skrill and BTC and Credit cards". Unfortunately, they did not tell us whether any depositing fees apply so we cannot comment any further on this.
On their terms and conditions page, we did find this piece of information; IMT Trade has the right not to accept funds deposited if; clients fail to provide Glastrox Trade Ltd. With any documents that they request, if they have concerns documents may be falsified and if clients are known to be involved in illegal or fraudulent activities.
Withdrawal Methods & Costs
Clients can withdraw their funds through wire transfer, online payment, credit/debit card or stock related payout on CFDs. Although it seems as though this broker does not have any withdrawal fees, it does mention that the client's withdrawals may incur third party charges.
Withdrawal Processing & Wait Time
Once a withdrawal request is sent and approved, the request will be processed by the broker and sent to the bank, credit card or any other source for fast execution. Like most brokers, IMT Trade will return the funds to the bank/credit card or other sources from which the funds were debited. The broker states clients should expect these time frames for withdrawals to go through;
Wire transfer up to 5 business days
Online payment up to 5 business days
Credit/Debit card up to 10 business days
Although we were informed via email that this broker accepts deposits and withdrawals through e-WALLETS, we found no information about this on their website, so we do not know if withdrawals can be done through such a method.
Bonuses & Promotions
Again, we did not find any information about any bonuses or promotions offered by IMT Trade on their site, but we found an extensive segment about the bonus conditions on their Terms and Conditions page, which seems to be the most informative section of their website.
Here they explain that they offer a number of attractive reward features to new and already existing clients including bonuses and one-time trading credits. These bonuses are limited to a certain amount of time and as always, there are a number of terms and conditions associated with any bonuses offered. If everything is favorable, the bonus is added to the client's account where the client can use it to place trades on the MT4 platform, meaning that these bonuses cannot be withdrawn.
Some of the terms outlined by the broker are; The clients are only eligible to claim their bonus if they execute a minimum trading volume of $10,000 for every dollar awarded by the broker, clients have a 90-day timeframe from the date of receiving the bonus to meet the aforementioned condition and clients that receive a trading bonus have 7 days to execute their first trade from the day that the bonus was granted if they fail to do so the broker will have the right to remove the bonus.
Strangely, the actual bonus is not outlined anywhere on the broker's site so we are quite in the dark about what it entails.
Educational & Trading Tools
Apart from some basic information about their assets, IMT Trade does not offer any detailed or current information about trading on their website, but for those who opt to open up an account with them, training videos, webinars and seminars will be available for free. In terms of trading tools, they do have a Rollover & Dividends table and Public Holidays calendar. Obviously, clients of this broker can still use the MT4 platform and all its tools to help them trade successfully.
Customer Service
We have mixed feelings about this broker's customer service. On the one hand, their response rate (via email) is very fast and efficient as we were receiving replies within 10 minutes of sending an email, but their answers lacked any detailed information. Most of their answers were simple links to their website which as we've stated multiple times is missing a lot of useful information that clients generally like to know before doing business with a broker. We also felt that whoever was answering our questions was either in a hurry or not very well informed as the answers provided were only giving us half the information we required or none at all. Here is there contact information:
Address: Ajeltake Road,Ajeltake Island
Majuro, Republic of the Marshall Islands
MH 96960
Telephone: + 61 283 113079
Email: [email protected]
Demo Account
You can test out IMT Trade's trading conditions risk-free by signing up for their demo account. With this account, clients will have the chance to use the MT4 platform with current data from the real market. Clients of the demo account will also have simple training videos to help them master their trading.
Countries Accepted
Currently, this company has 4 countries which it has banned namely; Belgium, Canada, Israel, and the USA. The list of banned countries is subject to change at any time due to new regulations and restrictions.

Conclusion
IMT Trade is a CFD and Forex trader who has a vast number of assets available, variable spreads and reasonable leverage levels. This broker offers 2 accounts, but their accounts page on their website does not clearly outline the conditions for each specific account, such as minimum deposits and deposit/withdrawal methods. Their customer support is fast but the answers we were given were not completely satisfactory. Their spreads seem to be quite high which might be unappealing to some potential clients.
If you're interested in this broker and would like to know more, we suggest going on to their website, especially their terms and conditions page, to determine whether IMT Trade is the broker for you.