IMS Markets is a Cyprus based broker that offers forex based trading services. IMS Markets claims to be a client-driven service that enables traders, both new and old to become successful. Follow us through this review as we take a deeper look into what IMS Markets really offer.
Account Types
There are three account types available with IMS Markets, each with varying features, benefits and requirements. Let's take a more detailed look at each account type:
Classic Account:
This is the entry-level account from IMS Markets. The minimum deposit for this account is $250, it has an average spread of 2 pips and no commission on each lot traded. It has a minimum trade size of 0.01 lots (micro lot) and maximum leverage of 1:30, however, if you are a professional trader you can apply for increased leverage.
Gold Account:
This is the mid-tier account on offer with a minimum deposit of $2,000. It has an average spread of 0.5 pips and due to this reduced spread, it has a commission of $8 per lot traded. It maintains the 0.01 lots minimum trade size and as with the classic account, a 1:30 maximum leverage.
Premium Account:
This is the top tier account from IMS Markets and has a minimum deposit of $10,000 which means that the majority of retail clients would not be using this account. Similarly to the gold account, it has an average spread of 0.5 pips but a slightly reduced commission of $5 per lot traded. It too keeps the 0.01 lot minimum trade size and the 1:30 maximum leverage, with the option to increase if deemed a professional trader.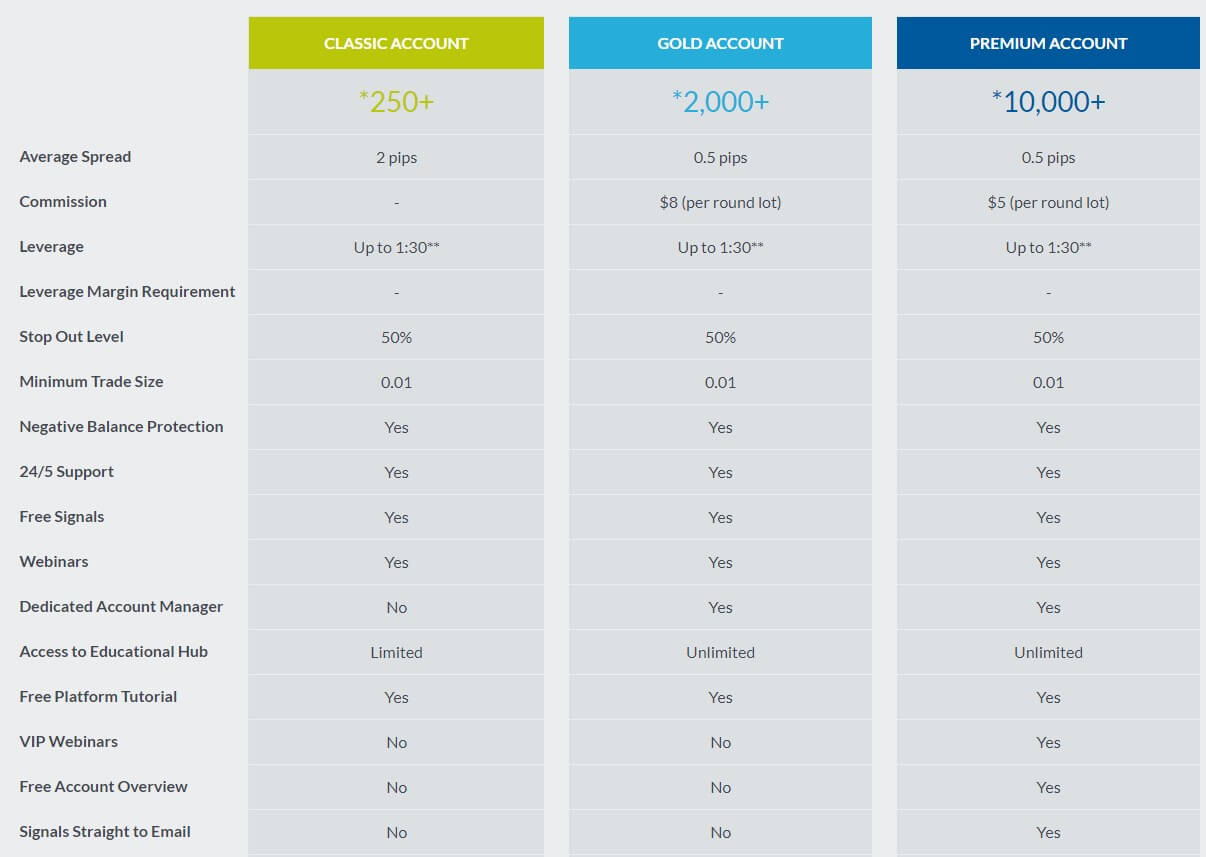 These accounts are pretty standard for forex brokers these days, however, the maximum leverage is a bit on the low side for a lot of retail traders.
Platforms
IMS Markets offer a single trading platform, the popular MetaTrader 5 (MT5). If you are going to offer a single platform, then MT5 is not a bad solution, it is available on multiple platforms including PC, Mac, iOS devices, Android devices and as WebTrader. It also offers huge amounts of flexibility and is compatible with hundreds of expert advisors and indicators. You can't really go wrong with MetaTrader 5.
Leverage
Leverage on all accounts is set at a maximum of 1:30 leverage which is very low when it comes to retail brokers now. The majority of brokers now offer amounts such as 1:200 or 1:500 so such a low maximum leverage may put a few prospective traders off. You can increase the leverage further if you are deemed a professional trader, but for the majority of people, this would not be the case.
Trade Sizes
The minimum trade size at IMS Markets is 0.01 lot (micro lot) which is pretty standard and available on all three accounts. We could not locate any information in regards to the maximum trade size, however, the majority of brokers now offer between 50 and 1,000 lots, so it should range within there, however, we can not be any more accurate at this time.
Trading Costs
Trading costs at IMS Markets is based on the account type that you are using, the classic account uses a spread based system and has an increased spread of around 2 pips. The gold and premium accounts have a commission-based system and while both have a spread of 0.5, the gold account charges $8 per lot traded and the premium account charges $5 per lot traded as commission.
These costs are not out of the ordinary and are similar to what you will find at a lot of other brokers. There are also swap charges paid or received for holding trades overnight and these are viewable from within MetaTrader 5 (MT5). There is also a dormant account fee of $5 if you do not use the account for an extended period of time and this is taken out of the account balance until the balance reaches $0.
Assets
IMS Markets offer three types of assets for trading, Forex, Commodities, and Indices. We have put a breakdown below of how many assets there are for each category:
Forex: 50
Commodities: 5
Indices: 8
As you can see, there isn't a huge number of assets available, however, it does allow you to focus on specific assets in order to trade just your favorites.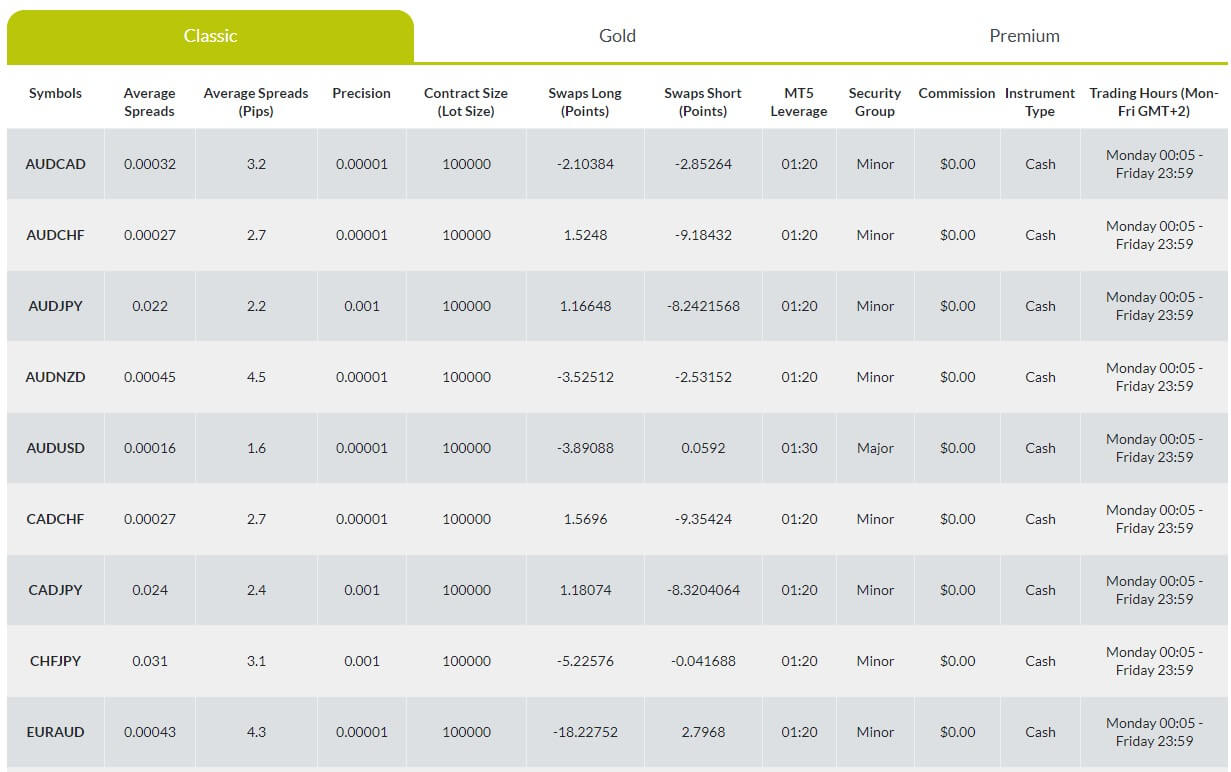 Spreads
Spreads are another aspect that is based on the account type that you are using, the classic account has an average spread of 2 pips, where the gold and premium accounts have an average spread of around 0.5 pips. Of course, these are just averages and there will be fluctuations in the spreads of each pair as well as some currency pairs naturally having slightly higher spreads than others.
Minimum Deposit
The minimum deposit at IMS Markets is $250, this will get you the classic account, however, if you wanted more favorable trading conditions you may need to deposit $2,000 in order to get into the gold accounts.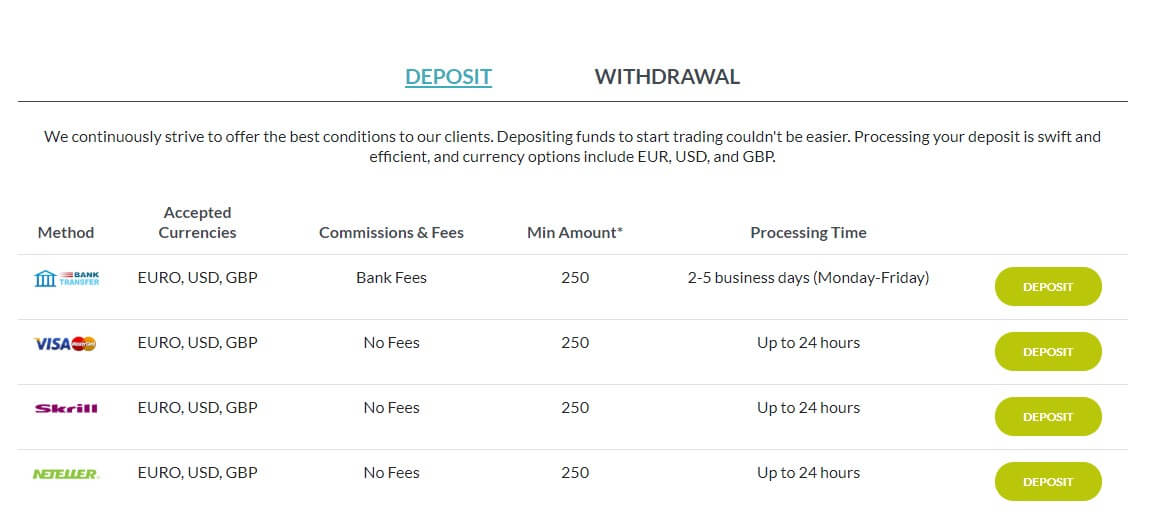 Deposit Methods & Costs
There are currently four deposit types available, these are bank transfer, Visa / Mastercard, Skrill, and Neteller. These are pretty standard methods when it comes to brokers and the minimum deposit for each type is $250. There are no fees charged by IMS Markets for depositing with any of the available methods.

Withdrawal Methods & Costs
The same four methods for depositing are also available for withdrawing. There is no minimum withdrawal when using any of the methods and there are no additional fees charged, please bear in mind that there may be conversion fees or bank charges charged by banks.
Withdrawal Processing & Wait Time
Bank transfer has a processing time of 2 – 5 business days (Monday to Friday), Visa / Mastercard, Skrill and Neteller all have processing times of 24 hours. The overall time to receiving your funds will also depend on the bank's processing time.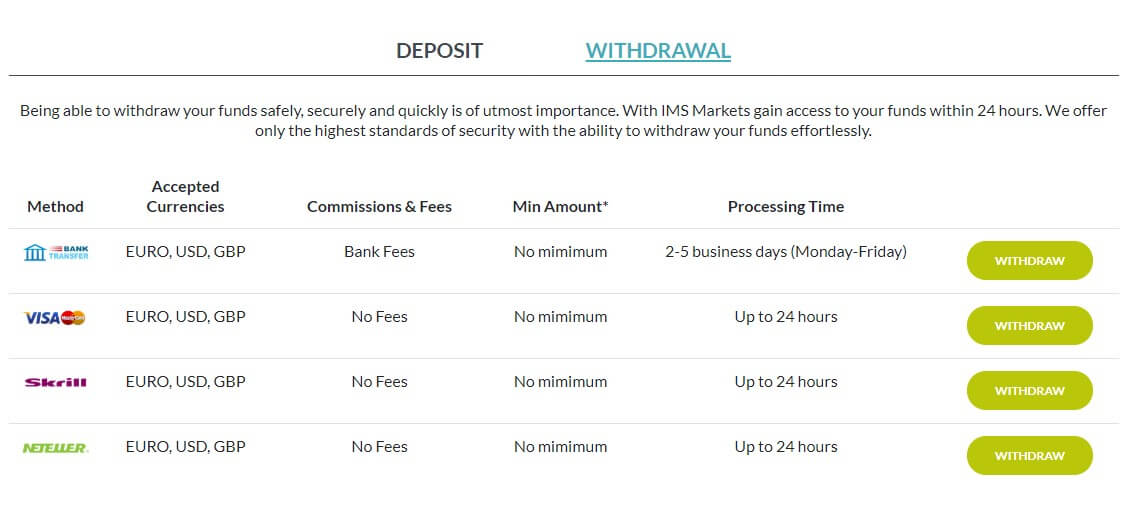 Bonuses & Promotions
There are currently no bonuses or promotions available, however, this does not mean that there won't be in the future so be sure to keep checking back.
Educational & Trading Tools
The only tools that are available are an economic calendar that currently shows very little information and is not the most helpful calendar available on the internet. There are no other trading tools or education available.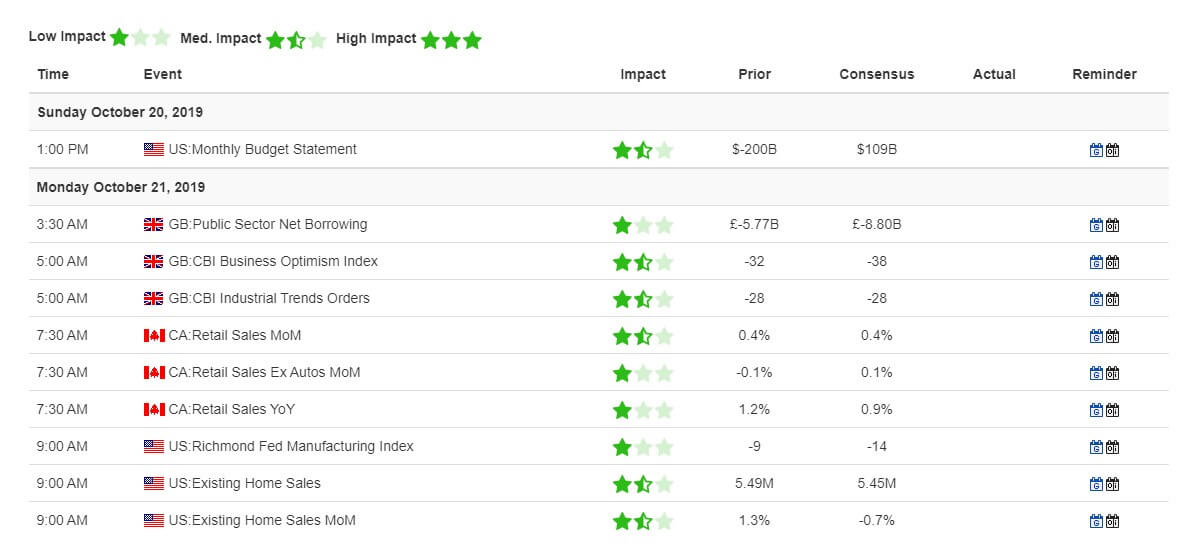 Customer Service
There are four ways to get in contact with IMS Markets, there is an online form to submit, an email address, a phone number, and a postal address. It is nice to have multiple different ways to contact a broker and it is stated that the support is available 24/5, it is closed over the weekend when the markets are also closed.

Demo Account
Demo accounts are available in just a few clicks, there are buttons to open one all over the main page. Simply fill in your details and you are good to go, these accounts last forever as long as they are being used, if they go idle for too long they will automatically be closed however it is very easy to simply open up another one.
Countries Accepted
We could not locate the information in regards to countries that are allowed or excluded so we can not comment on this.
Conclusion
IMS Markets seems like a competent broker, their website is fully functional and modern, their minimum deposit is reasonable at $250 however their accounts are let down by the maximum 1:30 leverage which his far too low for a lot of retail traders these days. Only one trading platform is available but at least it is the powerful and adaptable MetaTrader 5 and the lack of tradable assets is a bit of a concern. If you are looking for a new broker and don't mind the lower leverage, then IMS MArkets could make a good choice, however, if you want higher leverage you may need to look elsewhere.

We hope you like the review, be sure to check out some of the other reviews to help find the broker that is right for you.