iForex24 is an online, offshore broker with an investment portfolio that contains more than 200 options, made up of FX, commodities, and stocks. The company's physical location is in the Marshall Islands, with establishment dating back to the early 2000s (according to the website). The broker's main goal is to provide traders with an effective and convenient environment for investment. While this goal is certainly well-intentioned, it is fair to say that most traders would be more concerned with the costs that are associated with trading with this broker. Fortunately, we've done enough digging to outline everything one would need to know about this broker, so stay with us.
Account Types
iForex24 is currently offering three account types; Premium, Standard, and VIP. Accounts share several similarities, including leverage options, spreads, commission charges, trade sizes, available instruments, etc. The main differences would be the deposit requirements and the fact that the Standard account offers discounted spreads on commodities, while the VIP account offers the same discount but on commodities, indices, and forex majors, ultimately making it cheaper to trade these types of instruments on these account types. The broker doesn't go as far as to detail exactly how much these discounts could save traders. We've outlined important details for each account type below.
Premium Account
Minimum Deposit: $200 (maximum $9,999)
Leverage: Up to 1:200 on FX
Spread: From 3 pips (fixed)
Commission: 0.1% (stocks only)
Standard Account
Minimum Deposit: $10,000 (maximum $29,999)
Leverage: Up to 1:200 on FX
Spread: From 3 pips (fixed) (With discount on commodities)
Commission: 0.1% (stocks only)
VIP Account
Minimum Deposit: $30,000 (maximum $49,999)
Leverage: Up to 1:200 on FX
Spread: From 3 pips (fixed) (With a discount on commodities, indices, forex majors)
Commission: 0.1% (stocks only)
The broker requires specific documents each time a client makes a deposit, including a photo ID, recent utility bill, etc.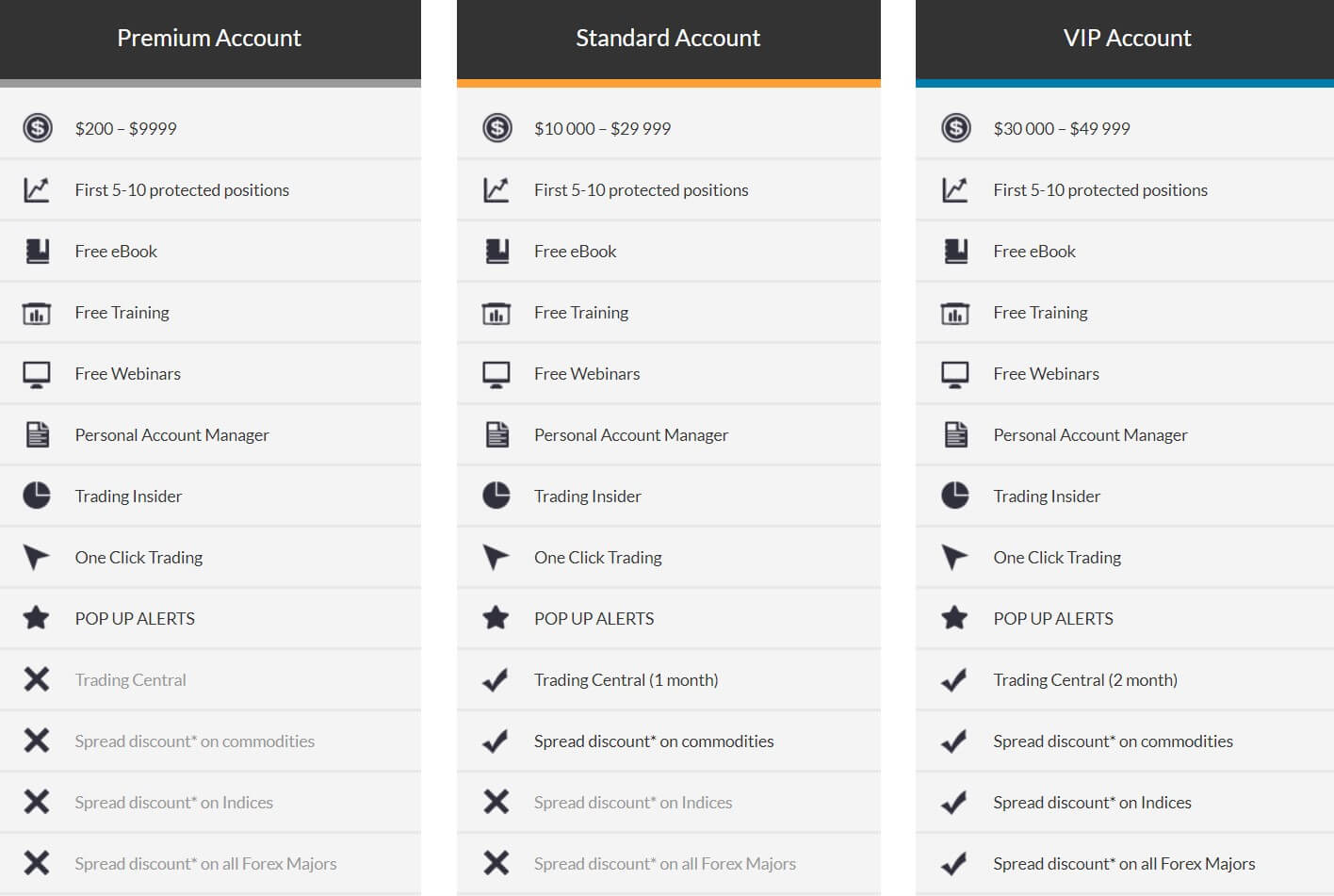 Platform
This broker has made the bold decision not to offer a well-known trading platform like MT4 or MT5, and instead offers their own iForex platform. We've seen some brokers bring impressive platforms to the table, but the website is extremely vague about the features that are supported on their available platform. This doesn't mean that the iForex platform doesn't hold up on its own, we just wish the broker would provide some photos and more information, especially since they need to establish their own platform as a reasonable choice.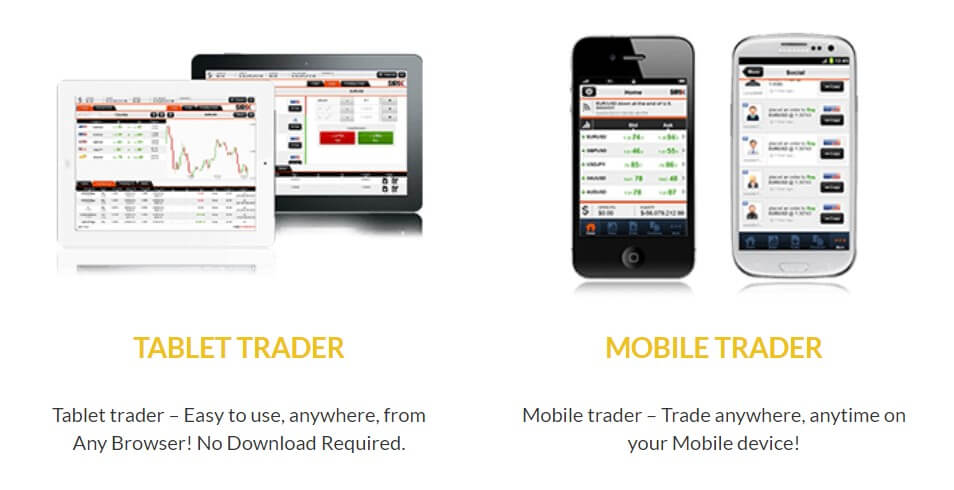 We're guessing that the broker didn't want to dish out the $100k license fee for MT4, and therefore made their own platform, which seems like more of an afterthought. One good piece of information we do have about the iForex platform is that is compatible with smartphones, making it possible to trade on the go.
Leverage
Rather than offering specific leverages on each account type, the broker has assigned a maximum leverage cap to each individual instrument. FX options share the same leverage cap of 1:200, which is the highest option offered by the broker. On commodities, the limits are set at either 1:50 or 1:100, depending on the specific instrument. Gold and other metals, Crude Oil, and Cocoa offer the 1:100 cap, while the other instruments only offer the 1:50 cap. Indices also offer a similar pattern, with some options offering the 1:50 cap and others offering a cap that goes as high as 1:100. The majority of stocks have a leverage cap of 1:20, with an exception of 1:10 on Banca Monte Paschi Di Sienna.
Trade Sizes
The minimum trade size is one mini lot on CFD contracts based on currencies and 0.03 lots for commodities. The margin requirement is 1% of the nominal value of the contract size in the case of currencies, 2% in the case of indices, and 3% for commodities. A margin call is activated any time the equity in the account falls below the 100% margin requirement and the company will immediately begin to liquidate open trades if the balance falls below 20%. Traders are only permitted to open one trade per 2 minutes on any specific contract that goes on the same asset, direction, and expiry time.
Trading Costs
iForex24 profits from spreads, commission fees, and swaps, or overnight interest charges. The Standard account offers a spread discount on commodities, while the VIP offers the same discount on commodities, indices, and forex majors. We've provided more information on the typical spreads offered below. The commission charge is 0.1% on stocks and commissions are not applicable on FX or commodities. The iForex24 financing charge for overnight interest is 1.5% with charges on commodities and stocks being based on the denomination of the CFDs currency. If the CFD is priced in a currency other than USD, the company will determine the value of the exchange rate.
Assets
The broker's investment portfolio contains 40 FX options, 26 commodities, including Corn, Crude Oil, gasoline, shares of foreign and US companies, and German bonds. The broker also offers full access to the Warsaw stock exchange, with 141 total options. Taking a more in-depth look at the FX options, we see major and minor instruments, in addition to several exotic options, like the TRY, ZAR, SEK, NOK, and more. This makes for an impressive number of assets to invest in.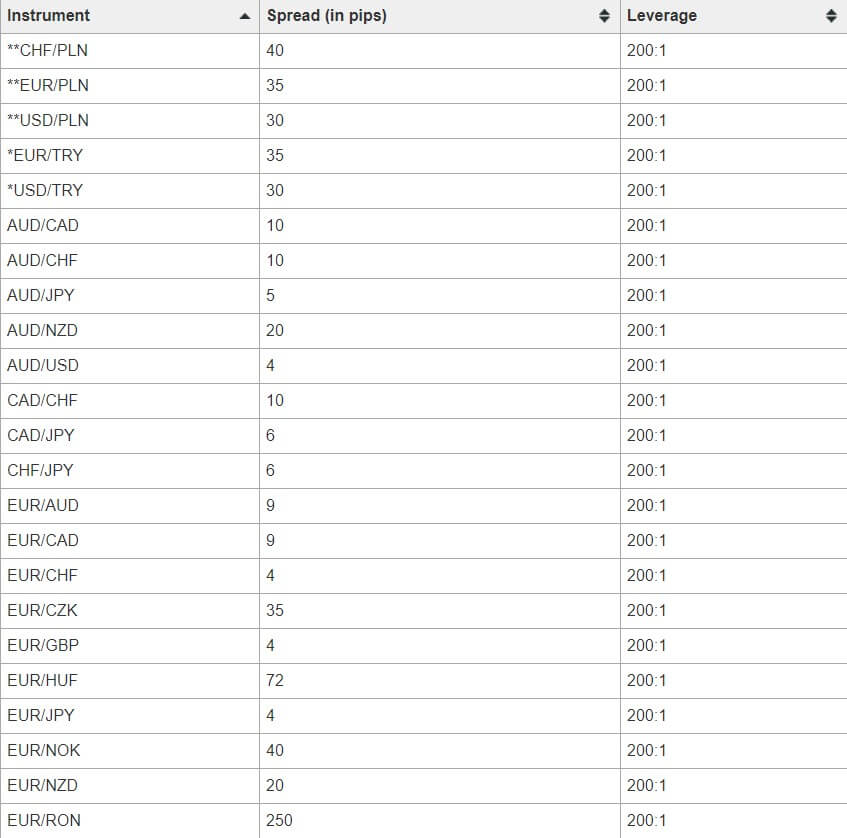 Spreads
Accounts share the same spreads, although some discounts may apply to the Standard and VIP accounts. The company is very transparent about the typical spreads on each instrument and lists these under "FX Trading Conditions" and "Trading" > "Trading Conditions. On FX options, clients can choose from floating or fixed spreads. We've listed a few examples of the differences below, in order to give one an idea of the typical spreads on FX options and the difference between the fixed and floating options.
The floating spread starts from 2.2 pips on EUR/USD, while the other version of the spread is fixed at 3 pips.
The spread is fixed at 4 pips on EUR/JPY, while the floating spread starts from 3 pips.
On EUR/GBP, the floating spread starts from 3.1 pips and the spread is fixed at 4 pips.
The lowest fixed spread that we see on FX instruments is 3 pips, making options higher than average. On commodities, the spread is either fixed or floating, depending on the instrument. We see fixed spreads at 0.05 pips on Crude Oil, 0.7 pips on Gold, and 0.07 pips on Silver. The remaining instruments in this category have floating spreads, with the highest spread starting from 10 pips on Cocoa.
Spreads on Indices start from below 1 pip and differ based on which instrument you're looking at. As for stocks, the majority of options are at one pip or lower, although the spreads can be higher on a couple of instruments. Between 20:45 GMT and 7:00 GMT, spreads of TRY pairs may be widened and spreads on PLN might be widened to 20.
Minimum Deposit
The Premium account would be the most affordable, with a $200 minimum deposit requirement. This amount could be considered typical, although many other brokers have at least one account type with a lower requirement, and some have done away with deposit requirements altogether. There is also a maximum balance limit of $9,999 on this account. Opening a Standard account requires a much more significant deposit of at least $10,000 and the account has a maximum balance limit of $29,999.
The VIP account is the most expensive, with a $30,000 deposit requirement. We would expect this account to have an unlimited balance, but iForex24 has set a balance limit of $49,999 on their VIP account, making it impossible to have a balance larger than $50k with this broker, at least according to the broker's website. Under their terms, the broker also mentions that the maximum deposit they can accept is $10,000. This may mean that deposits for larger accounts would need to be made through multiple payments.
Deposit Methods & Costs
Currently, the available deposit methods include Visa/MasterCard, Wire Transfer, and Skrill. The broker mentions on their funding page that more options will be added in the near future, so be on the lookout for the possible addition of more e-wallets. Upon making a deposit, the broker will require a copy of the client's valid passport or ID card, photocopies of the front and back of the card being used to make the deposit (feel free to blackout all of the card number, aside from the last 4 digits), and a copy of a recent utility bill in the client's name. There don't seem to be any fees associated with making a deposit.
Withdrawal Methods & Costs
Withdrawals made via Visa/MasterCard are processed as "refunds" back to the original card for amounts up to the funded amount. Any extra profits must be sent back through Wire Transfer. One Wire Transfer per month is credited free of charge, with a 25 Euro fee on any additional withdrawals made through this method in that month. Clients must make minimum withdrawals of at least 50 Euros when using this method. If the trader has not made at least 5 trades before making a withdrawal request, then the broker will charge an additional $50 USD fee on top of any other applicable charges. The broker doesn't mention any applicable charges for Skrill or Visa/MasterCard.
Withdrawal Processing & Wait Time
Once a withdrawal request is submitted, the broker can take up to 3 business days to process the request. Once the request has been approved, it can take between 3-5 more days for funds to show up in the client's account. This means that if one were to make a withdrawal request on a Friday, the maximum time it could take to receive those funds would be 12 days.

Bonuses & Promotions
Currently, the broker isn't offering any special opportunities. Under their Terms & Conditions, iForex24 does mention that they may offer bonuses, promotions, or other benefits at their discretion. In the case that a bonus is awarded, the terms state that the trader would need to execute transactions in amounts at least 30 times the bonus amount and that there may be requirements based on deposit minimums, minimum trading volume, timeframes, etc.
Educational & Trading Tools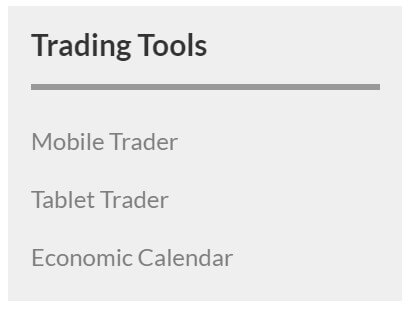 The website's Education section is made up of Forex Basics, Fundamental Analysis, Video Tutorials, and Technical Analysis. The latter includes the mini-sections Chart Formations, Chart Analysis, Market Trends, Support and Resistance, Technical Indicators, and Technical Basics. Unfortunately, the video tutorials are not yet available, although the broker claims that this section will be updated soon. Trading tools consist of platform downloads and an Economic Calendar, so we don't see other options, like calculators, VPS, etc. available on the website.
Demo Account
Like the majority of their competitors, this broker is offering risk-free demo accounts to any users that would like to open one. Opening a demo is a quick process and only requires the trader's name, email, phone number, and country. One thing that makes this broker's demo account special is the fact that the accounts are specified to mimic each of the broker's real accounts, meaning one can open a Premium, Standard, or VIP demo account. These accounts serve a variety of purposes and are excellent educational tools for beginners, but demo accounts can also be used to test conditions offered by the broker on their various account types or to test out the lesser-known platform. This information can help to give one an idea of whether they would prefer to make a real deposit with the broker.
Customer Service
In order to reach customer support, traders can call, email the broker directly, or send a message through the online contact form on the contact page. We don't see any instant contact option available, making phone the quickest way to get in touch with support. Support is active 24 hours a day, Monday through Friday. This makes it convenient to get in touch on weekdays although weekends tend to be a high-volume time when many users may be looking to sign-up. Listed contact information has been provided below.
Email: support@iforex24.com
Phone: +441865521164
Address: IFOREX24 LTD, Trust Company Complex, Ajeltake Road, Ajeltake Island, Majuro Marshall Islands, MH 96960

Countries Accepted
iForex24 mentions that services are not available to clients located in France. In addition, the broker reserves the right to refuse service or cancel accounts opened by clients that they deem to be located in jurisdictions where it would be illegal to pursue a relationship with them. In addition, the broker mentions that it is against the law for US clients to buy and sell commodity options. If you visit the account registration page, you'll find both of the aforementioned locations are listed. This means that it is possible to open an account from France, the US, and many other locations.
Conclusion
iForex24 is an online FX and CFD broker that offers leveraged trading of up to 1:200 on more than 200 total instruments, made up of FX, commodities, and stocks, from three separate account types. The most affordable account can be opened with a $200 deposit, but the broker asks for deposits of $10k or more to open one of the additional account types. Traders can choose from fixed or floating spreads on FX instruments.
Spreads seem to be above average on FX instruments, regardless of which type is chosen, while the broker offers much more attractive options on commodities and stocks. Commissions are only charged on stocks, so traders won't have to worry about these costs when trading currency pairs or commodities.
One disadvantage would seemingly be the broker's featured trading platform, since it was created by the company and the website doesn't provide any details about available features. Funding methods are currently limited to Visa/MasterCard, Wire Transfer, and Skrill, with a maximum wait time of up to 10 days for withdrawals. Fees are not charged on deposits and clients are able to make one free Wire Transfer withdrawal per month.
Customer Support is available 24/5, via email and phone. The broker seems to be in the process of updating their educational section and trading tools are limited to an economic calendar. Currently, there aren't any ongoing promotional opportunities, but it does seem promising that this could be available in the near future. Service is available for US clients and clients in many other locations all over the globe.