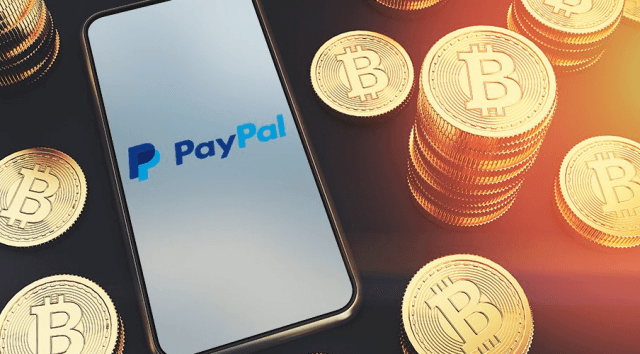 Cryptocurrencies are officially becoming mainstream. PayPal recently announced that its users would soon be able to send and receive Bitcoin and other cryptocurrencies on the platform, and the news created some frenzy among crypto enthusiasts. Considering the high volume of transactions that PayPal facilitates, the introduction of crypto capabilities will certainly change things significantly. Bitcoin investors are already speculating how this move will affect BTC prices and what new opportunities could be in the offing. 
This article will explain how PayPal's crypto adoption is likely to affect Bitcoin and other cryptos. We will also look at what early-bird opportunities this move presents.
What Is It All About?
On 21 Oct 2020, PayPal announced that plans are in place to allow its users to buy, hold and sell cryptocurrencies straight from their account. '…it will enable cryptocurrency as a funding source for digital commerce for its 26 million merchants,' read the statement in part. 
For a long time, cryptocurrencies have struggled to enter mainstream payment platforms with little success. Part of the slow adoption is due to crypto's high volatility. Also, regulators have been slow and hesitant in providing the necessary approvals for mainstreaming cryptos. 
The New York State Department of Financial Services (NYDFS) has granted PayPal a BitLicense, which will essentially allow the company to conduct any virtual currency activities. Although this license applies only in limited jurisdictions, it's likely to pave the way for other regulators to give companies approvals for conducting cryptocurrency activities.
That aside, PayPal's new service will serve US residents for a start and feature only Bitcoin. Although no dates have been given on when users outside the US can expect the services or when altcoins will be supported, this could be pretty soon given the whole idea's ingenuity. Even so, smart investors do not wait for opportunities; opportunities find them ready!
How the New Service Will Affect Bitcoin and other Cryptos
Before preparing to take advantage of this latest integration, it is important to know how Bitcoin and other cryptos might be affected. 
First, Bitcoin has been performing well, especially in the second half of 2020. Generally, there has been positive news about Bitcoin and most altcoins. The news about PayPal's crypto integration can only add to the basket of favors Bitcoin is already enjoying, and this is likely to spur the growth of cryptocurrencies. Some of these impacts are already being felt way before the service is active. Within a few days of the announcement, Bitcoin's prices shot up by 8% to reach $12,800. PayPal's share prices also rose by 5.55 immediately following the announcement. These outcomes are a clear reflection of investors' desire to see virtual currencies in the mainstream economy. So, the question is, what opportunities are these investors and speculators seeing? Let's take a look at some of them.
#1. Merchants
Unquestionably, merchants will be the biggest beneficiaries of this move. The service will allow merchants to receive payments in Bitcoin. Serious traders know that this is a gate of opportunities only limited by their imagination. By accepting payments in crypto, merchants will encourage buyers to try their services. 
A merchant accepting crypto can give them an edge over their competitors – perhaps from the touch of sophistication that crypto will introduce or because users will have an extra payment option. In either case, it would be folly for a merchant to not accept crypto with such convenience in their way. As a bonus, PayPal will do the conversions for merchants who still want their payments to be settled in fiat money. 
If you are a merchant, this is the best time to learn how the service is expected to work and how you can align your business to leverage the full potential of the new service. Waiting to see how the market responds is not a clever idea as it will always leave you admiring trailblazers. 
#2. PayPal Users
There are many PayPal users who, hitherto, have never bothered to care how Bitcoin can change their lives. Part of this indifference is a result of the (perceived) complexity of cryptocurrencies. Many people have yet to try out cryptocurrencies because they simply don't understand what this concept is all about. This is about to change. 
PayPal's crypto integration means that PayPal users, even those with only scant knowledge of crypto, will be able to buy, hold, sell or pay with cryptocurrencies on the first day, and without having to learn anything new. PayPal said that users would not need new wallets. So, in essence, it's like PayPal users will have their wallets upgraded to hold crypto.
Even more interesting is that PayPal users will have a "mini forex market" due to the new capabilities that will allow them to buy and sell crypto within the platform. Considering how easy it will be to move crypto around, PayPal users should already be learning how to trade crypto, as crypto-trading will become easier and more accessible than ever before. 
#3. Bitcoin Users
Bitcoin users will enjoy advantages never seen before. The currency will now seem like a medium of value exchange more than ever before. Currently, only about 1% of the top 500 retailers accept crypto. People have been treating Bitcoin more like an asset than a currency. Ironically, the coin was developed to facilitate payments. Low online acceptance and perceived complexity of use have ensured this irony remains the reality. However, this integration will force merchants to embrace crypto or face the inevitable – extinction. In the end, Bitcoin users will discover new and exciting possibilities for using their coins. 
#4. Expanded Crypto Acceptance
Expanded crypto acceptance is a win for the entire crypto community and beyond. Cryptocurrencies will become a reality for laypersons as they are bound to experience crypto like never before. International trade, remittances – you name it, it's all bound to change. 
Peer-to-peer trade is one of the areas of commerce that's likely to experience tremendous transformation due to PayPal's latest offering. Global peer-to-peer markets are bound to grow partly due to the extra payment alternative and the hype that PayPal's integration will generate. 
If you consider yourself a layperson when it comes to cryptocurrencies, it's about time you paid some attention to them. PayPal's crypto integration is not the first, but it will inevitably change how we make and receive payments, given the platform's global acceptance and penetration.
Final Thoughts
PayPal's integration with cryptocurrencies is a long-overdue solution to an age-old problem. This feature will introduce new possibilities for end-users and merchants alike. Laypersons will also have a chance to take part in crypto without the hassle of learning its intricacies. As early-bird investors always enjoy the pioneer advantage, this is the best time to explore the possibilities that will arise from PayPal's integration with cryptocurrencies.