Heiken Ashi EA MT4 is an Expert Advisor that was created by Eleni Anna Branou, owner of Juvenille Emperor Limited, which publishes forex signal subscriptions, EAs, and utilities on the mql5 website. This product was launched on January 10th of 2020 and remains as version 1.0 with no updates.
Overview
Heiken Ashi EA is a fully automated trading robot that trades Heiken Ashi candles in both the traditional way or with a new approach, whichever is desired by the user. The traditional method involves opening a single trade after the close of the first different candle color, with an opposite trade on every HA (Heiken Ashi) color change. Through the new approach, the first trade is opened after the first HA candle has been closed and then opens a new same direction trade on every candle, as long as the color remains unchanged.
The EA also offers several settings that allow traders to limit the distance between the same direction orders and to control the trading account's profit and/or loss at basket level. As indicated by the name, the product works on the MetaTrader 4 platform and is compatible with VPS.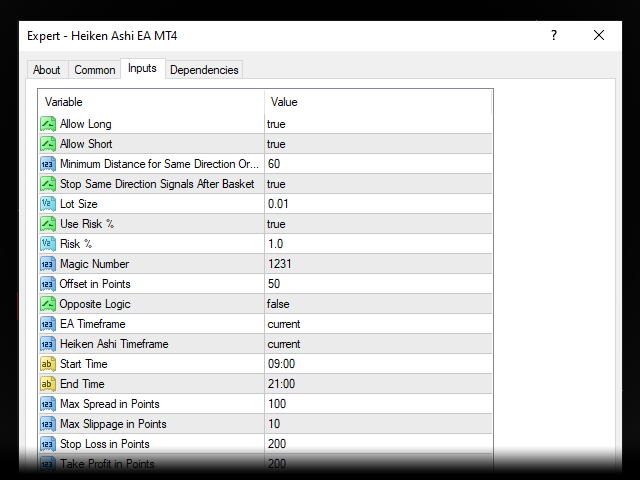 Service Cost
This product can be purchased for $40 USD, which is a low cost for a 100% automated EA. It can also be rented for $10 a month, $15 for 3 months, $20 for 6 months, or $30 for one year, and the purchase comes with 5 activations. VPS is not necessarily recommended, but this EA is compatible with it and may produce better results, so this is another cost to consider. Testing is possible through demo accounts.
Conclusion
Heiken Ashi EA MT4 places automated trades based on either the traditional Heiken Ashi candle method or through the author's new approach. It also allows traders to take more control of certain settings that have to do with profits/losses and other factors. More than 100 users have downloaded the demo version; however, there are no ratings or feedback from users. It's always reassuring to see that this type of product has worked for others, but we feel that the low cost of renting for a month makes this investment less risky.
This Forex service can be found at the following web address: https://www.mql5.com/en/market/product/45283