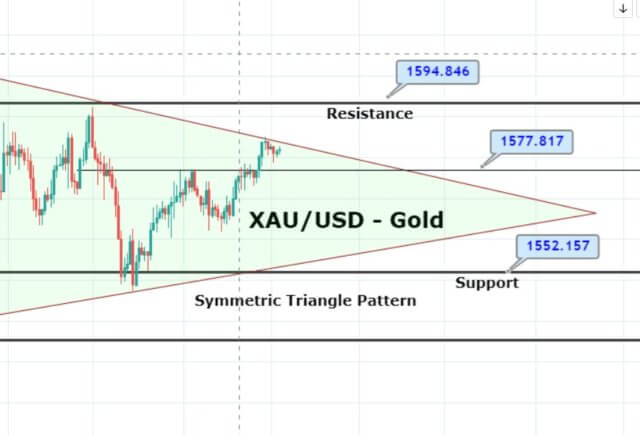 On Monday, the precious metal gold prices were near a two-week high mounted in the past session as doubt prevailed over the influence of the coronavirus disruption on the global economy. Gold is trading sideways around $1,582.08 per ounce, having placed the highest since Feb. 3 at $1,584.65 during the last week.
China advanced to reduce its medium-term lending rate to accommodate the economy against Caronovirus. While the emerging market currencies and stocks began the week on a firm basis as the move is anticipated to ease traders' concern around the economic thrust from the coronavirus break.
A bullish reversal in the emerging market currencies could put stress on the U.S. Dollar. A weaker U.S. Dollar is suitable for gold rates. It serves to boost foreign trade for the dollar-denominated asset securities. 


Support     Resistance 
1,576.77     1,587.95
1,569.76     1,592.12
1,558.58     1,603.3
Pivot Point 1580.94
Technically, the gold hasn't changed much as it's price continues to trade in the symmetric triangle pattern. It's keeping the gold prices under a resistance level of 1,584. On the lower side, gold's immediate support stays around 1,577. A bullish breakout of 1,584 can lead to gold prices towards the next target level of 1,590. Conversely, the bearish breakout of 1,570 can lead to gold prices towards 1,560. The MACD is holding in a bullish zone, and it may help us capture a buying trade above 1,580 with a target of 1,588. Good luck!