Globtrex is a Forex and CFD broker, they do not give away a lot of information about themselves, they are regulated by the Cyprus Securities and Exchange Commission (CySEC) and are based in Cyprus. In this review, we will be looking into the services being offered by Globtrex to see what they are offering and so you can decide if they are a broker you want to try.
Account Types
There are three accounts on offer, each with different requirements and features, however a lot of the trading conditions are not specified on the accounts page, we will look into them in more detail as the review goes on, for now, we will look at what information is readily available.
Starter Account: Requiring a minimum deposit of $100, the account comes with a 5 day trial period of trading central, the ability to trade in multiple currencies, Globtrex Trader and MetaTrader 5 as trading platforms and access to webinars and seminars.
Smart Account: A minimum deposit of $1,000 is required to open up this account, it comes with Trading Central market analysis, individual account assistance, daily market research emails and access to webinars and seminars.
Pro Account: The Pro account page offers a little more information, it requires a minimum deposit of $25,000 to open. With access to the highest levels of personalized service and customer care, the Globtrex Pro Account is perfect for high net worth individuals and expert traders. Globtrex provides high-level service and trading conditions. The account gives you access to the Globtrex Trader and MetaTrader 5, Ebooks on the basics of trading, trading central analysis, 24/5 customer support, webinars and seminars, daily market research emails, trade in multiple currencies, dedicated account manager and up to 10x higher leverage.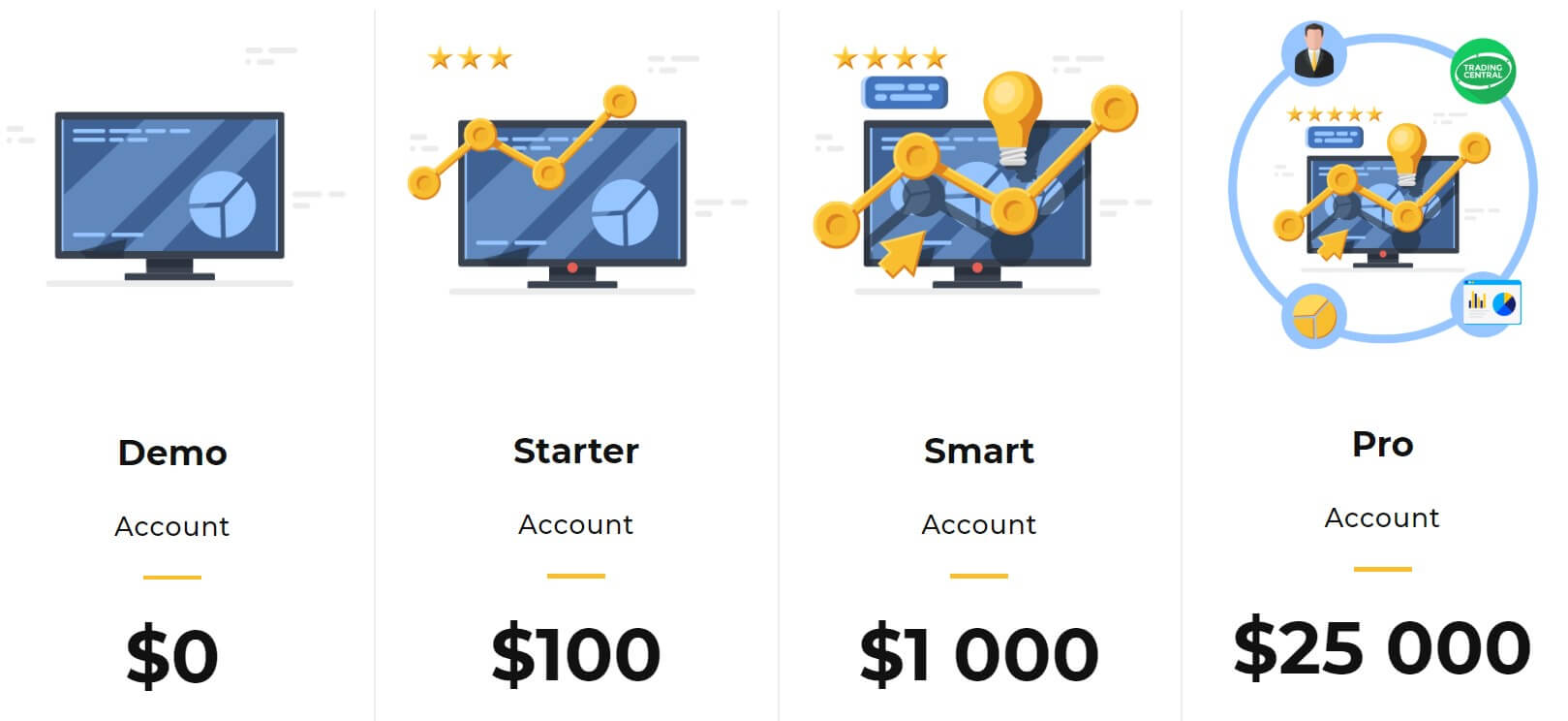 Platforms
Globtrex offers 2 different trading platforms, the popular MetaTrader 5 and their own Globtrex Trader mobile app, let's see what each one brings to the table.
MetaTrader 5 (MT5): The revolutionary MetaTrader 5 platform allows for complete freedom when trading forex. MetaTrader 5 is designed to provide support to both amateur and advanced level traders, allowing both to access the best possible trading experience. MT5 is a user-friendly trading platform, offering complete transaction access, a view of your account status, up-to-date financial news, and analytical charts to help with decision-making. The platform is available for download on Apple or Windows-based PCs, as well as in-browser using MT5 WebTrader.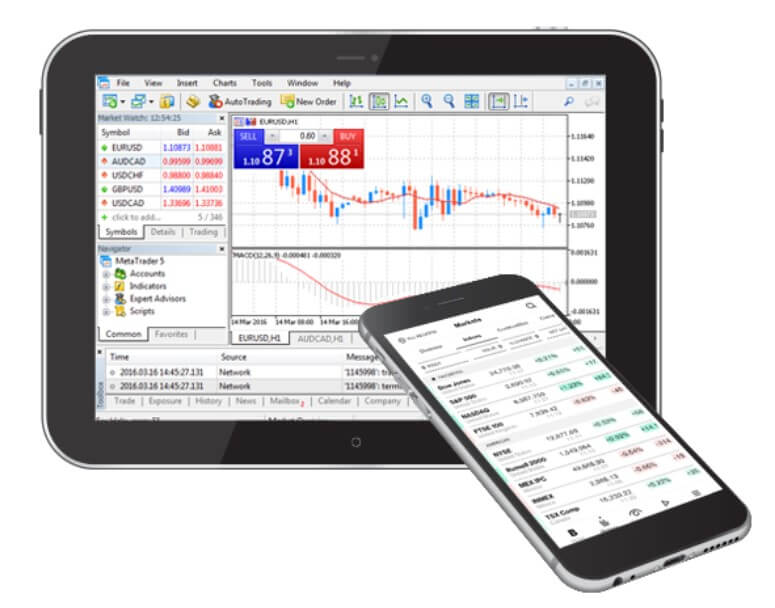 Globtrex Trader: For your convenience, Globtrex Trader has created an innovative mobile platform that allows traders to utilize all of the tools and functions available on any Android or Apple device. The firm provides access to technical analysis tools, real-time quotes, and advanced charts available in the multi-chart view. Online CFD trading involves the use of Globtrex Trader's risk management tools. We offer Stop Loss, Take Profit and more. Globtrex Trader was designed to be a user-friendly platform, all of the available features are accessible within a few clicks.
Leverage
Leverage is the same for all accounts apart from the Pro account, due to the ESMA, leverage for retail traders is limited to the following.
Major Forex Pairs: 1:30
Major Indices: 1:20
Gold: 1:20
Commodities: 1:10
Stocks: 1:5
Cryptocurrencies: 1:2
For the Pro account the following leverages are available:
Major Forex Pairs: 1:200
Major Indices: 1:100
Gold: 1:100
Commodities: 1:100
Stocks: 1:10
Cryptocurrencies: 1:2
Trade Sizes
Trade sizes for Forex pairs start at 0.01 lots (known as micro-lots) and go up in increments of 0.01 lots so the next trade would be 0.,02 lots and then 0.03 lots. The maximum order size is 30 lots which are appropriate and not too big as to cause slippage issues when executing.
Different instruments have different maximum and minimum trade sizes. Things like commodities have different maximum trade sizes and go up to 100 lots, so be sure to check with the product specification to see what the trade size is on the asset you are interested in trading.
Trading Costs
As far as we can tell, there are no added commissions on any of the accounts and they instead use a spread based system that we will look at later in this review. Swap charges are relevant to all accounts which are charges for holding trades overnight, these can be both positive or negative and can be viewed within the trading platform of choice or on the product specification section of the Globtrex website.

Assets
The assets and instruments have been broken down into 6 different categories, we have listed them below for you with a few examples.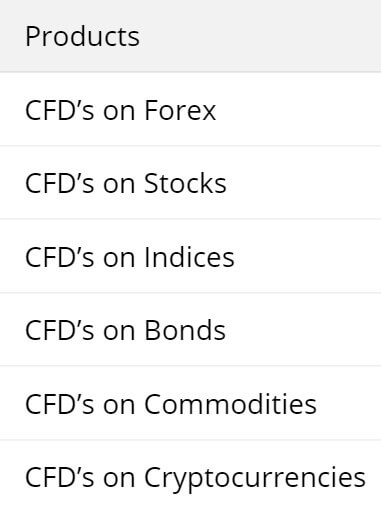 Forex: 53 different pairs available from Majors to Minors, some of the available pairs include AUDCAD, CHFJPY, NZDUSD, and EURUSD.
Stocks: 246 different stocks are available including a number of major stocks such as BMW, Continental, Amazon, Facebook, and Tesla.
Bonds: Just one bond is available that that is the German 10 Year Bond.
Commodities: 15 different commodities available to trade which are Corn, Rice, Soy Beans, Wheat, Copper, Platinum, Gold, Silver, Cocoa, Coffee, Cotton, Sugar, Natural Gas, UK Oil, and US Oil.
Cryptocurrencies: It is good to see crypto coins being available to trade, currently, Bitcoin, Bitcoin Cash, Dash, Ethereum, Litecoin, and Ripple are available to trade.
Indices: There are 14 different Indices available which as 100 UK, DE 30, FRA 40, EU 50, N 25, SPA 25, SWI 20, AUS 200, HK 33, JPN 225, Dollar Index, US 100, US 30 and US 500.

Spreads
Spreads are starting from 3 pips, we say starting because they are variable (also known as floating) which means they move with the markets and when there is volatility they can be seen much higher. It is also important to note that different instruments have different starting spreads so while EURUSD may start at 3 pips, other pairs such as GBPAUD can start at 9 pips. The spreads are a little high, even for no-commission based accounts.
Minimum Deposit
The minimum amount to open an account is $100, this will get you the starter account, if you want a different account then you will need to deposit at least $1,000. Normally when an account has been opened the minimum required for top-up deposits reduces however there is no indication of this happening with Globtrex.
Deposit Methods & Costs
In order to get a full list of deposit methods you need to have a valid account with Globtrex, we know the following methods are available through Visa Credit / Debit Card, MasterCard Credit / Debit Card, Bank Wire Transfer, Skrill, and Neteller. There are no added deposit fees added by Globtres, however, be sure to check with your bank or credit card provider to see if they add any fees of their own.
Withdrawal Methods & Costs
The same methods are available to withdraw with, for clarification these are Visa Credit / Debit Card, MasterCard Credit / Debit Card, Bank Wire Transfer, Skrill, and Neteller. Just like the deposits, there are no added deposit fees added by Globtres, however, be sure to check with your bank or credit card provider to see if they add any fees of their own.
Withdrawal Processing & Wait Time
Withdrawal requests can take between three to six business days to fully process, Globtrex does not specify how long it takes for them to process but just gives the blanket statement 3 to 6 days this is the usual length for Bank Wire Transfers so we would assume e-wallet payments to process a little quicker.
Bonuses & Promotions
It does not appear that there are any active promotions or bonuses, if you are interested in bonuses then you could get in contact with the customer service team to see if there are any new ones coming up soon.
Educational & Trading Tools
For education there are a few small offerings available, there is a market news section, however currently this section is empty and does not display any information, there are also webinars, however again there is no content and it simply states coming soon. There is also a glossary that tells you the meaning of a number of trading-related terms.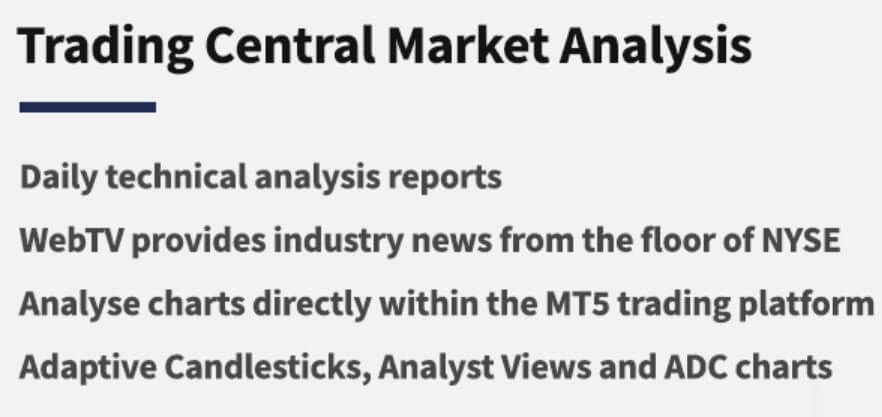 There is also a trading Central section which you need an account to access, this provides you with daily analysis, views of professional analysts and some charts to help with your analysis.
Customer Service
Should you wish to get in contact with Globtrex, you can in a number of different ways, there is a phone number available for the main office as well as a branch in the Czech Republic, there is also an email for both however the email is the same, then there is a physical address available too. Customer support is available 24/5 and is closed over the weekend and bank holidays when the markets are also closed.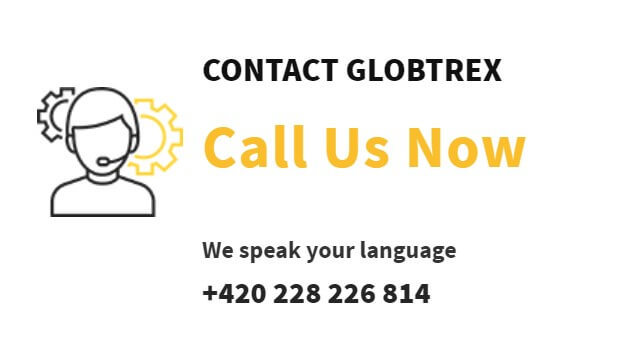 Demo Account
A demo account is available and it allows new traders to test-drive all trading tools and instruments without the risk of losing money. Using virtual money, you can explore trading with real market conditions, develop your strategy, create a portfolio – and fully prepare to open a real account. There is no indication as to how long the account lasts though as some broker impose a time limit such as 30 days, while others allow them to stay open indefinitely, so this information would have been good to know.
Countries Accepted
There is no indication as to which countries are allowed and which are not, so if you are interested in joining, be sure to check with the customer service team to see if you are eligible or not.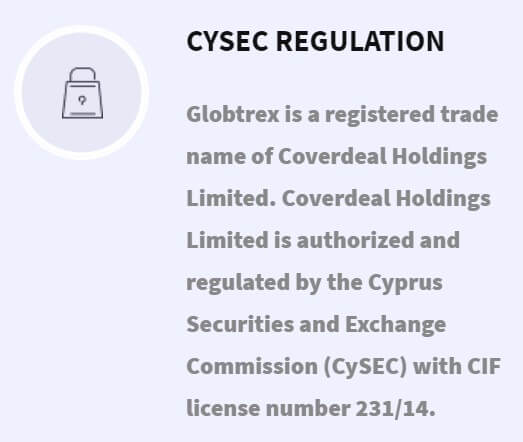 Conclusion
Globtrex made their initial information about the accounts quite hard to find, once we managed to uncover the trading conditions then seemed quite average, spreads were a little high, even for non-commission based accounts which can be a little offputting for new and potential clients. Plenty of assets and instruments to trade which is good and plenty of ways to get in contact with the customer service team. It is a shame that the educational side of the website does not seem to be functioning at the time of writing this GlobTrex review.