Update to original trade idea/signal on April 18th, 2018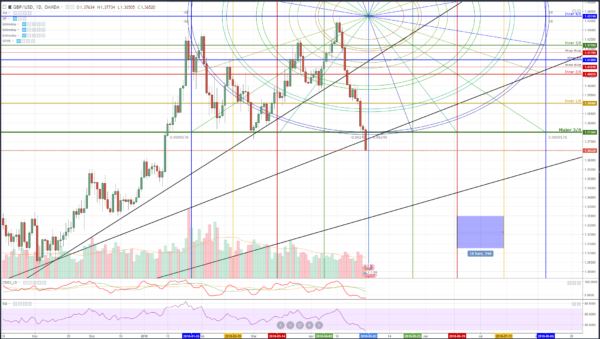 The GBPUSD pair continues to drive lower and break various trend lines and important harmonic value areas. The thrust down has been quite impressive but should not be expected. For over a year and a half, this consistent drive up has failed to provide any honesty and integrity in the move. The only way to find honesty and integrity in such a drive higher is for the previous value areas to be tested; and that has not happened.
Consider this: the most recent swing high made on the 17th of April and the swing low of this trend back on October 7th of 2016 has failed to even show a test of a 50% retracement. In fact, no swing high from that low has yielded a test of a 50% retracement. Some analysts would say that is evidence of a strong trend. No doubt! It is strong! But it's also void of any honesty. And we will see that move happening soon. The 50% retracement in this swing is the 1.30 value area, that's a whopping 1300 pips from the most recent swing high.
We are seeing more and more confirmations of a lower drive in the GBPUSD pair, and most importantly is the current price action that shows us trading below an extremely important uptrend line.
And a note to new traders: Be very careful trying to go long on this pair, especially if you are using oscillators to signal your long entries. Oscillators can remain AND DO REMAIN in overbought/oversold conditions for an exceptionally long time. 
©Forex.Academy