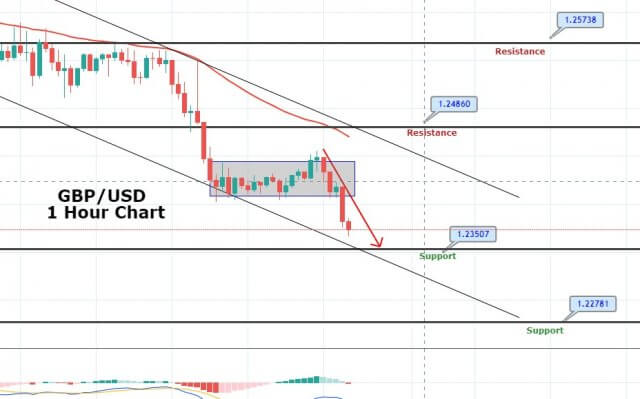 Earlier today, the GBP/USD flashed green and rose from three-week lows to just below mid-1.2400 level following Friday's upbeat U.K. retail sales figures, which underpinned the British Pound and contributed to the currency pair gains. The broad-based U.S. dollar weakness triggered by the risk-on market sentiment also played a key role in the pair's bullish trend. The GBP/USD is currently trading at 1.2380, as it has violated the consolidation range of 1.2405 and 1.2456.
At the data front, the U.K. retail sales arrived at +12.0% over the month in May against +5.7% expected and -18.1% previous. The core retail sales stripped the auto motor fuel sales, stood at +10.2% MoM vs. +4.5% expected, and -15.2% prior. Annually, the U.K. retail sales stood at -13.1% in May agianst-17.1% expected and -22.6% previous while the core retail sales also decreased -9.8% in the reported month versus -14.4% expectations and -18.4% previous.
Despite heightened worries about a potential second wave, the broad-based U.S. dollar reported losses on the day, possibly due to optimism about the stimulus packages of most countries. As well as, the latest U.S. jobless claims suggested a further economic recovery, which also boosted the risk-on market sentiment and pushed the USD lower. However, the losses in the U.S. dollar turned out to be one of the key factors that kept the currency pair higher. Whereas, the U.S. Dollar Index that tracks the greenback against a basket of other currencies slipped 0.03% to 97.373 by 12:41 AM ET (5:41 AM GMT).
However, the investors seemed cautious to place any strong position due to the rise in new coronavirus cases as well as geopolitical tensions in Asia, which overshadowed the recent optimism about a sharp V-shaped recovery. It is worth recalling that the previous gain in the currency pair could be associated with the Bank of England's decision to keep interest rates unchanged at 0.1% and a 100 billion pound increase in the purchase program (Q.E.) line with market expectations.
Looking forward, the traders will keep their eyes on the U.S. Federal Reserve (Fed) Chair J. Powell's speech due to the lack of significant U.S. economic news. As well as, the virus headlines and US-China updates will be key to watch.


The GBP/USD is trading at a level of 1.2390 as the pair has violated the support level of the level of 1.2410. The odds of selling were pretty solid, and it can lead Sterling to lower towards the next support area of 1.2350 level. The RSI and 50 periods of EMA are suggesting a selling bias today. Therefore, we decided to take a selling position below 1.24092 today.
Entry Price – Sell 1.24092    
Stop Loss – 1.24492    
Take Profit – 1.23692    
Risk to Reward – 1
Profit & Loss Per Standard Lot = -$400/ +$400
Profit & Loss Per Micro Lot = -$40/ +$40