Through its European (Malta) and international (Mauritius) licenses, FXDD offers its services to traders from all over the world. Established in 2002, this broker's priorities revolve around providing account holders with competitive prices, immediate order processing tools and features that suit traders who follow all types of strategies. Equally as important, FXDD's offerings are backed by a customer support team that is available 24 hours a day.
In this review, we will go over all of the details (including the firm's account types, spread prices, deposit/withdrawal methods, fees, educational tools, and more) that demonstrate how FXDD truly upholds its mission statement and vision.
Account Types
FXDD offers 2 account types: Standard and ECN. The Standard Account is suitable for users who like to execute trades manually, while the ECN is appropriate for high-frequency traders that prefer computer-speed position entries and exits.
Standard Account:
Minimum Deposit: $0
Spreads: From 1.8 pips
Commission: $0
ECN Account:
Minimum Deposit: NA
Spreads: From 0.2 pips
Commission: $0.299 to $0.499 per mini lot (10,000 of the base currency)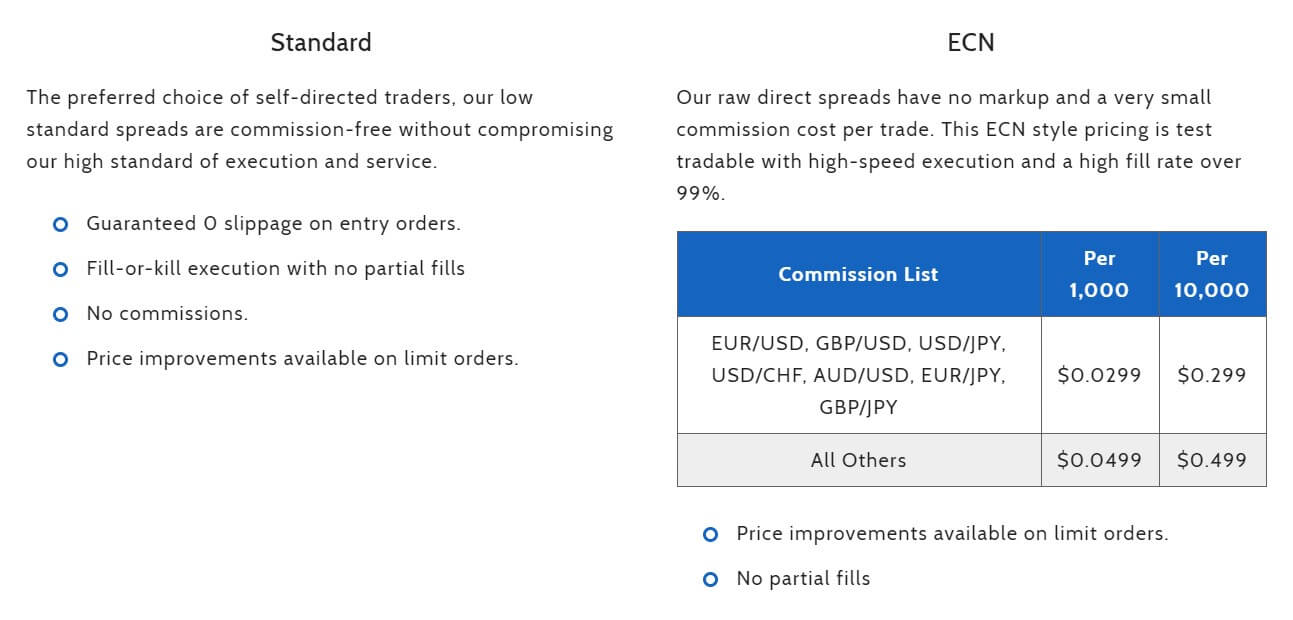 In addition to those 2 account types, you can also open either a personal or a corporate account. The former is for retail traders who want to grow their own funds while the latter allows you to manage a company or business's investments. It seems that both of the personal and corporate accounts can be opened as a Standard or ECN. Standard users don't pay any commissions, while ECN Accounts pay $0.299 on 7 currency pairs. All others have a $0.499 commission that ECN users pay. There is no minimum deposit required to open the Standard. The same might apply to the ECN, but it is always worthwhile to check with the broker beforehand.
Platforms
Traders who open an account with FXDD can choose between the MetaTrader 4 (MT4) and MetaTrader 5 (MT5) platforms. Both of them are available on Mac, Windows, Android, and iOS devices. These state-of-the-art platforms allow you to create your own trading algorithm, access historical performance data and execute orders instantaneously. MT4 and MT5's other main features include the availability of many financial instruments and the ability to contact customer support in different languages. MT5, the more advanced version, has better charting tools and lets you place more orders at one time.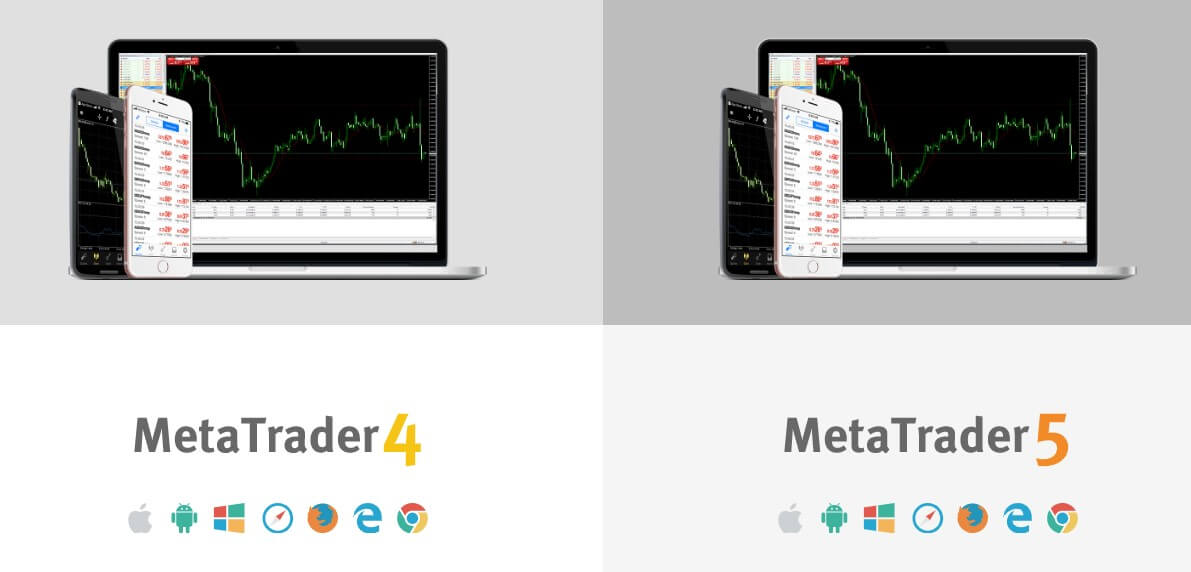 You can also use WebTrader, instead. This platform is available on all devices and browser types (Chrome, Firefox, Safari, etc.). You can immediately execute orders, get support from expert analysts, and create custom technical charts. Just as with MT4 and MT5, WebTrader lets you create your own automated trading algorithm.
Leverage
While FXDD provides traders with plenty of great features, their leverage is limited to 30:1, which applies to both of the Standard and ECN Accounts. This is because the broker has to abide by European Union regulations on risk management. However, if you have sufficient trading experience, you are able to get your leverage raised to up to 100:1. It is also important to note that each forex pair has its own buying power. While many of the currencies that FXDD offers have 30:1 in leverage, some of them only have 20:1. For most exotics and cryptos, leverage is low as 2:1 because of the volatility associated with trading these instruments. Professional traders, meanwhile, can get up to 10:1 in cryptocurrency buying power, which is much higher than what most brokers offer.
Trade Sizes
You can trade standard (100,000 of the base currency), mini (10,000), and micro (1,000) lots on FXDD. This feature is available on MetaTrader. However, only accounts with a balance of $5,000 or less can trade micro-lots.
Margin Call: Depends on leverage
Stop-Out: 50%
When a margin call is issued, FXDD requires you to either close some of your open positions or deposit more funds into the account. If your balance further falls to 50% of the margin requirement, all of your trades will be immediately closed at the current market price.
Trading Costs
As mentioned, FXDD doesn't charge the Standard Account any commissions. This portfolio type, however, does incur rollover rates when positions are held overnight. The swap fees are based on each currency's interest rate, which is set by the home country's central bank. FXDD also offers swap-free Islamic portfolios, a feature that can be added to each of the Standard and ECN Account. Instead of paying interest, the Islamic type is charged a fixed, non-changing fee on overnight trades.

ECN accounts pay a $0.299 commission per mini lot (10,000 units of the base currency) on 7 forex pairs: USD.JPY, USD.CHF, GBP.USD, GBP.JPY, EUR.USD, EUR.JPY, and AUD.USD. All other currency pairs have a $0.499 commission, which proportionately changes based on the lot size. For example, a micro lot (1,000 units of the base currency) would incur $0.0299 on the 7 forex pairs above and $0.0499 on the rest. Meanwhile, the standard lot (100,000 base currency units) has a commission of $2.99 and $4.99 on the said forex pairs, respectively.
It is important for you to keep in mind that FXDD also charges inactivity fees. If you don't make any trades for a period of 90 days, you will incur a $30 expense. In case your account had less than $30, the fee applies to the remaining balance, but not any more than that. For example, if you have $25, you will be charged that amount, and, afterward, your account will have $0 in it (as opposed to being charged $30 and having a -$5 balance). When your account reaches $0, you will no longer incur any inactivity fees.
Assets
You can trade 67 different forex pairs through FXDD, alongside 4 cryptos (Bitcoin, Litecoin, Ripple, and Ethereum). Other available instruments include energy and metal commodities, CFDs of market indices, and stocks.

Spreads
Spreads are different and largely depend on which currency pair or crypto you want to trade. While both the Standard and ECN Account types have access to the same instruments, their spreads vary. It is also important to keep in mind that the spreads are floating and can change from one day to the next. This is the case for both account types. Major currency pairs (EUR.USD, AUD.USD, NZD.USD, and others) can have a spread that is lower than exotics. In fact, the bid/ask price gap for exotics could be in the triple digits, especially when it comes to ZAR (the South African rand).
You can access a list of live spreads on FXDD's website. It is instantly updated and, at times, bid/ask prices will change every minute. Cryptos have a larger spread. However, the differences between ECN and Standard are in cents. For example, LTC/USD has a $65.2 and $65.7 spreads for ECN and Standard, respectively. When you trade crypto pairs, such as BTC.USD and BTC/EUR, the difference in the spread could be as large as $0.50 to $1.00 from one account type to the other.
Minimum Deposit
FXDD, on their website, list not having a minimum deposit as a key incentive for traders to open an account. That is to say: You could get started with this broker by simply having enough money to trade the smallest position size possible (which is a micro-lot). This is a positive aspect of FXDD because it gives you the opportunity to increase trading capital at your own pace. There are no requirements listed when it comes to the ECN Account. If the $0 minimum deposit applies to this, traders can enjoy an extra level of flexibility. They may choose the account type with the spreads, commissions, and trading conditions that suit their needs (without having to worry about minimum deposit rules). However, it is uncommon for a broker to offer low spreads without requiring a certain deposit amount. Traders should contact the customer support team to inquire about this.
Deposit Methods & Costs
You can deposit funds in six different currencies, which puts FXDD at an advantage over other brokers, especially since many of them offer limited options in this regard. FXDD deposits can be in USD, GBP, EUR, JPY, CHF, and Bitcoin. In addition, the broker doesn't charge any deposit fees. To wire money into your account, you would do so through the Customer Portal. Each currency has its own deposit instructions and available methods, which you can view from the Customer Portal.

The major ones are debit/credit card, bank wires, Skrill, Neteller, Safeecharge Cashier, and Smart2Pay. All of them have a maximum deposit size of $10,000. Bank wires, however, allow you to transfer unlimited funds. You can deposit money in USD, JPY, and EUR through these methods, while GBP is also available through Neteller and Safecharge Cashier. All transaction methods have a 2 day processing time.
Withdrawal Methods & Costs
FXDD's withdrawal fees are burdensome and can make the funds you deposit there relatively illiquid. Each month, you only get 1 free withdrawal. Afterward, each transaction will cost $40 throughout the remainder of the month and you can withdraw a minimum of $100 per transaction via bank wire transfers. If you withdraw less than $100 out of your account, then the transaction fee is only $25.
Bonuses & Promotions
This broker offers an Introducing Brokers (IB) partnership program, where traders are awarded when they refer others to FXDD and convince them to open an account. However, the IB promotion is mostly offered to professionals that are responsible for managing their clients' money and trading on their behalf. As far as retail traders are concerned, FXDD's website doesn't offer plenty of information about bonuses and promotions.
Educational & Trading Tools
There are trading guides on forex pairs, commodities, and emerging markets, alongside other downloadable PDFs that are incredibly resourceful to beginners. Moreover, FXDD live-stream webinars and trading sessions on their website. You can use the latter to follow (and potentially copy) the positions of other FXDD account holders. There is also a calculator that allows traders to calculate a potential position's volume, the used margin, and losses if the forex pair goes down.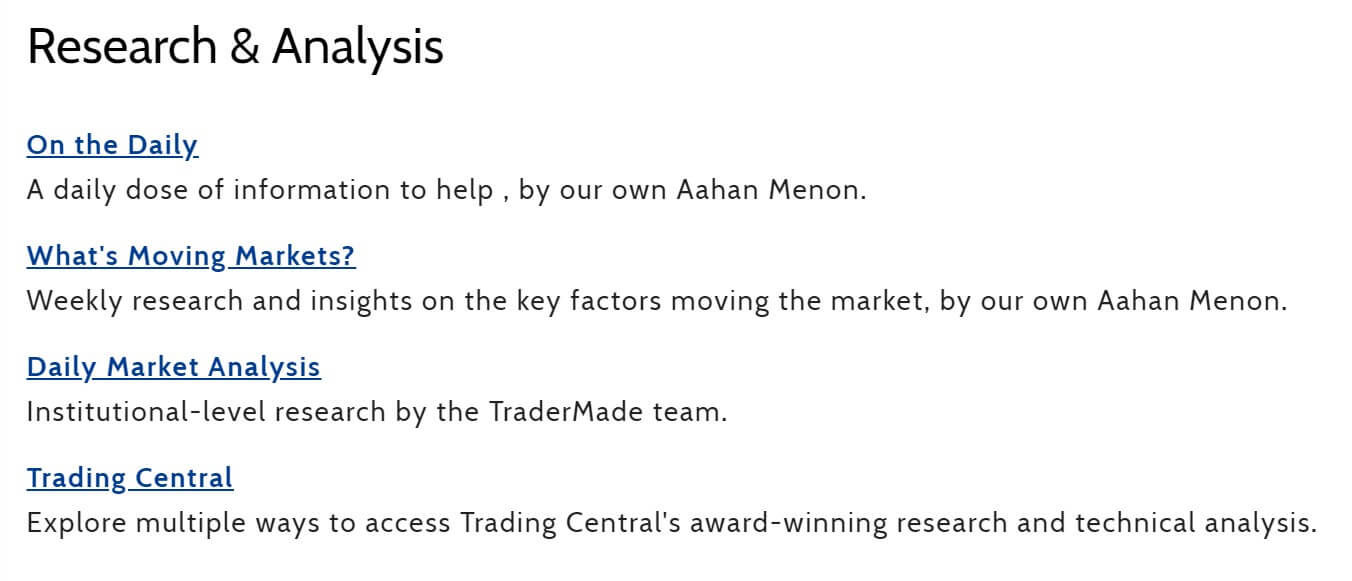 Seasoned and beginner traders, alike, can access detailed research reports. Firstly, on a daily basis, FXDD publishes strategy articles that examine different forex pairs' movements and related economic news. Secondly, the 'Price Action' and 'Wave Analysis' segments entail chart reviews and technical briefings, both of which are prepared and presented by award-winning market professionals.
Customer Service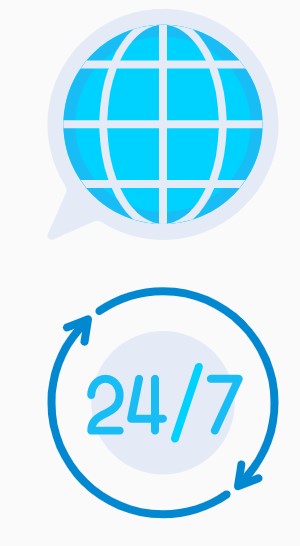 You can contact FXDD anytime between 5 pm on Sunday and 4:55 pm on Friday (Eastern Standard Time). They can be reached via phone, email, and regular mail. You also have the option of communicating with them by filling out a contact form on the website.
Phone: +356 2013-3933 (Support); +356 2013-3939 (Trading)
Email: support@fxdd.com.mt; sales@fxdd.com.mt
FXDD allows you to open and close positions via phone. By calling them, a team member can execute trades, place stop losses, and other tools that are available through the online platform.
Demo Account
It is very easy to open a demo account. After filling out a simple, straight-forward form, traders can test their strategies and the platform's tools through investing paper money. However, keep in mind that the spreads might not be as accurate as they are on the live Standard or ECN, which is a downside to FXDD's demo accounts. Nonetheless, the demo is active for 90 days, but you can always request an extension or open more than one paper account. In fact, FXDD even allows some traders to have a demo that doesn't expire. You can start trading with $3,000 in virtual funds, but users may always increase that amount.
Countries Accepted
Traders located across the European Economic Area (EEA) can open an account with FXDD, this includes EU members and other countries in Europe (such as Iceland, Norway, and the United Kingdom). In addition, China, Hong Kong, Australia, and Canada are amongst the listed countries in the live account application form. The United States and Japan, on the other hand, are not included. When you open an account, you would have to do so through either FXDD Malta (Europe) or FXDD Mauritius (other locations). Keep in mind, due to regulatory rules, some features (such as bonuses) may be offered by FXDD Malta, but not by FXDD Mauritius. Since every trader's location and personal circumstances vary, it is always best to consult with customer services regarding whether FXDD Malta or FXDD Mauritius is more suitable.
Conclusion
In short, here are the main takeaways after examining this broker's offerings and features. First, their spreads are notably tight, regardless of which account type you choose. ECN's bid/ask price gaps are down to the fractions of a pip. While Standard has a larger spread, it is still amongst the lowest in the industry. Equally as important, FXDD doesn't charge the Standard Account any commissions, which is undoubtedly a positive aspect. Even though the ECN type must pay these fees, its commissions are also minimal when compared to other brokerage firms.
To add to that, depositing money into your FXDD account doesn't cost any money. Not only can you pick between different transaction methods, but there isn't a minimum deposit requirement. In other words, regardless of how much trading capital you have, this broker will give you the option of opening a no-commission portfolio (Standard) or paying these fees in exchange for an almost nonexistent spread (through the ECN Account).
Having said all that, FXDD's withdrawals cost a hefty $40 fee, but traders do get 1 free outbound transfer per month. The firm's bonuses mostly target professional and institutional investors, as opposed to retail traders. However, experienced and novice market professionals will certainly benefit from the tutorial guides/PDFs, video webinars, live-streamed trading sessions, daily review articles, and technical analysis chart reports. Furthermore, since FXDD's account holders can access each of MT4 and MT5, the platforms' state-of-the-art trading tools will complement the broker's offerings and ensure that users enjoy a comprehensive market experience.
To conclude, this broker, just like any other firm, has its own pros and cons. However, FXDD's different portfolio types and lax deposit requirements will allow you to pick an account and platform that are aligned with your trading philosophy.