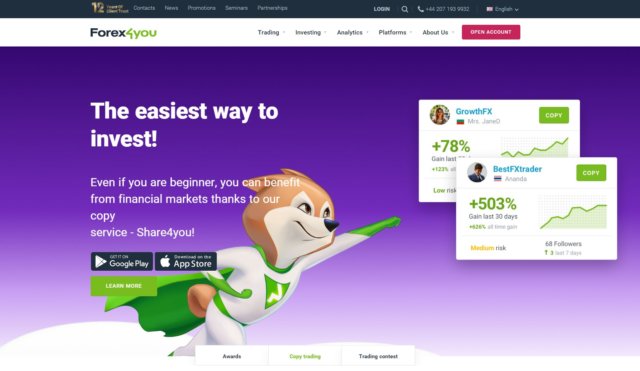 Forex4You is a forex broker that is based in the British Virgin Islands and was formed in 2007, it claims to have 1,800,000 opened trading accounts, and 726 million orders were executed on their platform. In this review, we will be looking at the different features and services being offered by Forex4You so you can then decide if they are the right broker for you.
Account Types
Forex4You has 4 different accounts on offer, we will be looking at the requirements and features of each of the accounts.
Cent Account: The cent account has a minimum deposit of $0 so anyone can use this account, it can have the base currency of USD or EUR. Leverage on the account can be anywhere from 1:10 up to 1:1000, as this is a cent account, 1 lot is equal to 1,000 units rather than the usual 100,000 units. The minimum trade volume is 0.01 lots while the maximum lot size is 1000 lots. Spread is fixed and starts from 2 pips and there is no commission added to the trades on this account. The margin call is set at 50% and the stop out level is set at 10%. This account is eligible for bonuses and promotions and has swap fees for holding trades overnight.
Classic Account: The classic account also has a$0 minimum deposit, it also keeps the base currencies like USD or EUR. Leverage remains at 1:10 to 1:1000 however the contract size is back to normal at 1 lot equals 100,000 units. The spreads remain fixed at a starting level of 2 pips but the margin call level moves to 100% and the stop out level move up to 20%. This account has no commission and is eligible for bonuses and also has swap fees. The maximum trade size has also moved to 200 lots instead of 1000 lots.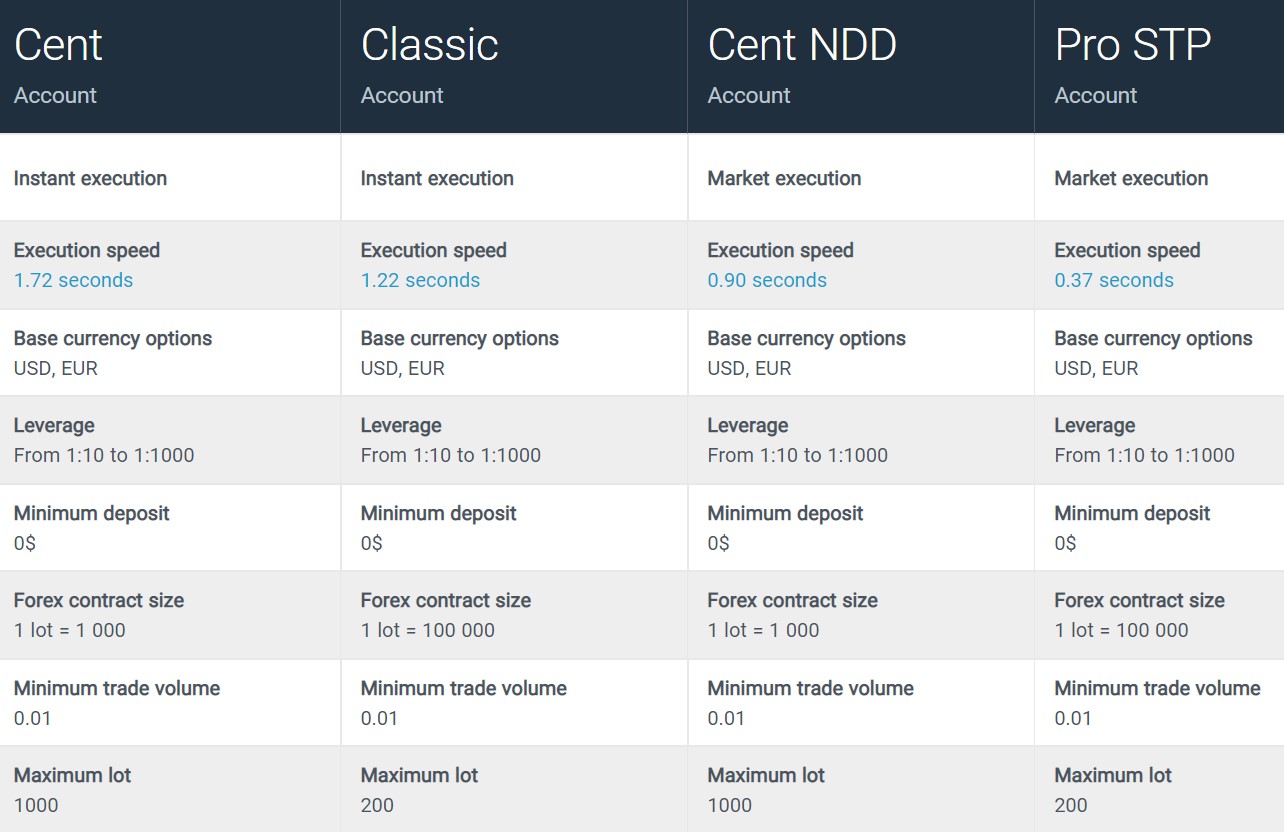 Cent NDD Account: The cent NDD account is very similar to the normal cent account, all features are the same exact for spreads and commissions. Instead of spreads being fixed at a starting level of 2 pips, they are now floating and start from 0.1 pips. Due to this lower spreads, there is now a commission charged on this account which is $0.10 (10 cents) per lot traded.
Pro STP Account: The pro STP account is identical to the classic account apart from the spreads and commissions, instead of the fixed spread they are now changed to a variable spread and start at 0.1 pips instead of 2 pips. Due to the lower spread, a commission of $8 per lot traded is added to the account. This account also has the fastest trade execution at around 0.37 seconds.
Platforms
There are two platforms on offer from Forex4You, one being a mobile-only app and the other being the ever-popular MetaTrader 4.
MetaTrader 4 (MT4): MetaTrader 4 (MT4) is one of the world's most popular trading platforms and for good reason. Released in 2005 by MetaQuotes Software, it has been around a while, it is stable customizable and full of features to help with your trading and analysis. MT4 is compatible with hundreds and thousands of different indicators, expert advisors, signal providers and more. Millions of people use MT4 for its interactive charts, multiple timeframes, one-click trading, trade copying and more. In terms of accessibility, MT4 is second to none, available as a desktop download, an app for Android and iOS devices and as a WebTrader where you can trade from within your internet browser. MetaTrader 4 is a great trading solution to have.

Forex4ou Mobile App: Forex4You have created their own app to help bring the forex markets to their clients in a more accessible manner. It was created to have a simple trading interface, advanced charting tools, customized trading preferences, profit verification, and a built-in economic calendar. We did not manage to test this mobile app but it looks clean and intuitive and could potentially be beneficial to traders who use a mobile platform.
Leverage
Forex4You offer more leverage than you will ever need, you can select increments ranging from 1:10 all the way up to 1:1000, you can select your leverage when opening an account and can also be changed on an already opened account by contacting the customer service team. We would not recommend putting your leverage as high as 1:1000 and would advise that 1:500 should be the limit as the higher you go, the harder it is to apply proper risk management.
Trade Sizes
Minimum trade sizes on all accounts start at 0.01 lots which are also known as a micro lot, if you are using the Cent or Cent NDD then the maximum trade size is 1000 lots while with the Classic and Pro STP accounts the maximum trade size is 200 lots. We would not recommend trading over 50 lots though as the higher the trade size becomes the harder it is for liquidity providers and the markets to execute the trades quickly and without any slippage.

Trading Costs
Then Cent and Classic accounts do not have any added costs as they are based on a spread based payment structure that we will look at later in this review. The Cent NDD account has an added commission of $0.10 (10 cents) added to each lot traded while the Pro STP account has ana added commission of $8 per lot traded which is slightly above the current industry standard of $6 per lot traded.
It should also be noted that all 4 accounts have swap charges, these are charges of interest that are paid or received when holding trades overnight, the swap charges can be viewed within the chose trading platform such as MetaTrader 4.
Assets
There isn't a full breakdown of what assets are available with Forex4You, the only information that we could locate is 7 different currency pairs and then Gold and Silver. There will, of course, be a lot more than this (we hope) but these are just the ones listed in the live liquidity section of the site.

Spreads
There are two different spread structures being used on Forex4You.
Fixed Spreads: The Cent and Classic accounts use a fixed based system, this means that they do not move no matter what is happening in the markets. Both accounts have them starting at 2 pips which means they will not be seen lower than this figure.
Variable (floating) Spread: The Cent NDD and Pro STP account use a variable spread, this means that they move depending on the conditions of the market, so when there is a lot of volatility the spreads will be seen to be higher than when it is stable. The spreads start at 0.1 pips as they use the raw spreads due to those two accounts have commissions added to them.
It should be noted that not all instruments and assets will have the same spreads, so when the starting spread for EUR/USD may be 2 pips, others such as AUDNZD would be higher. On the variable spread system, EUR/USD is currently at 0.1 pips while USDCHF is at 0.6 pips.
Minimum Deposit
The minimum deposit for each account is currently set at $0, so this means you can open it with any amount that the processor you use allows. Some processors may have a minimum transfer amount of $1 or $5 so that would become the new minimum deposit with Forex4You. We would always recommend depositing at least $200 though as this allows you to undertake better risk management.
Deposit Methods & Costs
Just 4 different deposit methods on offer from Forex 4 You, these are Credit and Debit card, both Visa and Mastercard are accepted, then there is Neteller, Skrill, and WebMoney.
The following currencies and fees apply.
Neteller – USD, EUR – 0%
Skrill – USD, EUR – 0%
WebMoney – USD, EUR – 2.5% + 0.8%
Credit / Debit Card – USD, EUR – 2.8% +0.5 USD

Withdrawal Methods & Costs
The same 4 methods are available to withdraw, we have set out a table below to indicate any fees that may be charged.
Neteller – USD, EUR – 2% (min $1, max $30)
Skrill – USD, EUR – 1%
WebMoney – USD, EUR – 0.8% (max 50 USD or EUR)
Credit / Debit Card – USD, EUR – 2.5 USD +2.5% or 2.5 EUR + 2.5%
Withdrawal Processing & Wait Time
Forex 4 You have a statistic on the site that states that the average processing time for withdrawals is 209.2 minutes which is just under 3 and a half hours. Once Forex 4 You have processed your withdrawal, Neteller, Skrill and WebMoney withdrawals should clear into your account within 15 minutes. Credit and Debit card withdrawals will take between 2 to 6 working days to be available in your account.
Bonuses & Promotions
There are a few different bonuses on offer from Forex 4 You so we will be looking at them briefly now.
100% Deposit Bonus: When depositing you can select a bonus of up to 100% (depending on trading volume). Each time you trade 17.5% of the spread will be put to one side, once the total amount put to the side equals the bonus amount it will be released as real funds. You can have up to 5 bonuses running at one time.
50% Cashback Bonus: You can get back 50% of the paid spread and commissions, this is only available to accounts that are not under a partner ID and do not have any other bonuses on the account.
Trading Hero: There are regular competitions being run by Forex 4 You, this is where you trade and the most profitable traders win a bonus prize.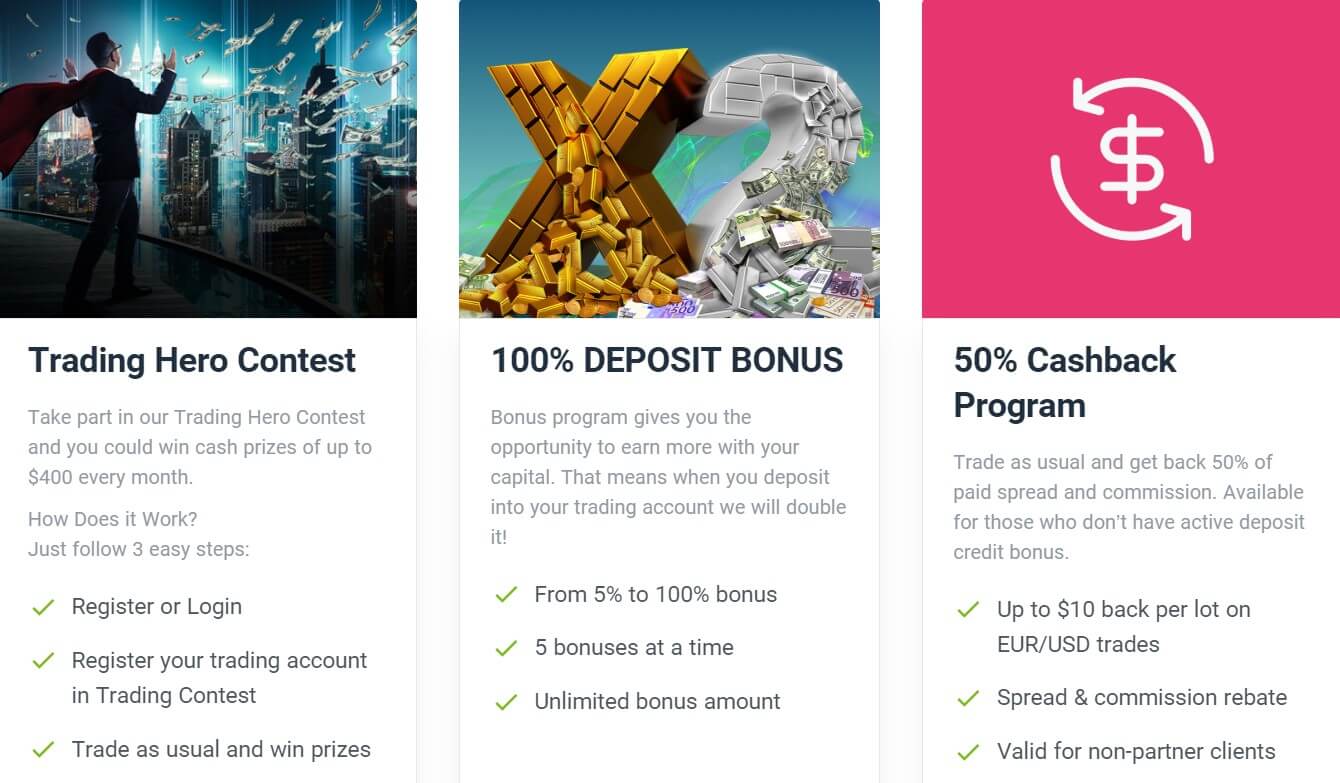 Educational & Trading Tools
Forex 4 You offer a few different tools and educational information to heir clients and those viewing the website. There are a number of different news sections, each one giving different news articles and signals to go along with the news that is occurring. There is also an economic calendar to see any upcoming news events and which currency pairs they may be affecting. The trading central allows you to see different technical analysis and charts, you must be a client to access this information.
VPS: It's great to get a VPS and many brokers offer them for free, however, Forex4You charge for this and so we would recommend going elsewhere to a dedicated forex VPS provider who offers often cheaper and better performing servers.
Autochartist: Autochartist is present and available from Forex4You, Autochartist constantly examines financial markets such as Forex, Indices, Commodities, Stocks, CFD's and Futures. You will get three reports every day with an overview of popular markets, hot opportunities and expected reactions to upcoming economic events. Market Report saves your time and effort, perfect for busy traders.
Customer Service
Should you wish to get in contact with Forex4You then you can do via their support page. You can get in contact in a number of different ways, there is a live chat to talk to someone quickly, there is also a ticket system where you can submit a ticket and wait for a response, you can also call via telephone in a number of different languages including English, Hindi, Malay, Mandarin / Cantonese, Thai and Vietnamese. You are also able to email different departments including general inquiries, partner departments, and the marketing department.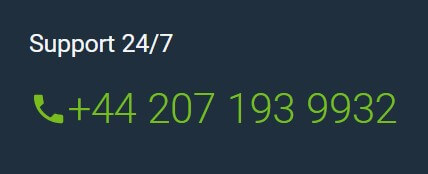 Support is open 24 hours a day 7 days a week so you will always be able to get in touch no matter when you call or write.
Demo Account
You can easily open up a demo account, these demo accounts give you full functionality and allow you to test out different expert advisors and strategies and can also allow you to compare different accounts with a choice of things such as leverage, and spreads being fixed or variable. You can also use the account on any platform that you wish from MetaTrader 4 to the Forex4You mobile ap. There s no indication regarding how long the accounts last as some brokers leave them indefinitely whole others put a time limit such as 30- days before they expire, so it would have been nice to have this information available.
Countries Accepted
The following statements present on the Forex4You website: "The service is not available for US, Japan, Canada, Australia, and European Economic Area residents." If you are unsure if you are eligible or not, make sure to get in contact with eh customer service team to find out.

Conclusion
Forex 4 You offer a good looking platform, the trading conditions are competitive with decent spreads and commissions. There is a lack of information regarding what assets and instruments are available to trade and due to this a lot of information regarding the trading conditions of certain instruments is also missing. This is important information that we would expect to be present, the fact that it does not, does not give us too much confidence, the good news is that the rest of the site and the services being offered seem to be present and of high quality.
We hope you like this Forex4U review. If you did, we invite you to check out some of the other reviews to help find the broker that is right for you.