A detailed look at Cable price action 14th to 24th July 2020
What is going on with the GBPUSD pair, AKA Cable?
Thank you for joining the forex academy educational video. In this session, we will be looking at what has been happening with the Great British pound US Dollar pair, also known as Cable between the 14th to the 24th of July 2020.
The idea behind this video is to show you what professional traders look for in their technical analysis in order to try and determine the future movement of price action.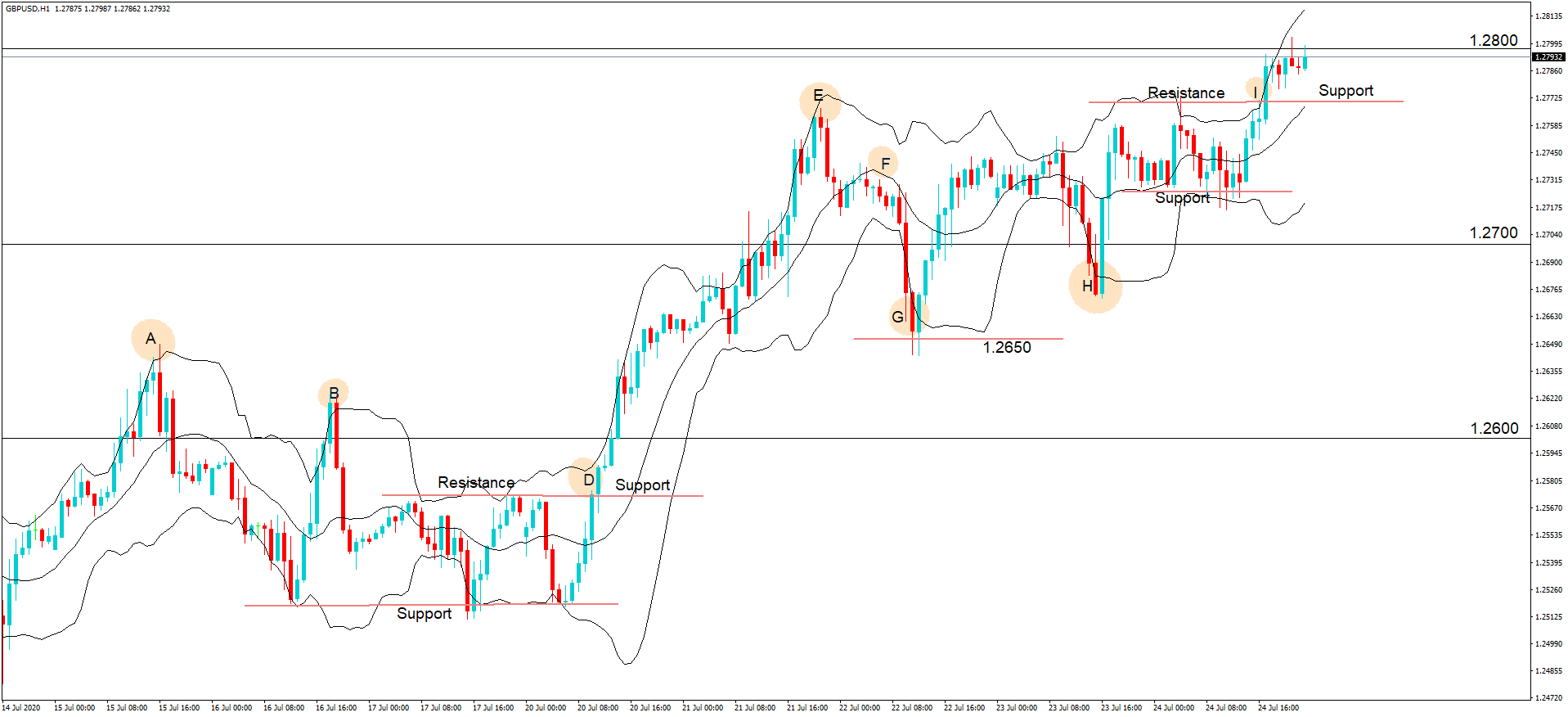 This is a 1-hour chart of Cable for the period of the 14th to the 24th of July 2020.
One of the biggest mistakes that new traders make is that they do not look at historical price action before putting on a trade. Technical analysis is a trader's best friend and should be looked at holistically before for taking on a trade. Technical charts should be looked at from left to right because they tell a story.
We can see that the price action of this pair was bid up to position A, which was a new recent high and, importantly, above the key figure of 1.2600, a multi-month high for the pair. Traders will have taken some profits after this push, and we see price action fall back to the support line, before a second push higher to position B, and where position B is lower than position A. This tells us that the strong bull move was running out of steam. Buyers were worried about a possible double top rejection of position A, and this left the door open for sellers to come in because the price could not be sustained above the key 1.26 level.
We then have a period of sideways consolidation between the support and resistance line and more importantly between the two key levels of 1.25 and 1.26, however, there is a breakout of this consolidation period at position D, where the bulls gain control and where the resistance line becomes support and we see an aggressive move higher from here position E. support lines often become resistance lines and vice versa. The other critical component of this bull move was the fact that the EU Brexit negotiator Mr. Barnier was holding talks with a British government regarding the future trading arrangements, post-Brexit, and a potential new trade deal. The market was expecting that a possible deal could be reached, and this was seen as positive for the British pound.
Meanwhile, profit-taking was taking place at position E and where subsequent price action began to fall back to position F and where technical analysis traders saw a bear formation and pushed pair down to position G, which is an important round number of 1.2650.
Looking for an opportunity to enter the market, bears again took control and pushed the pair higher. However the fading arch formation was reflective of uncertainty, and where the market was braced for an EU press conference, where Michael Barnier, the lead negotiator for a new EU/UK trade deal, said that a deal was unlikely with the British government due to substantial differences and so-called red lines around fishing rights and possible divergences in standards, which would likely prevent a deal being reached. This was seen by the markets as bad for the British pound and activated an initial sell-off in the pair, which was only stopped in its tracks when the United States released worse than expected initial jobless claims data for June, which reversed the pair at position H, coupled with the fact that Mr. Barnier said that there was still an opportunity to secure a deal with a British government and that talks would resume again in August. This gave a more positive sentiment to the pound, and the pair lifted to the second period of support and resistance, importantly, this was above the key 1.27 level.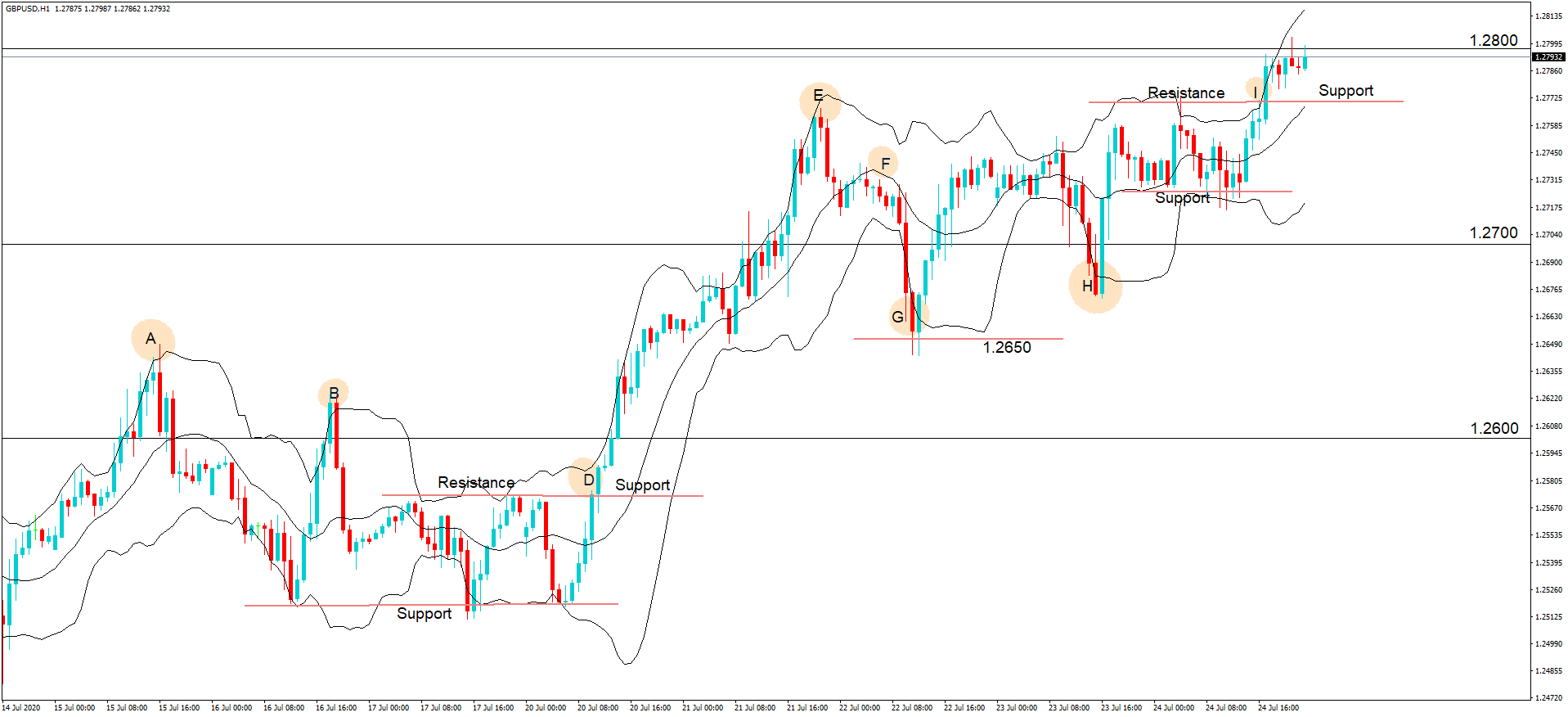 In thin trading on Friday evening, BST, after the European and London sessions had finished, and with China and US tensions rising because of a breakdown in relations and a lack of trust growing on either side, the US dollar was generally sold off across the board and Cable lifted to a new multi-month high of 1.2800.
A large part of the bid tone in this pair is because of a bad sentiment for the United States economy due to the growing number of Covid cases which is seen as being almost out of control, and where are Great Britain has largely surpassed the worst of the disease and whereby the economy is opening up, and things are returning to some kind of normal.
The scope is for further upside in this pair due to the ever-increasing bad sentiment for the United States dollar and slightly better sentiment for the British pound, where there is still hope that an EU UK trade deal can be completed by December.