The first thing you find when you log on to the Forex Diamond website is the trading results that have been provided via myfxbook. Whether you're an experienced trader or new to Forex, you'll find this information helpful when making decisions about purchasing this trading robot. In this review, we'll discuss not only the results but also how this tool functions. 
Overview
The developer of this advisor is the company Fx Automater Group. This company has created many popular currency trading systems. It has been commented in multiple forums that this robot is very different from other Forex robots that exist in the market. This is due to the 40X recovery factor, and the trading systems of Forex called 3 in 1. The reality is that the results of your page are positive but need to be analyzed.
Winning 2500 pips in 8 months is the equivalent of about 300 pips a month. Many traders can earn 1000 pips a month. And Forex Diamond is a world-class robot that makes 300 pips every month? This benefit is the result of a robot with a recovery factor of 40X. The meaning is that Forex Diamond earns 40X more for every 1 trade it loses.
Currency Pairs, Terms, and Strategy
This advisor negotiates with 4 currency pairs. EUR/USD, GBP/USD, USD/CHF, and USD/JPY. The USD/JPY pairing is the most traded currency pair. The robot is designed for scalping, using M15 time frames, and most trades last an average of 6 hours.
If we talk about strategy, the EA uses a diversified system of 2 strategies in 1 same software. The strategies that are used are tendential, and counter-trend. Everything is based on the search for signs of trend changes.
Historically, the majority of returns in the years 2014-2016 were at least 15 percent per month. At present, however, an attempt is made to achieve a return of 10 percent per month, the real average being 2-5 percent.
With the recovery factor of 40X, anyone would expect a trade loser to recover with 40 winning trades. The rate of profit is excellent. This rate stands at 70%, but the main problem with this Forex advisor is the low profits.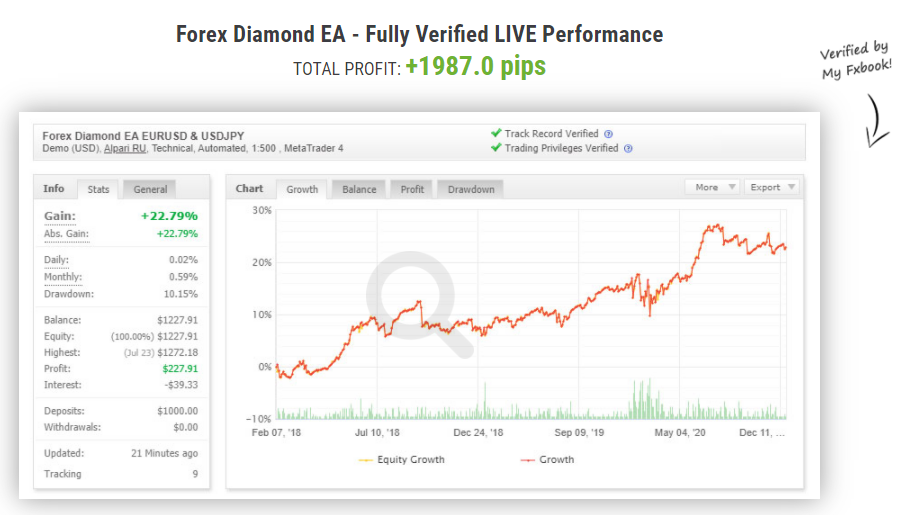 Service Cost
This EA currently costs $237 USD. The price usually varies continuously, and they also usually offer flash discounts. Now, they have a discount of 30% off from the original price of $297 USD. This Forex robot comes with a money-back guarantee, with a 60-day trial. They claim that money back is a no-questions-asked policy. You get your money back just by asking for it.
Is Forex Diamond EA a Scam?
Valuing well, this EA is not a scam. It has failed to maintain claims of being a system capable of generating a 10% monthly return. In the beginning, the robot was actually getting excellent results. Some months it was reached to exceed 30% and even 40% profitability. But as the years have been advancing, the returns have been decreasing. Currently, all available accounts are trying to reach a 10% monthly return.
This means that you can earn some money with this system, but you will not really achieve high returns. The returns of the 500% produced in the past will probably never be repeated due to the circumstances that usually cause a robot to get fewer and fewer results over time.
What We Like About This FX Robot
What we like best is the 60-day refund guarantee. This time is large enough to ensure that most traders can test the system. The second thing we like best is the transparency of your accounts. At the same time that they make you think that 1250 pips are something impressive, they also show you how slow their accounts are. Finally, your auto-update algorithm. With this issue, you don't have to ask about updates, as they are automatic.
Conclusion
Forget about the 15 years of backtesting. We accept that this robot is not a scam, but the yields produced in 2019 are not so kind as to recommend that you buy this EA. There is no guarantee that even the 10% monthly return sought will be achievable even in one year with Diamond Forex.