China and Australia tension builds
Let's take a look at the Australian Dollar USD Dollar price action during the European and US session on Thursday, 9th July.
But just before we do that, Let's remind ourselves of the brewing spat between Australia and China.
Firstly, the tensions have built because the Chinese have introduced a draconian national Security legislation law for Hong Kong. Therefore, the one country two systems arrangement established by the UK government when it handed over Hong Kong to China in 1997 and which was designed to protect the city from the mainland repressive legal system has now all but been meaningless. This was, in essence, a firewall between China and Hong Kong.
The new law will clamp down on, and I quote, "any conduct that seriously endangers national security," including separatism, subversion of state power, terrorism, and "activities by foreign and overseas forces" that "interfere" in Hong Kong's affairs. The extremely vague law allows for the extradition of people who are seen to be breaching the rules to be extradited and tried in mainland China. More worrying, is that the law could apply to anybody who happens to be in Hong Kong even from other countries who openly criticizes China's feelings in Hong Kong who could then be arrested and extradited to China also. This might, for example, include international journalists.
And so, it is not surprising that the Western world has condemned China's interference in Hong Kong, which was a culmination of their frustration to handle the riots which started in Hong Kong during 2019 in protest of China's increasing legal stronghold there.
In joining the international outcry, Australian Prime Minister Scott Morrison said the new law undermined "Hong Kong's own basic law" and the territory's current level of autonomy from Beijing.
The Prime Minister said Australia would protect citizens of Hong Kong by offering them residency. Immediately Beijing warned Australia not to offer citizenship to Hong Kong residents.  However, the government of Australia ignored this request.  Australia has also suspended its extradition treaty with Hong Kong.  This also flies in the face of the request from Beijing because it means it will no longer extradite accused individuals from Australia to Hong Kong, or China if they have breached the new security law.
On Thursday, 9th July at position 'A,' the Chinese government said there would be percussions for Australia's interference in their governing of the people of Hong Kong. Price action was around 0.6980 level at the time the news wires picked up the quote from China's Xi Jinping.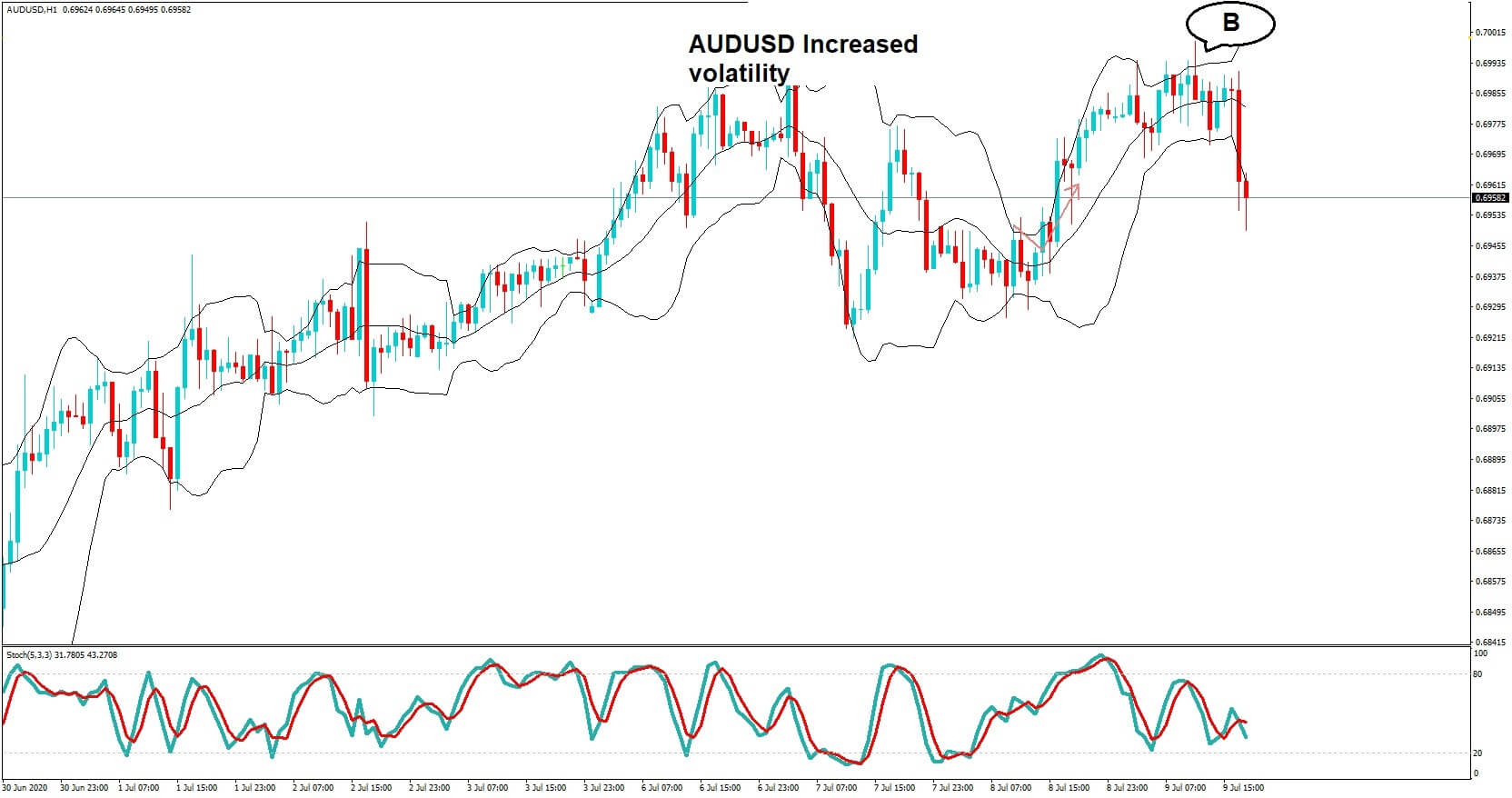 Price action and volatility picks up immediately with downside pressure to the pair, subsequently being reversed, causing a spike to just below the 0.70 key level, before sustained selling for the Australia dollar.
The AUDUSD Has enjoyed a recent upside reversal in price action to the key 0.70 level, due to the fact that Australia has handled the coronavirus very well, with low percentages of people catching the disease and dying from it. Also, now that China is largely back on track in terms of its recovery from the virus, which means that business is heading back to normality between the two nations.
However, with its huge commodities-based export market, it's biggest single customer is China. And therefore, if China were to impose tariffs or other trade restrictions with Australia, due to the growing crisis, it will be a catastrophe for the recovering Australian economy.
One thing that we can be sure of is that the Chinese government is extremely unlikely to back down over this issue.
The implications are serious for Australia, and their dollar will likely see more downside, especially if China imposes punitive measures on his trading partner.