EuropeFX is a forex broker registered in Cyprus and states that it is dedicated to offering the best possible range of products and services while maintaining the highest standard of customer service in the industry. In this review, we will be looking at this in a little more detail to see what is really being offered.
Account Types
There are 5 different accounts on offer, each with different requirements and features, we outline what some of them are down below.
All accounts gain the following benefits:
Online chat support, demo accounts, segregated bank accounts, STP / no dealing desk, access to all trading platforms, maximum leverage of 1:30, professionals get a maximum leverage of 1:200, stop out levels of 50%, access to the online education center, webinars, seminars and a variable spread from 0.1 pip. Base currencies can be set as EUR, USD or GBP however not changed once set.
Bronze: The bronze account is the EuropeFX starting account, it has a minimum deposit of $200 (Europe FX recommend $1000) and gives a trial period for things such as a relationship manager, trading central daily newsletter, premium signals, and a private one on one trading academy. Commissions are charged on this account.
Silver: Starting at $2,500, with this account you get a relationship manager, access to the daily trading newsletter, a trial period for the premium signals, and 3 sessions of private one on ones. There is also access to EuropeFX investments but only the mirror trader. There are also full commissions paid on this account type.
Gold: Gold accounts require an opening balance of $10,000, with this account you get a relationship manager, access to the central daily newsletter, full access to premium signals and 4 sessions of private one on one trading help, you also get 2 private trading sessions per months, access to event rooms once per month, SMS trading notifications, access to EuropFX investments, both mirror trader and RoboX. This account has a 10% discount taken from its commission.
Platinum: The platinum account increases the minimum deposit further to $25,000. This account gives you a relationship manager, access to the central daily newsletter, full access to premium signals and 8 sessions of private one on one trading help, you also get 4 private trading sessions per months, access to event rooms twice per month, SMS trading notifications, access to EuropFX investments, both mirror trader and RoboX. This account has a 25% discount taken from its commission.
Premium: This is the top tier account and it shows by needing a massive $50,000 minimum balance, showing that his account is more aimed towards professionals than retail traders. This account gives you a relationship manager, access to the central daily newsletter, full access to premium signals and 16 sessions of private one on one trading help, you also get 8 private trading sessions per months, access to event rooms 4 times per month, SMS trading notifications, access to EuropFX investments, both mirror trader and RoboX. This account has a 50% discount taken from its commission and trial access to the VIP services (we go into more detail around this in the bonus and promotion section of this review).
Platforms
EuropeFX only has one trading platform, here is a little overview of it.
MetaTrader 4 (MT4): MetaTrader 4 is one of the world's most popular trading platforms and for good reason. Released in 2005 by MetaQuotes Software, it has been around a while, it is stable customizable and full of features to help with your trading and analysis. MT4 is compatible with hundreds and thousands of different indicators, expert advisors, signal providers and more. Millions of people use MT4 for its interactive charts, multiple timeframes, one-click trading, trade copying and more. In terms of accessibility, MT4 is second to none, available as a desktop download, an app for Android and iOS devices and as a WebTrader where you can trade from within your internet browser. MetaTrader 4 is a great trading solution to have.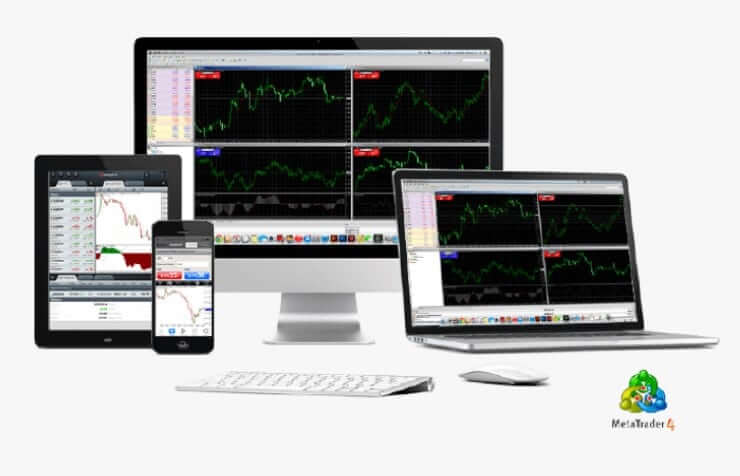 Leverage
There is maximum leverage of 1:30 for retail clients, should you be considered as a professional trader then this figure increases up to a maximum of 1:200, get in contact with EuropeFX if you feel you should have higher leverage than the standard 1:30.
Trade Sizes
EuropeFX claim that the minimum trade size is dependant on the instrument that you are trading, however, it appears by looking through the documentation that the minimum trade size os 0.01 lots (also known as a micro lot) across the board, there may be a change when trading CFD Futures or Shares, but otherwise it stands at 0.01 lots. We could not locate the information for the maximum trade size, however, with most brokers this normally sits around50 lots to 100 lots.
Trading Costs
Commissions are added to each trade, this is calculated using a formula so it is slightly more complicated than the usual fixed amount per lot.
This is the explanation given by EuropFX:
The commission is charged as a fixed amount or as a percentage of the underlying asset price. The formula for Commission in Percentage = Asset price * Commission * Volume. Example: Suppose Amazon share price is 1850.50 and you want to trade 0.1 lot with commission 7%. Commission paid = 1850.50 * 7% * 0.1 = 12.95$
Certain accounts receive a discount to the commission, the gold account gets a 10% discount, Platinum accounts get a 25% discount and Premium accounts get a 50% discount.
If an account is not used for three months it will be considered as inactive, this account will then incur a fee of $50 (or equivalent base currency) per month until either a trade has been opened or the account balance reaches 0.
Assets
There are plenty of assets and instruments to trade with EuropeFX there is not a full breakdown of the tradable assets in terms of individual instruments, we can at least break them down into categories. There are Forex currency pairs, CFDs, Indices, Shares, Commodities, EuropeFX asset index, cannabis stocks and finally cryptocurrencies.
There are two areas of interest, firstly the cannabis stocks, and these are quite rare to see in brokers, at least the major players so it is nice to have them as an option to trade on stocks of different growers, biotech companies and suppliers. Secondly, are the cryptocurrencies, there isn't a full list of those available but the major players such as Bitcoin, Ethereum, Ripple and so forth are available which is great to see as the crypto world is growing incredibly fast with many new and experienced traders looking to crypto as their trading instruments of choice.
Spreads
EuropeFX offers raw spreads on all of their assets, this means that the spreads come directly from the liquidity providers and there is nothing extra added by the broker. Spreads can be as low as 0.1 pips depending on the asset, for instance, EUR/USD will normally be very low, while some other currencies will be higher.

Minimum Deposit
The minimum deposit required to open up an account is $200, however, EuropeFX makes it clear that they suggest at least $1000 so you can maintain proper risk management and improve the profit potential of the account.
Deposit Methods & Costs
There are plenty of different ways to deposit with EuropeFX and the good news is that with all of them there are no added fees. Currently, you can use bank transfer, Visa or MasterCard, both debit or credit, Skrill, Sofort, iDeal, Giro Pay, Safety Pay, TrustPay, Euteller, and Przelewy. Please note that your own bank may charge a fee when performing a bank wire transfer, so be sure to check with your bank prior to making a deposit.

Withdrawal Methods & Costs
You can withdraw using the same methods as you could for depositing. Unfortunately, the same stance of no fees are not considered here, there is a $25 (or equivalent currency) fee for each and every withdrawal, no matter the methods. This is a real shame as this is an aspect of online brokers that every trader hates and a lot of brokers are now removing the withdrawal fees so it would be nice to see them removed here too, $25 is high when it comes to withdrawal fees.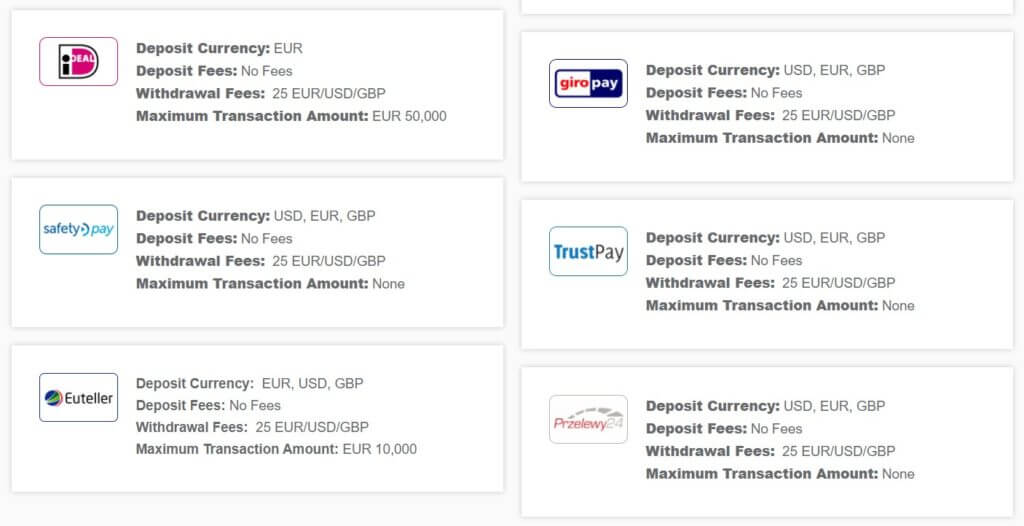 Please note, if withdrawing by bank wire transfer, your own bank may also charge a fee (on top of the EuropFX fee) so be sure to check with your bank prior to making a withdrawal.
Withdrawal Processing & Wait Time
EuropFX does not give any specifics when it comes to their processing times, they simply state that it will take between 1 to 5 business days to receive your funds based on your selected withdrawal method, so processing must take around 24 hours for you to receive your e-wallet withdrawals in 1 business day.
Bonuses & Promotions
There is a VIP program on offer from EuropFX. This gives a number of different perks including an increased leverage up to 1:300, a 75% discount of trading commission and swaps, daily private trading sessions, complete access to offline and online education, priority bookings to the one on one sessions, daily access to the event room, SMS trading notifications and expedited withdrawals.
You can have a trial of the VIP program by simply opening up a premium account, there are multiple different tiers of the VIP program each requiring a different amount of points, gaining points is simple, just trade, the more you trade, the more points you get.
Educational & Trading Tools
Plenty on offer when it comes to education, it seems to be an area that EuropeFX is pushing due to all the different aspects states on the account pages.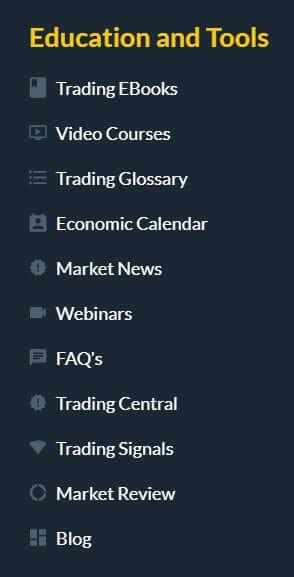 Education: There are trading Ebooks available to read online which go over different aspects of how to successfully trade with forex, CFDs, and stocks. There are also plenty of videos available that go over all aspects of trading, including the use of the trading platforms to how to analyze the market effectively. There is also a glossary available to help you understand any terms that you may not have heard before.
There is also a basic economic calendar to help you to see any upcoming news events that may affect the pairs you are trading, a market news section which gives plenty of information o things like reviews of the market, a market watch that gives you ideas on where good movement could be and currency forecasts. Finally, there are the webinars, seminars and one on one sessions available where you can learn from professionals, ask questions and gain a lot of knowledge by working alongside a number of professional traders.
Tools: In terms of tools, there are two, one names RoboX which is classed as a smart trading machine, it creates an algorithm based on questionnaire answers and will then scan the database of all available strategies to find the ones that are right for you, changing them as it trades based on your answers, how effective this is we do not know, but it is an interesting concept.
Mirror trader is a slightly more conventional tool, you have seen mirror traders all over the place, you chose someone who is doing well and the software will copy their trades, they win, you win, they lose, you lose.
Customer Service
Should you wish to get in contact with EuropFX, you can do so by using the online web form, fill in your question or query and you should get a reply by email. There are also two phone numbers available, one for Cyrus and one for Germany.
We did not manage to test the customer service at this time however it is stated that they are open 5 days a week 24 hours each day, closing at the same time that the markets close.
Demo Account
As expected, demo accounts are available, simply sign up to open one up, they last indefinitely as long as they are being used, if they are left dormant for too long they will be closed in order to free up server space if this happens simply open up a new one. There is a notice on the site that trading conditions may be slightly different in demo accounts than real live accounts.
Countries Accepted
EuropeFX state that they do not offer its services to residents of the USA, Iran, Cuba, Crimea, ​ Sudan, Syria, New Zealand, North Korea as well as some other additional jurisdictions. Be sure to check with the customer service team if you are unsure if you are eligible for an account.
Conclusion
EuropeFX seems like a competent broker, all the required and relevant information is available and easily accessible. With the new regulations in place, it is a shame to see the maximum leverage being reduced to 1:30, however, this is not EuropeFXs fault, more so to the new regulatory rules. Plenty on offer when it comes to educations, low spreads are always a plus but the commission structure can be a little more complicated to what we are used to, it would have been nice to have a set figure per lot.
We hope you like this EuropeFX review, if you did, be sure to check out some other reviews to help find the broker that is right for you.