Euro Forecaster H1 can be found within the MQL5 marketplace under the Experts category. It was uploaded on the 20th of May 2019 by Marek Kupka and has not received any further updates so it is still at version 1.0.
Overview
Euro Forecaster H1 is an expert advisor that was created for the MetaTrader 4 platform, its main purpose is to look for breakouts on the opening bar, it can currently be used with the EURSUD pair on the 1H timeframes.
Some of the main features of the expert advisor:
Each trade is protected by Stop Loss.
No martingale, no grid, no scalp, no hedge, no latency, no-arbitrage.
No excessive consumption of CPU resources.
User-friendly settings.
All settings optimized.
Long-term strategy.
There are also a number of different settings available, these include the lot sizes, exit time on Fridays, magic numbers, custom comments, email notifications, and whether to display information on the panel.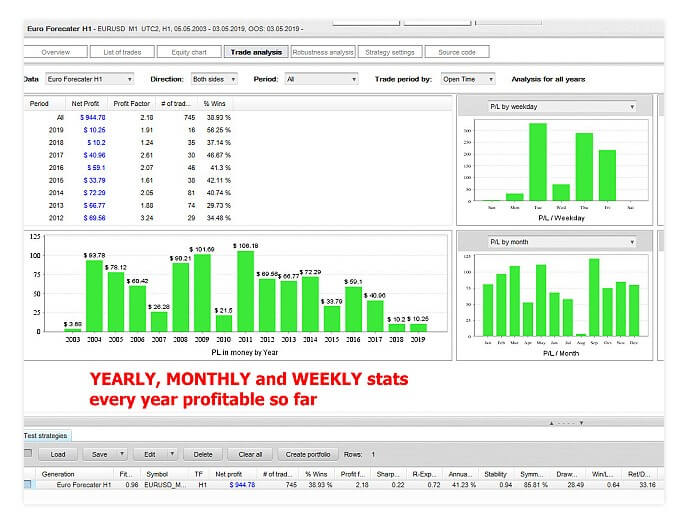 Service Cost
The expert advisor will currently cost you $99 to purchase it outright, this purchase will give you up to 10 activations of the EA without any further limitations. Unlike many EAs on the MQL5 site, there is no option to rent the EA. There is a free version, but this demo version will be severely limited and may only be usable with the strategy tester within MT4.
Conclusion
Unfortunately, there aren't any user reviews for the EA, this makes it hard for us to know whether those that are using it are finding that the EA is doing what it is meant to do and whether it is beneficial for them. There are also no comments, so we cannot see the sort of customer support that is on offer. Due to this, we would suggest trying out the free demo version, you should also send any questions that you may have to the developer, this way you can make sure that it will be the right EA for you and that it is still being supported by the developer.
This Forex Indicator is currently available in the MQL5 marketplace: https://www.mql5.com/en/market/product/39084