Flow Assessment
The daily is in a range, but recently there has been a strong move up by buyers that have built up positions. These buyers achieved something by penetrating old highs.
On the H4, seller moves are slowing down near the key reaction area.
On the H1, recent sellers failed to show defence of the key level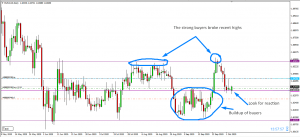 Location Assessment
Price is at a key reaction area on the daily, thus giving us reason to look at a lower timeframe for proof of genuine reaction structure
Price made a swing failure on the H4, taking out possible sell stops. This gives us more confidence in the trade as some people have gotten caught trading the wrong way
On the H1, we wait for the price to reach the last recent seller area and look for failure in defending that zone
Momentum Assessment
On the H4, the sell moves were slowing down and buyers were holding the level
The H1 shows a stop hunt below recent lows. Sellers failed to make a lower low here.
At the recent seller area on the H1, there were signs of sellers not defending that level, thus indicating to us that the buys are in.