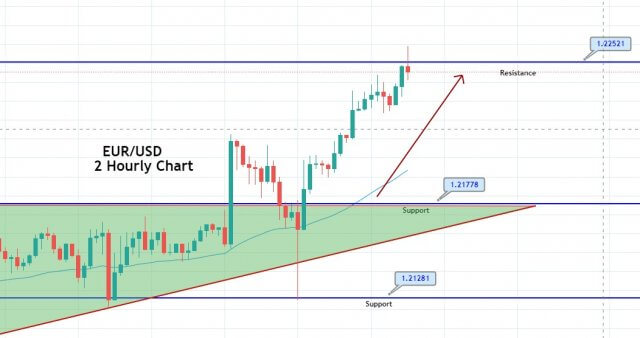 The EUR/USD bullish bias continues to dominate the market as it's trading at 1.2225. On the higher side, the EUR/USD may target the 1.2250 level and 1.2282 resistance areas. The direct currency pair may find support at 1.2175, which is extended by a double top resistance, which now is working as a support. The MACD and RSI are supporting bullish bias along with the 50 periods EMA. We can expect a continuation of a bullish trend in the EUR/USD today.
Entry Price – Buy 1.22338
Stop Loss – 1.21938
Take Profit – 1.22738
Risk to Reward – 1:1
Profit & Loss Per Standard Lot = -$400/ +$400
Profit & Loss Per Micro Lot = -$40/ +$40
Fellas, now you can check out forex trading signals via Forex Academy mobile app. Follow the links below.
iPhone Users: https://apps.apple.com/es/app/fasignals/id1521281368
Andriod Users: https://play.google.com/store/apps/details?id=academy.forex.thesignal&hl=en_US