Escort is an Expert Advisor designed for the MetaTrader 4 platform and belongs to the trend following strategy type. Even the price of the EA is in the highest on the MQL5 market where it is published, there is very little information provided for it. The developer is Evgeniy Zhdan from Russia who has many products already published (127), also has a book on how to make EA for MT4 sold on Amazon. His EAs bear catchy names and a good part of them are very expensive. None of the products have significant user attention, even though they have great ratings from those that can purchase them.
Overview
The Escort initial version was published recently, in kate March 2020, and has not yet been updated. Note that many developers combine already made trading modules to create different EA combinations, increasing the sales range even though no new code is written. When products do not have much information about them, especially if they have a high price, they cannot be expected to be seriously considered by the community.
Escort EA works on the M5 timeframe which may imply that this is a scalper, but this is not the case. Strong trend movements are detected, probably using a volatility or volume indicator. It is also mentioned that the EA is using the recognition module for trend prediction. Prediction is always involved with the price patterns, be it in the form of fractals or Harmonic Patterns, and is not lagging information. Reversal indicators, most of them are oscillators, RSI is one of the most popular, are the other option for prediction or reversals. They are also not lagging indicators, although they do not foresee to far ahead.
Trend following usually involves Moving Average indicator types and they are lagging, since they need recent information to confirm a trend. Therefore, it is not clear what recognition module the author is talking about on the Overview page, but the EA may be using a pattern recognition module form the developer's other products. Whatever the case, this is a fast-acting EA that requires a good connection, low spreads, and VPS is recommended. This means you should not expect trades to be held for long, it is probably similar to the scalping method. The author explicitly states that the Escort EA does not use any of the risky strategies like Martingale, Averaging, Grid, etc.
Escort Ea does not apply to any asset, the author recommends GBP/USD, EUR/USD, USD/CAD, EUR/JPY, and GBP/JPY currency pairs. The Risk Management module is implemented and contains the Stop Loss and position tracking, probably exit indicators based on the diminishing volatility. It is not disclosed anything about the methods or indicators used for any of the strategy element Eacort uses, but according to the settings range we can see Trailing Stop customization, classic Take Profit level, and some filtering options.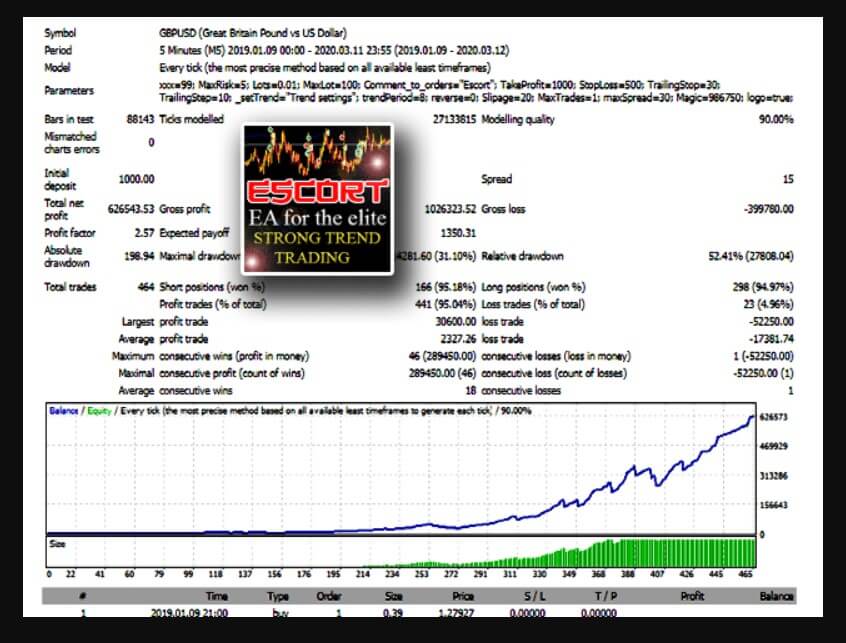 The complete settings range will now allow you to customize much that it directly affecting the trading strategy, just how "aggressive" it can be. One interesting parameter is Trend strength. This sets when the price move is not considered a noise but an emerging trend. A higher number will make the EA less frequent and will wait for a strong signal. Max Risk parameter defines how much volume each trade carries, relevant to the total account balance. Turing this off will use another clause for fixed lot allocation. Trailing Stop can be enabled and adjusted in pips, so it is probably using the classic trailing method as with the default MT4.
An interesting parameter is called "By trend or against". It seems the author left this parameter to use the EA as a reversal strategy, although it is not meant to be. It is uncertain if anyone would like to use a very expensive EA for an opposite role. As a side thinking, anyone disappointed with the results of the EA can use the opposite methodology and have a better outcome. It could be regarded as a failure switch the developer left in case the user is not happy with his EA. Other settings are about what is filtered and how much in terms of slippage, spread, and the maximum number of trades.
Performance charts attached to the presentation page shows all currency pairs backtested on the MT4 Strategy Tester. They are tested on the recommended M5 timeframe, from the start of 2019 until Q1 2020. Fro the EUR/USD pair, modeling quality is 90% using every thick and 5% risk setting per trade. The success rate is 90.63% and the Maximal drawdown is 13.2%, while on EUR/JPY pair it climbed to an extreme 47.93%. So the EA does not have consistency in this key figure, even though the Stop Loss setting could be too deep.
However, another key figure puts more stains on this expensive EA. The average profit trade is 926.26 but the average losing trade is -5175.75. The average wining streak ratio is 19 to 1. All this points to a scalping like behavior but note that the EA made just 97 trades for the whole backtesting period. Finally, the EA is very profitable of course, with 65439 profit on the 10000 initial balance.
Service Cost
Escort EA ahs a four-digit price tag of $1945. If you want to try to go with a cheaper option, you can rent it for a year and pay $1760. You will have 30 activations and a demo version offered.
Conclusion
The interest is not high, given all the above, there are no comments by the users and just one review. The user who left the perfect review did not leave any comment. Escort EA is simply not worth the price in our opinion for several reasons. The presentation does not give enough info, the backtesting results involve high risk and inconsistent results, there is no published signal service generated by the EA and simply the price is too high. There are many other automated solutions with great performance, ratings, and are much more affordable.
This Forex service can be found at the following web address: https://www.mql5.com/en/market/product/47642