Easy RSI Alerts is a trading indicator that was added to the mql5 marketplace in February of 2018. The author Luke Kendall has also uploaded other products that deal with alerts related to CCI and Bollinger Bands. This indicator has not been updated since its initial launch date.
Overview
The RSI within the indicator's name stands for Relative Strength Index, a momentum-based indicator that measures the gravity of recent price changes to evaluate overbought or oversold conditions. RSI was originally outlined by J. Welles Wilder in his book; however, the developer of this indicator has designed it to follow along with the original version in order to identify the aforementioned conditions and to help traders find entries within the market.
Here are some of the indicator's highlights and features:
Designed to be fully compatible with the most preferred trading terminal, MetaTrader 4
Can effectively be used by traders of different skill levels thanks to the simplistic nature of the product
A reading of less than 30 indicates oversold conditions, and vice versa for readings over 70
Push notifications are available, along with audible and email alerts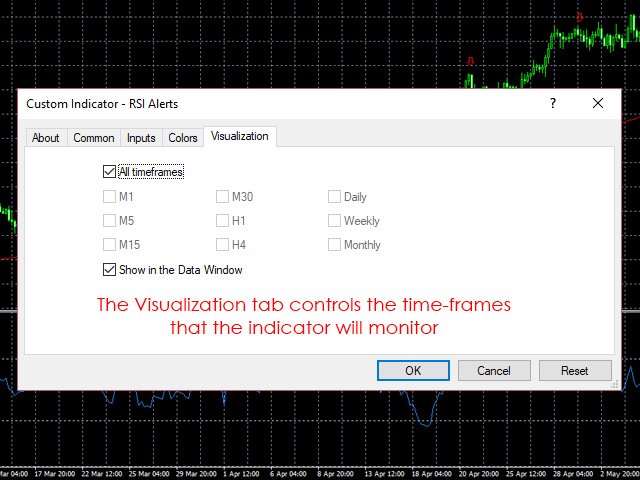 The developer explains that the simplest way to use it would be to wait for an overbought/oversold condition and then to enter into a trade when the RSI indicates that the price going in the dominant direction of the trend. Traders may benefit from using this indicator in combination with another and prior knowledge and/or skills will definitely have an impact on results.
Service Cost
The overall price of this indicator is set at $30 USD and provides a standard number of activations (5). The developer also offers the ability to rent the product at a rate of $15 per year, which is exceptionally longer than the 1-3-month timeframe that many others would typically offer for the same price. A free demo version is available as well, so traders shouldn't have any testing restrictions based on available funds.
Conclusion
This indicator offers traders a simple, cheap, and effective way to make informed trading decisions regarding overbought or oversold conditions, so long as it is used wisely. It hasn't actually gained much popularity; the total number of demo downloads is currently at less than 200 and its five-star rating is based on one user review. We wouldn't recommend trading without some experience, but this indicator could be a useful tool for beginners that are just getting started, or for traders that don't want to watch a screen for hours.
This Forex service can be found at the following web address: https://www.mql5.com/en/market/product/27776