Commentary from our Previous Analysis
Last July 06th, we commented in our mid-term technical analysis that the German index DAX 30 showed an incomplete upward corrective structure corresponding to a potential zigzag pattern.
The following figure illustrates our previous analysis released on July 06th, in which the structural sequence reveals an incomplete wave ((c)) of Minute degree identified in black. This observation led us to expect more upsides for the German index.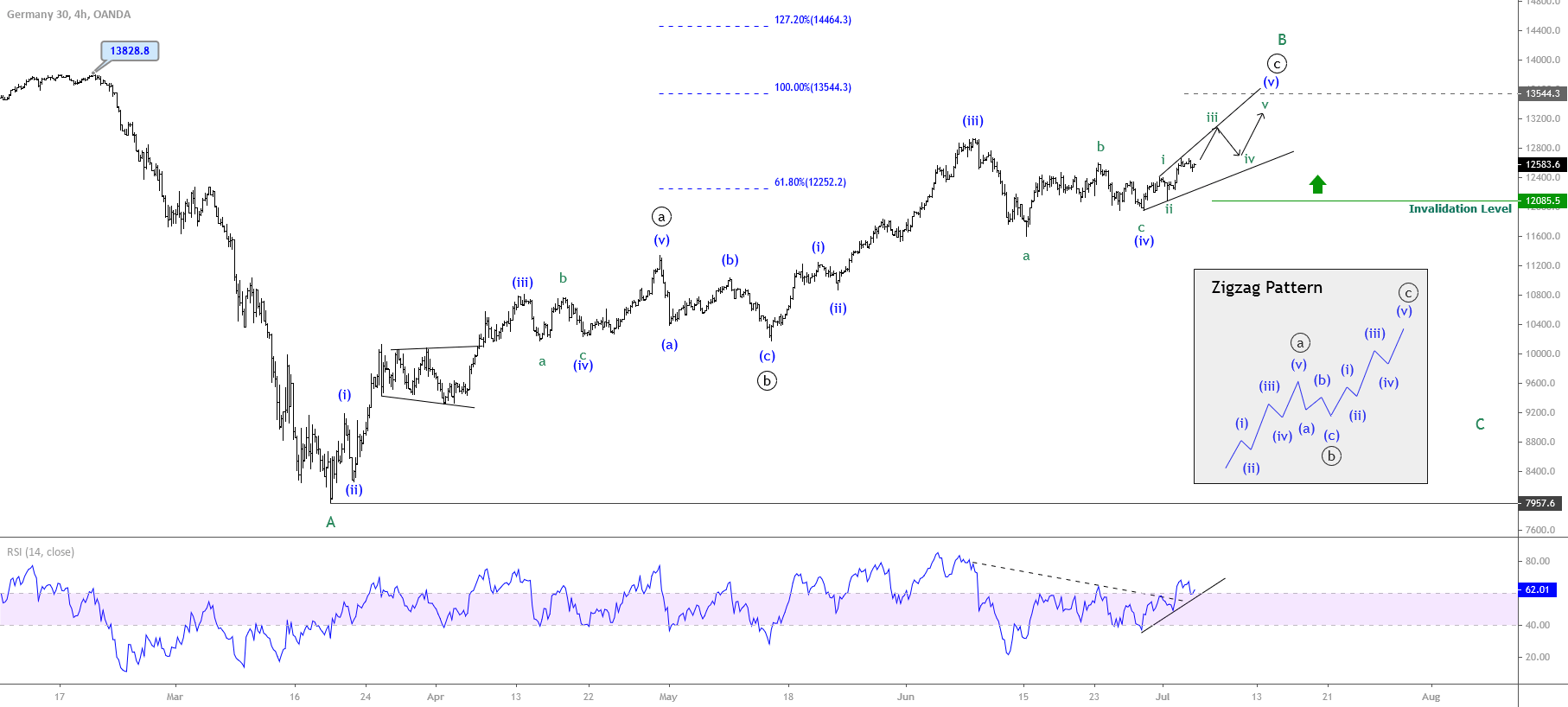 Market Sentiment Overview
DAX 30, in its daily chart, unveils the recovery developed from the mid-March, which took it from an extreme bearish sentiment until the strong bullish sentiment zone.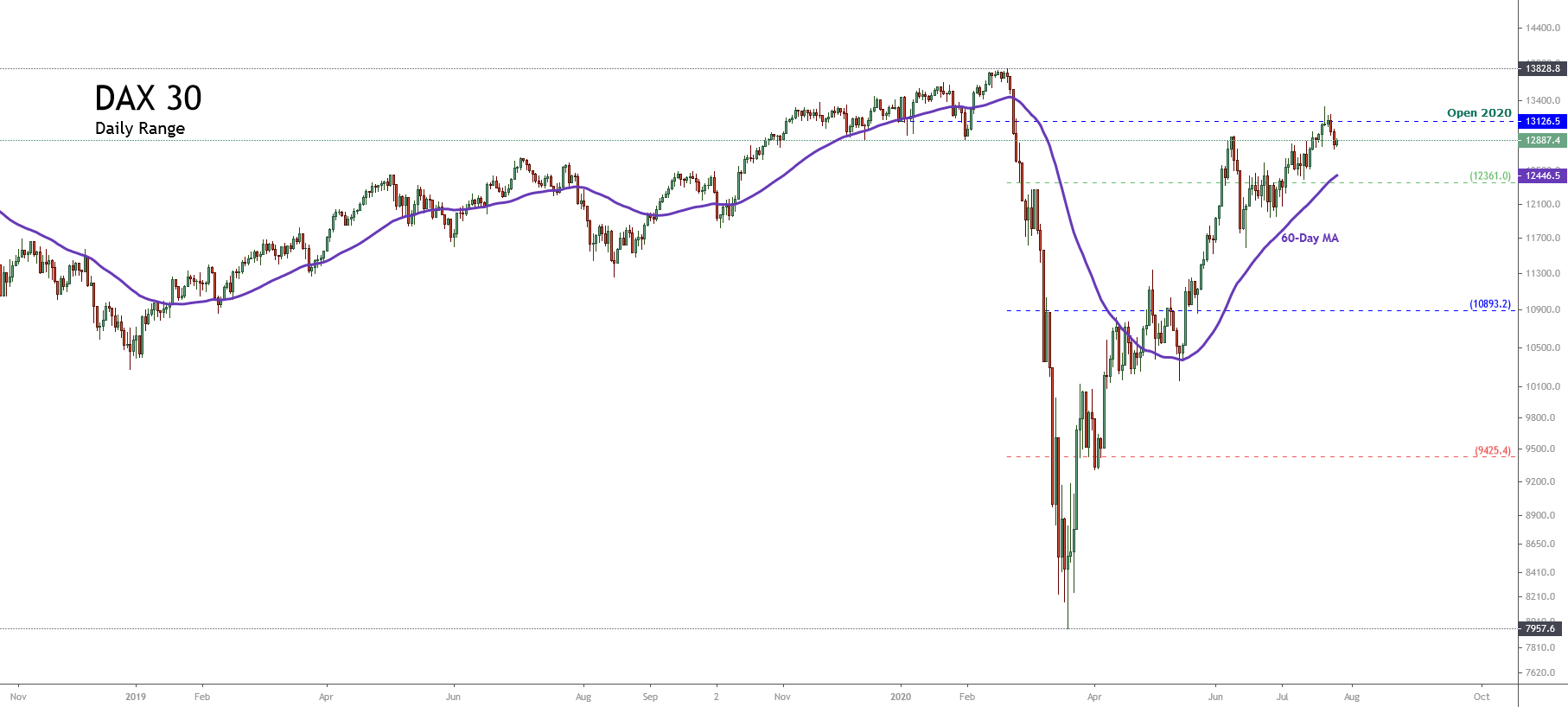 On the previous chart, we observe that the price action found resistance in the opening 2020 zone, at 13,126.5 pts, where the German index developed a limited retrace in the past week. 
On the other hand, DAX 30 continues moving above the 60-day moving average, which leads us to conclude that the mid-term bias remains on the bullish side. In this context, the price action doesn't show a reversal signal nor a highly volatile trading session. That leads us to observe a change in the sentiment of the traders, driving the price toward the 52-week high located at 13,828.8 pts.
Elliott Wave Outlook
The mid-term Elliott wave perspective for the DAX 30 index illustrated in its 4-hour chart reveals the market action is running in an ascending channel that remains intact, suggesting more upsides for the following trading sessions.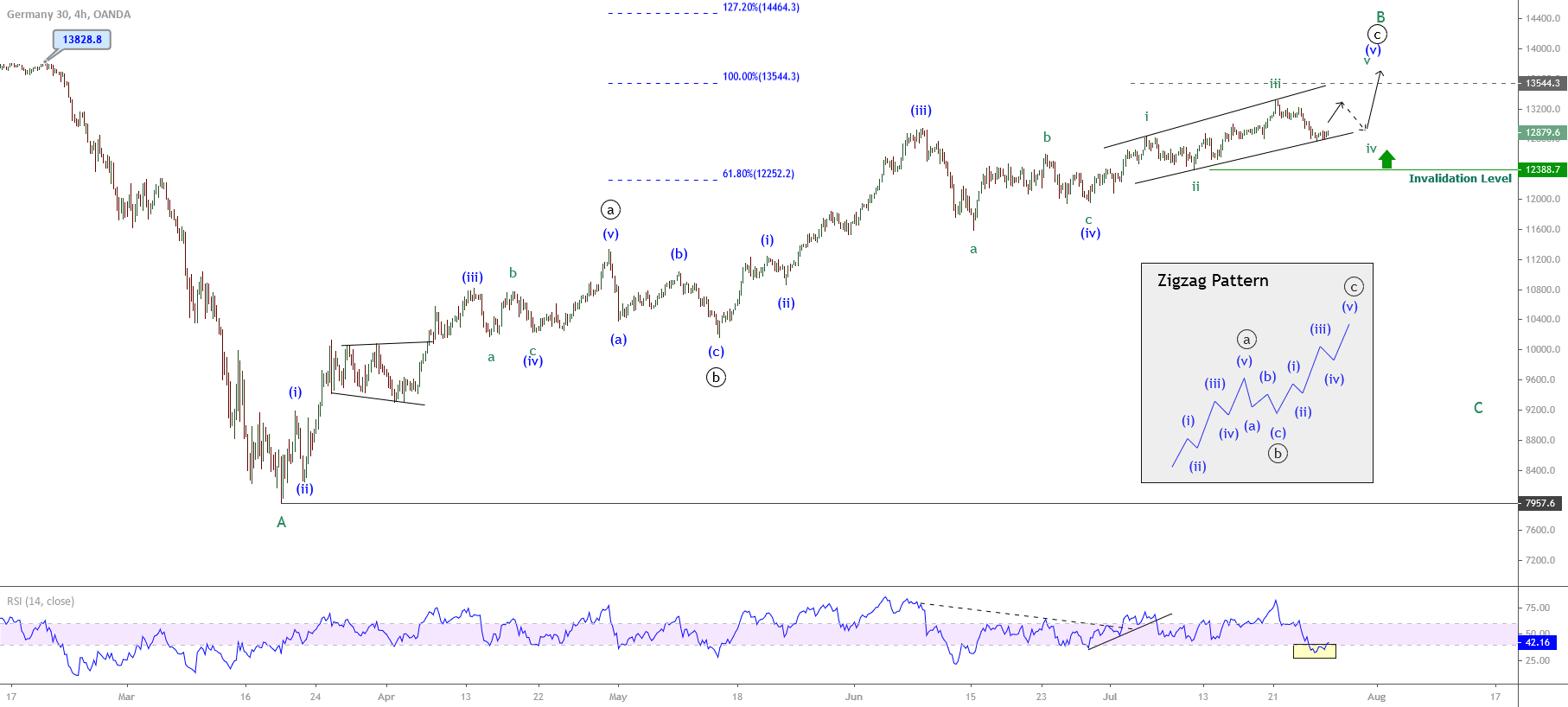 In terms of its Elliott wave sequence, the previous chart presents the German index advancing in its wave iv of Subminuette degree labeled in green, which seems to develop its first internal segment. In this context, according to wave theory, considering that the price advances in a corrective structure, the DAX 30 index should complete two additional internal legs before resuming its next rally, corresponding to wave v in green.
The next upward movement should complete its wave (v) of the Minuette degree, labeled in blue, Which began on June 29th at the low of 11,949.6 pts. At the same time, after its fifth wave ends, DAX 30 would complete its wave ((c)) of Minute degree, in black, which belongs to the wave B of Minor degree identified in green. This movement could extend its gains to 13,544.3 pts and even surpass the psychological barrier at 14,000 pts. In this context, once the German index completes its current bullish cycle, it could start a new bearish movement, corresponding to wave C of Minor degree.
Finally, the RSI oscillator seems to have found support above level 40, which leads us to confirm that the bullish bias remains intact. In consequence, further upward movement on the German index is a high probability event.