---
General overview
---
Market Cap: $328,089,417,655
24h Vol: $18,528,052,314
BTC Dominance: 39.0%
From yesterday's low at 303,340,000,000$, cryptocurrency market cap evaluation has increased to 334,675,000,000$ which is the today's high for now and has since retraced back to around $327 billion dollars.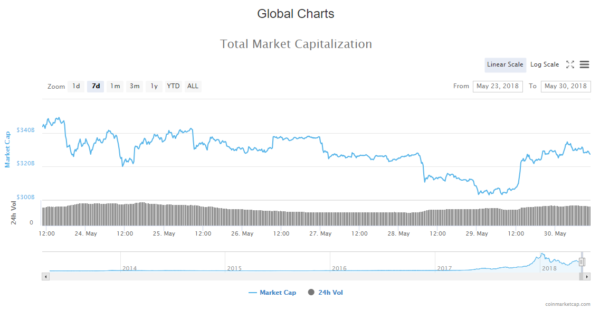 The market is currently in green, with an average increase of 7-10% among top 100 coins. Biggest gainers are Bytecoin +26%, 0x +17%,  Theta Token +31%.
---
Crypto Market Daily News
---
The top story that came out in the last 24 hours is about South Korea changing the direction with relation to cryptocurrency in a more acceptive way. These are some of the significant headlines:
S. Korea: Financial Regulator 'Sympathizes' With Demands to End Crypto-Blockchain Regulatory Split
A South Korean blockchain researcher has criticized the government's approach to regulation of the technology at the 2018 Seoul Financial Forum, local media reported May 29. Addressing the head of South Korean regulator the Financial Supervisory Service (FSS) Lee Geun-woo, Park Sung-joon, head of the Blockchain Research Center at Dongguk University, said adopting different approaches to cryptocurrency and blockchain was futile. One, he argued, cannot exist meaningfully without the other:
"In the digital asset trading market, virtual currency and blockchains can not be separated because they need the appropriate means of payment."
Lee Geun-woo responded by saying:
"I sympathize with the words of Park Chan-hee, and I will pass on his suggestions to the financial authorities."
South Korea: Government Committee Plans to Make ICOs Legal Again
South Korea plans to pursue the road to re-legalizing initial coin offerings (ICOs), local news media reported May 29, citing government officials. According to Business Korea, a National Assembly committee dedicated to studying the so-called 'Fourth Industrial Revolution' said it would seek to enhance the legal "basis" of cryptocurrency in the country, part of which would be reversing the ICO ban which the government enacted in September 2017.
$14.5 Bln South African Investment Firm to Launch Crypto Exchange
Sygnia Asset Management, a major South African investment firm with 180 bln rand ($14.5 bln) under management, has revealed that it will launch a cryptocurrency exchange later this year, BusinessTech reported May 25.
Survey: Three out of Ten Germans Are Considering Crypto Investing
Twenty nine percent of Germans are interested in cryptocurrencies as a form of investment, Cointelegraph auf Deutsch reported Tuesday, May 29. German bank Postbank came to this conclusion after a survey of 3,100 Germans, which was conducted from the end of February to the end of March 2018.
Source: cointelegraph.com
---
Analysis
---
BTC/USD
In the last 24 hours, the price of Bitcoin has increased by 5,2% – from 7104$ to 7481$ where it is now.
Looking at the daily chart we can see that the price almost went to the triangle support (blue bold line), but hasn't interacted with it. Currently, price action is forming a cluster below the baseline support (bold black line), which serves as resistance.
If we zoom into the hourly chart, we can see that the cluster has a form of a rising wedge, which is a bearish sign. If we consider that the baseline support serves as resistance, the most likely scenario would be that the price is heading down from here, probably to the triangle support for a proper test.
---
Market sentiment
Bitcoin is in the buy zone, as indicated by hourly chart technicals.
Oscillators are on buy, and moving averages are on a buy.
---
Pivot points
S3 6355.1 
S2 6851.1 
S1 7158.1 
P 7347.1 
R1 7654.1 
R2 7843.1 
R3 8339.1
---
ETH/USD
From yesterday's opening till now, the price of Ethereum has increased by 10,89% – from 511$ to 567$ where it is now sitting.
As you can see from this daily chart yesterday's candle showed a strong momentum that was needed to break above the resistance line at 539,5. Today's candle body is bearly noticeable, and as you can see from the upper wick the price went higher buy was repealed by a fair amount of selling pressure.
If we zoom into the hourly chart we can see that today's price action is in an upward channel which hight bearly exceeded the prior high levels.
---
Market sentiment 
Ethereum's hourly chart technicals indicate a buy.
Oscillators are signaling a buy, and moving averages a strong one.
---
Pivot points
S3 422.51 
S2 486.39 
S1 526.69 
P 550.27 
R1 590.57 
R2 614.15 
R3 678.03
---
XRP/USD
From yesterday's open till now, the price of Ripple has increased by 12,3% – from 0,547$ to 0,614$.
Looking at the daily chart, we can see that the price rose strongly above the resistance line at  0,573$ but was stopped out by 0,236 Fibonacci level which serves as resistance.
Zooming into the hourly chart we can see that the price is currently breaking out from the bull flag, and is on an upward trajectory. The Fibonacci level is very close, so we will see what happens at these levels.
---
Market sentiment 
Ripple is in the buy zone.
Oscillators are on neutral, and moving averages signal a strong buy.
---
Pivot points
S3 0.45320 
S2 0.51892 
S1 0.55954 
P 0.58464 
R1 0.62526 
R2 0.65036 
R3 0.71608 
---
Conclusion
---
Crypto Market Daily News: As I have said yesterday the lows can trigger some buying, and that's exactly what happened – we are seeing new buying pressure arising in the markets. The question is how powerful are the buyers? Can they push the prices up to prior levels, and then exceed prior highs? I think not. I think that as soon as the price is pushed a bit higher, which would mean a better price for sellers, they are going to start selling again. They did not want to continue selling on the month's lows, as they were hesitant to make a mistake losing their bitcoin if the prices go higher, and people who were waiting to get into the bandwagon have entered the market. We will see what happens but for now, I am still bearish.