---
General overview
---
Crypto Market Cap Live Update:
Market Cap: $370,028,549,685
24h Vol: $19,283,416,338
BTC Dominance: 37.4%
In the last 24 hours, the crytocurrency market cap went from $381,331,000,000 to $391,463,000,000 which was yesterdays high. Since then, the evaluation has fallen to $361,113,000,000 this morning, and is slightly up from then.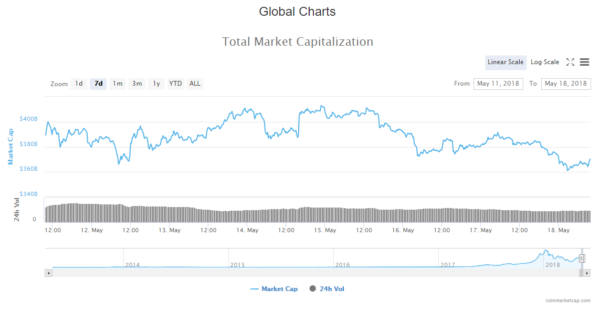 As you would have suspected, the market is mostly in red, with an average decrease of 4-6% per coin amongst the top 100. Some of the biggest losers are iExec RLC -17%, Dragonchain -13%,  biggest gainers are Syscoin +19.3% and Huobi token 11.95%.
---
News
---
Top stories that came out are either about blockchain tech adoption or familiar names adopting it, but we can also see some negativity and criticism. These are some of the significant headlines:
Chinese IT Ministry Cryptocurrency Ratings Released: Ethereum 1st, Bitcoin 13th of 28
China's Ministry of Industry and Information Technology has released its official cryptocurrency ratings. The "domestic experts" awarded Ethereum 1st and Bitcoin 13th out of 28 places. May 17. First-rate domestic experts and scholars" contributed to the ratings, which they calculated on the basis of three indexes: "technology," "application" and "innovation."
Germany's 2nd Largest Stock Exchange To Launch Zero-Fee Crypto Trading App
Germany's second largest stock exchange, the Stuttgart Börse, which reportedly has a trading volume of $100 bln, has announced it is launching a zero-fee cryptocurrency trading app, Thursday, May 17. The smartphone app, dubbed 'Bison,' will be free to use as of Autumn 2018, and has been developed together with fintech startup Sowa Labs.
JP Morgan Announces Prototype Blockchain Platform to Streamline Capital Markets Infrastructure
J.P. Morgan Chase & Co presented a prototype of its blockchain platform for capital markets, which aims to cut costs and enable smoother securities transactions. The announcement took place at NY's Consensus conference Wednesday, the Wall Street Journal reported May 16.
Wall Street Journal Research Finds 'Red Flags' In almost 19% Of ICOs
The Wall Street Journal released findings from its analysis of almost 1500 initial coin offerings (ICOs) May 17, concluding 18.6% of them raised "red flags." The latest source to investigate the still-booming ICO market, the WSJ warned that of the 1450 offerings it found, 271 of them were using what it described as "deceptive or even fraudulent tactics."
JPMorgan Creates and Fills New Position of Head of Crypto Assets Strategy
Leading US banking group and financial services firm JPMorgan Chase has recently created and filled the new position of head of crypto-assets strategy, Business Insider reported today, May 17. London-based Oliver Harris, 29, will take the new role, reporting to the head of blockchain development, Umar Farooq. Harris will also lead JPMorgan's internal blockchain project Quorum, which began testing by JP Morgan Chase and the National Bank of Canada last month.
Bitfinex Requires Customer Tax Info which it 'May Exchange' with Gov't, Tax Authorities
Cryptocurrency trading platform Bitfinex has recently distributed a letter to certain users, saying that they are required to disclose their tax information, which the exchange may share with the government, according to a statement from the exchange on Twitter May 17.
Tel Aviv Stock Exchange Develops 'First Of A Kind' Blockchain Lending Platform
The Tel Aviv Stock Exchange (TASE) has developed a "first of a kind" blockchain-based securities lending platform, according to a press release May 16. The new platform was completed in partnership with Israeli fintech firm The Floor, global professional services company Accenture, and Intel.
Swiss Government Requests Study on State-Backed Digital Currency
The Federal Council of the Government of Switzerland has requested a report on the risks and opportunities of introducing its own state-backed digital currency, or so called "e-franc", Reuters reported May 17.
---
Analysis
---
BTC/USD
From yesterday's open at $8382 the price of Bitcoin has decreased by 3.11% coming to $8116 where it is now sitting. The price has fallen even further to $7940 but bounced back quickly to the levels at which it is now.
Looking at the daily chart we can see that the price is below the 0.382 Fibo level in a downward trajectory heading toward the 0.236 level.
On the hourly chart, we can see that the price is back at prior support, which now serves as resistance.
---
Market
sentiment
Bitcoin hourly technicals signal a sell.
Oscillators are in favor of sell even though 8 are signaling neutral, and moving averages are indicating a sell.
---
Pivot
points:
S3 7173.6 
S2 7673.3 
S1 7863.8 

P 8173.0 

R1 8363.5 
R2 8672.7 
R3 9172.4
---
ETH/USD
From yesterday's high at $712, the price of Ethereum fell to $660 this morning but has since bounced back a bit to $680 where is now sitting, leaving an overall decrease of 4.6%.
On the daily chart, we can see that the price found support at the 0.5 Fibonacci level and has increased since it hit it.
On the hourly chart, we can see the interaction with the 0.5 Fibo level. The price went below it and quickly bounced back, but it is currently at the prior support levels which now serve as resistance.
---
Market sentiment
Ethereum is still in the sell zone.
Oscillators and moving averages both signal a sell.
---
Pivot points
S3 565.61
S2 624.01
S1 645.93

P 682.41

R1 704.33
R2 740.81
R3 799.21
---
XRP/USD
From yesterday's open at $0.7 the price of Ripple has decreased by 5.3% to $0.67 where it is now sitting.
Looking at the daily chart we can see that things haven't changed that much. The price action is still stuck between 0.382 and 0.236 Fibonacci levels. Today's candle is green but it hasn't exceeded prior highs.
The hourly chart tells us that the price broke out of the upward channel from the downside, found tempory support and is currently hovering around the levels of prior support which now serves as resistance.
---
Market sentiment
Ripple hourly technicals signal a sell.
Oscillators and moving averages are both signaling a sell.
---
Pivot points
S3 0.54850
S2 0.61100
S1 0.63479

P 0.67350 

R1 0.69729
R2 0.73600 
R3 0.79850 
---
Conclusion
---
Crypto Market Cap Live Update: The prices of three major cryptos that we cover in this daily report have experienced the same thing in the last 24 hours – breakout to the downside and retesting of prior resistance for support. After this retest is done I am expecting another downside movement and creation of lower lows.