The crypto market established its prices above major support lines over the weekend. Bitcoin, as the most prominent cryptocurrency, stepped above $8,500 and stayed there. Prices started moving up on Saturday and continued throughout the weekend. Bitcoin's price went up 3.87% on the day. It is currently trading for $8,632. Meanwhile, Ethereum gained 4.85% on the day, while XRP went up 4.58%.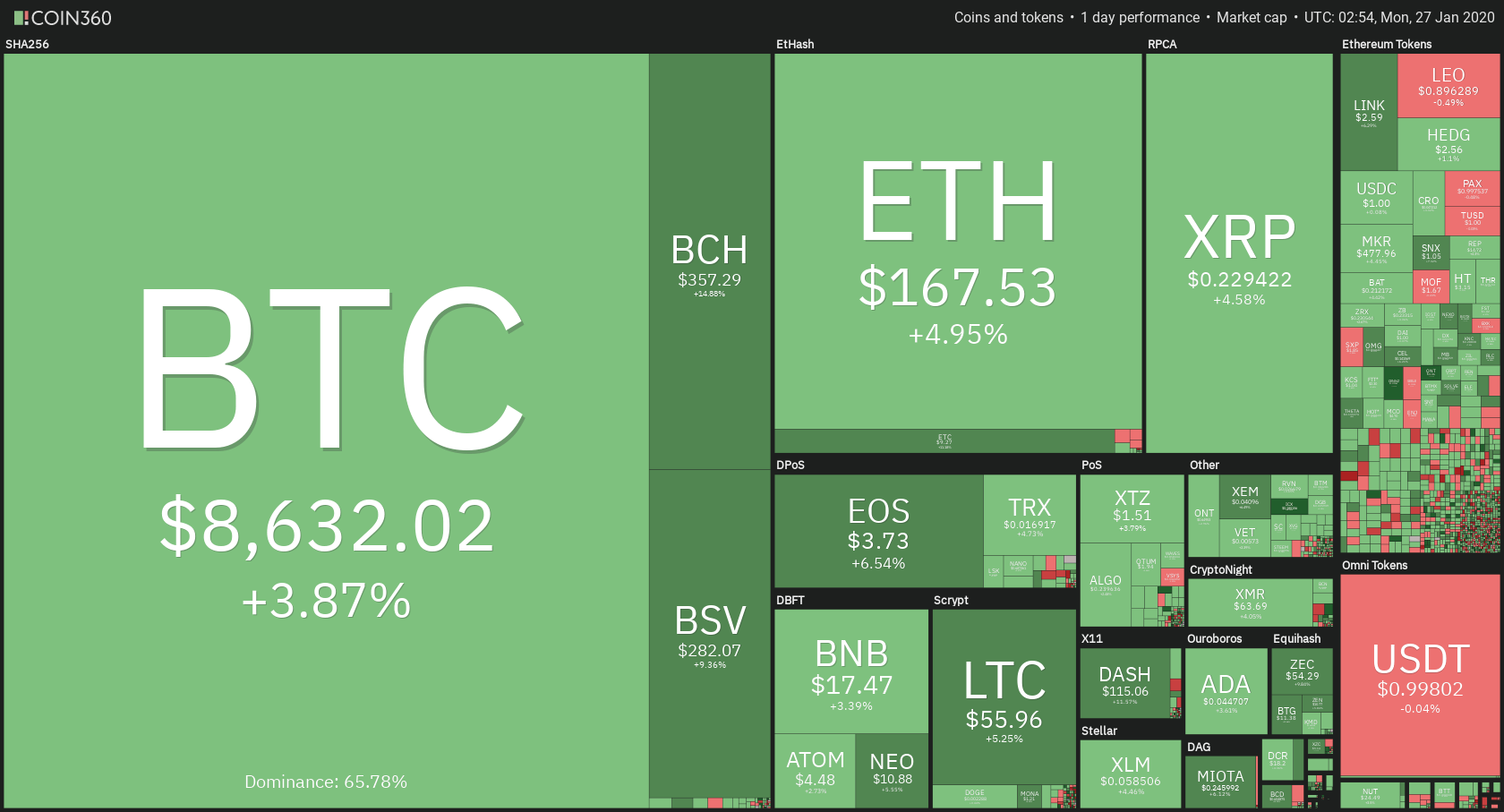 Centrality had another great day. The cryptocurrency gained 22.37% on the day, making it the most prominent daily gainer. There were no losers in the past 24 hours, as only four cryptocurrencies out of the top100 were in the slight red. Enjin Coin lost the most, which was 1.09%.
Bitcoin's dominance increased slightly over the weekend. It is now at 65.78%, which represents an increase of 0.53% when compared to the value it had yesterday.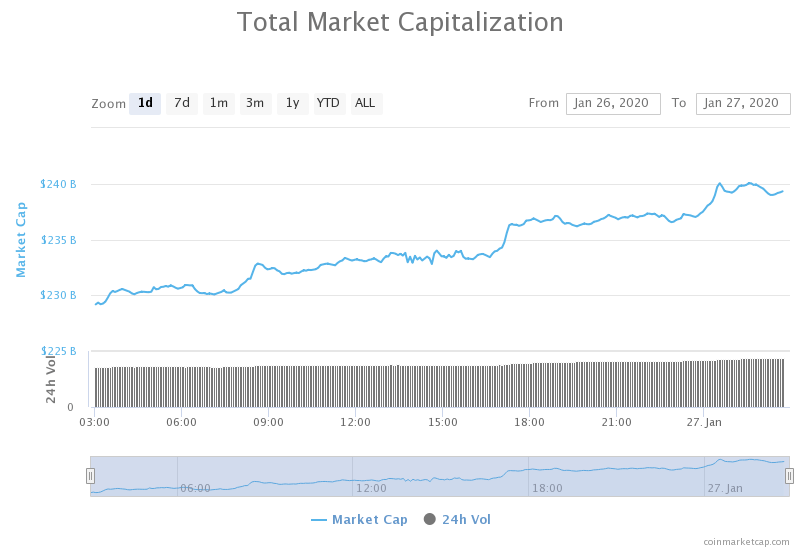 The cryptocurrency market capitalization gained quite a bit of its value over the weekend. It is currently valued at $239.93 billion, which represents an increase of $10.82 billion when compared to yesterday's value.
What happened in the past 24 hours
Some blockchain and cryptocurrency firms decided to use their resources to help victims of the coronavirus in Wuhan, China. Cryptocurrency exchange Binance will donate 10 million Chinese yuan (which is approximately $1.44 million) to the effort.
Binance CEO Changpeng Zhao told the press that Binance did make a pledge towards the cause, but did not announce it after a Twitter user tagged the exchange CEO in a post regarding cryptocurrency donations being accepted for the cause.
Honorable mention
MakerDAO
Financial technology data company Digital Assets Data shared that out of all the Ether (ETH) that is locked in the collateralized debt positions of the old MakerDAO system, an astonishing 27% belong to a single Ethereum address.
Dai, a cryptocurrency made by MakerDAO, allows its users to borrow or generate stablecoins by staking their cryptocurrency funds as collateral.
The Dai stablecoin reached a milestone of 100 million token debt ceiling and introduced a multi-collateral Dai that can be backed by multiple assets in November 2019.
The old, single-crypto collateral Dai, became known as "Sai."
_______________________________________________________________________
Technical analysis
_______________________________________________________________________
Bitcoin
Bitcoin had a great weekend as its price reached over $8,500 and established support there. Bitcoin bulls pushed (and are still trying to push) the price above the $$8,650 price line, which became recognized again after some time of price movements ignoring it. However, Bitcoin did not yet manage to cross this resistance line.
Bitcoin's RSI is approaching overbought territory on the 4-hour chart, while its volume is elevated, but not at the high levels it had on Jan 14.
Key levels to the upside                    Key levels to the downside
1: $$8,650                                         1: $8,436
2: $8,815                                           2: $8,130
3: $8,905                                           3: $7,880
---
Ethereum
Ethereum also increased in price over the weekend. Its price went from $156 all the way up to $170. However, Ethereum is still fighting to stay above the $167.8 line, as it is right on it at the moment of writing. If the price goes above, it might face the next resistance at $178.5. If it, however, goes down, its support level will be at $164.
Ethereum's volume is elevated, while its RSI is (just as with Bitcoin) approaching the overbought territory.
Key levels to the upside                    Key levels to the downside
1: $178.5                                             1: $$167.8
2: $185                                               2: $164
3: $193.6                                            3: $160
---
Ripple
XRP did not stay from the rest of the market, and it increased in price as well. The third-largest cryptocurrency moved from $0.2165 to $0.2333 but fell down to the current level of $0.23. Its first resistance level is waiting at $0.235, while its support is currently at $0.227.
XRP's volume is, unlike with Ethereum and Bitcoin, not elevated. It has been steadily rising over the weekend, but it is still lower than what it was most of 2020. Its RSI level is descending at the moment after XRP's price stopped moving upwards.
Key levels to the upside                    Key levels to the downside
1: $0.235                                            1: $0.227
2: $0.2454                                          2: $0.221
3: $0.266                                            3: $0.211