The cryptocurrency market declined in price slightly due to the lack of volume during the New Year's celebration. The price of most cryptos decreased when compared to when we last reported the prices. If we talk about daily changes, Bitcoin's price went down 1.79%. It is currently trading for $7,095. Meanwhile, Ethereum lost 1.15%, while XRP lost 2%.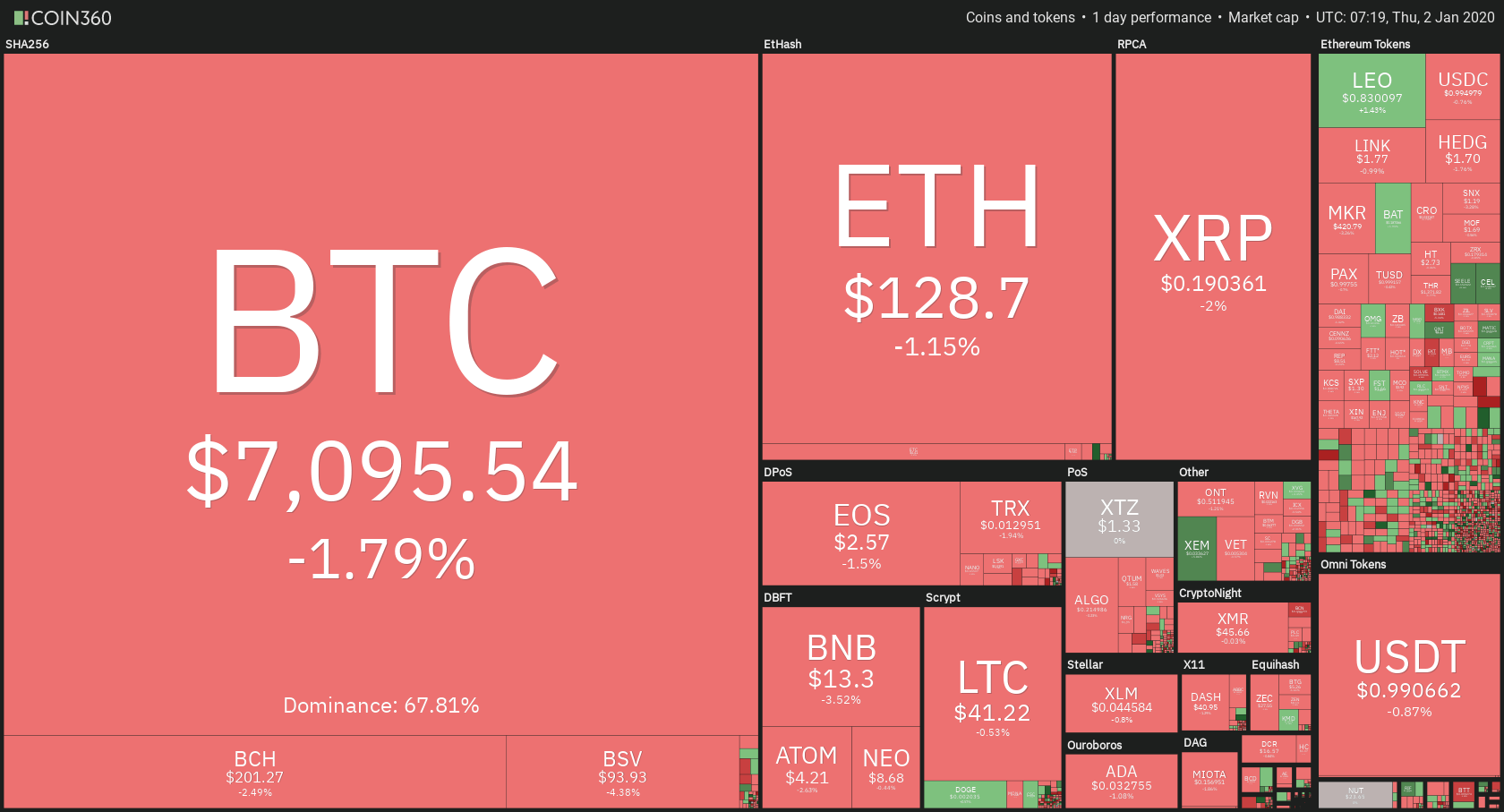 Seele gained 11.10% on the day, making it the biggest daily gainer. EDUCare lost 12.72% of its value when compared to yesterday, making it the biggest daily loser.
Bitcoin's dominance decreased from when we last reported. Its dominance is now at 67.81%, which represents a decrease of 0.26% from our report on Monday.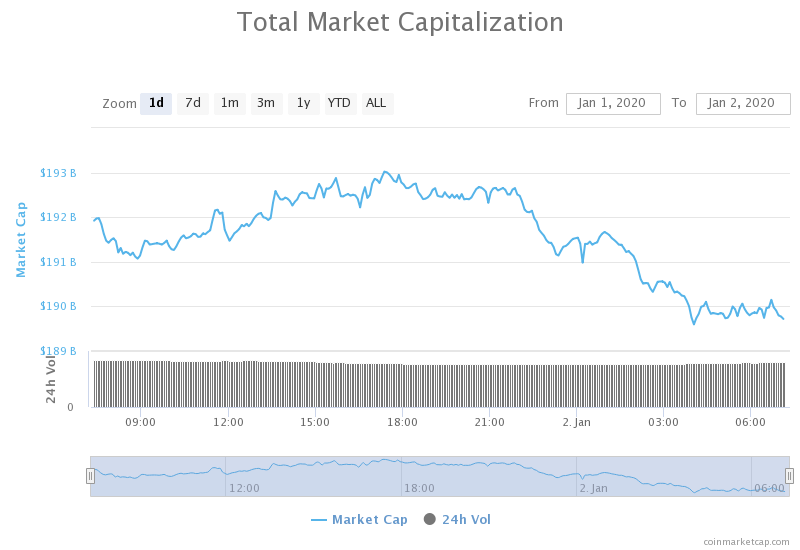 The cryptocurrency market capitalization decreased by a significant amount since Monday. It is currently valued at $189.57 billion. This value represents a decrease of $7.78 billion when compared to the value it had when we last reported.
What happened in the past 24 hours
Ripple, the blockchain payment network which made the altcoin XRP, started the year 2020 by releasing funds from its escrow account. The value released from the account is $192 million.
Whale Alert, the monitoring resource that performs data scans, caught the latest consignment of XRP tokens. This forms one installment of a pre-planned release schedule that Ripple began in 2017.
_______________________________________________________________________
Technical analysis
_______________________________________________________________________
Bitcoin
Bitcoin entered the new year in without much volume and entusiasm. Its price moved down slightly from our last report. Bitcoin managed to break the $7,260 level to the downside, turning it from a support level to a resistance level. Its price is currently bound witin a range, with its resistance sitting at $7,260 and support at $6,940.
Bitcoin's RSI almost touched the oversold territory but quickly bounced above it.
Key levels to the upside                    Key levels to the downside
1: $7,260                                           1: $6,940
2: $7,415                                           2: $6,640
3: $7,525                                           3: $6,410
---
Ethereum
Ethereum also moved down a bit during the holidays. Its price is currently sitting at the $130 level. Whether the price goes above or below the $130 line, it will be met by a support or resistance trend line, which Ethereum was forming since Dec 29.
Ethereum's RSI level is gradually going down over the days. Its volume is somewhat elevated, but still far from the levels that could indicate any form of a big move.
Key levels to the upside                    Key levels to the downside
1: $141.15                                           1: $130
2: $148.5                                            2: $128.1
3: $154.2                                            3: 122.15
---
Ripple
XRP is bound by the same support and resistance levels as before the New Year, as it didn't break any in the meantime. However, it made a lower high compared to Dec 29/30, which could indicate a possible retest of the support level in the short-term.
XRP's RSI level is slowly reducing while its volume is on levels lower than average.
Key levels to the upside                    Key levels to the downside
1: $0.198                                            1: $0.19
2: $0.2058                                          2: $0.178
3: $0.211                                            3: 0.1678