It looks like the cryptocurrency market is booming as options on Bitcoin futures became available for trading at CME. The past 24 hours were very turbulent. While most cryptocurrencies are in the green, some moved just a bit while others skyrocketed. Bitcoin's price went up 2.25% on the day. It is currently trading for $8,685. Meanwhile, Ethereum gained an astonishing 8.52% on the day, while XRP went up 5.8%.
The big gainer among the top cryptos, the controversial Bitcoin SV, managed to gain over 100% before starting to fall. At this moment, it retained 65% of its gains.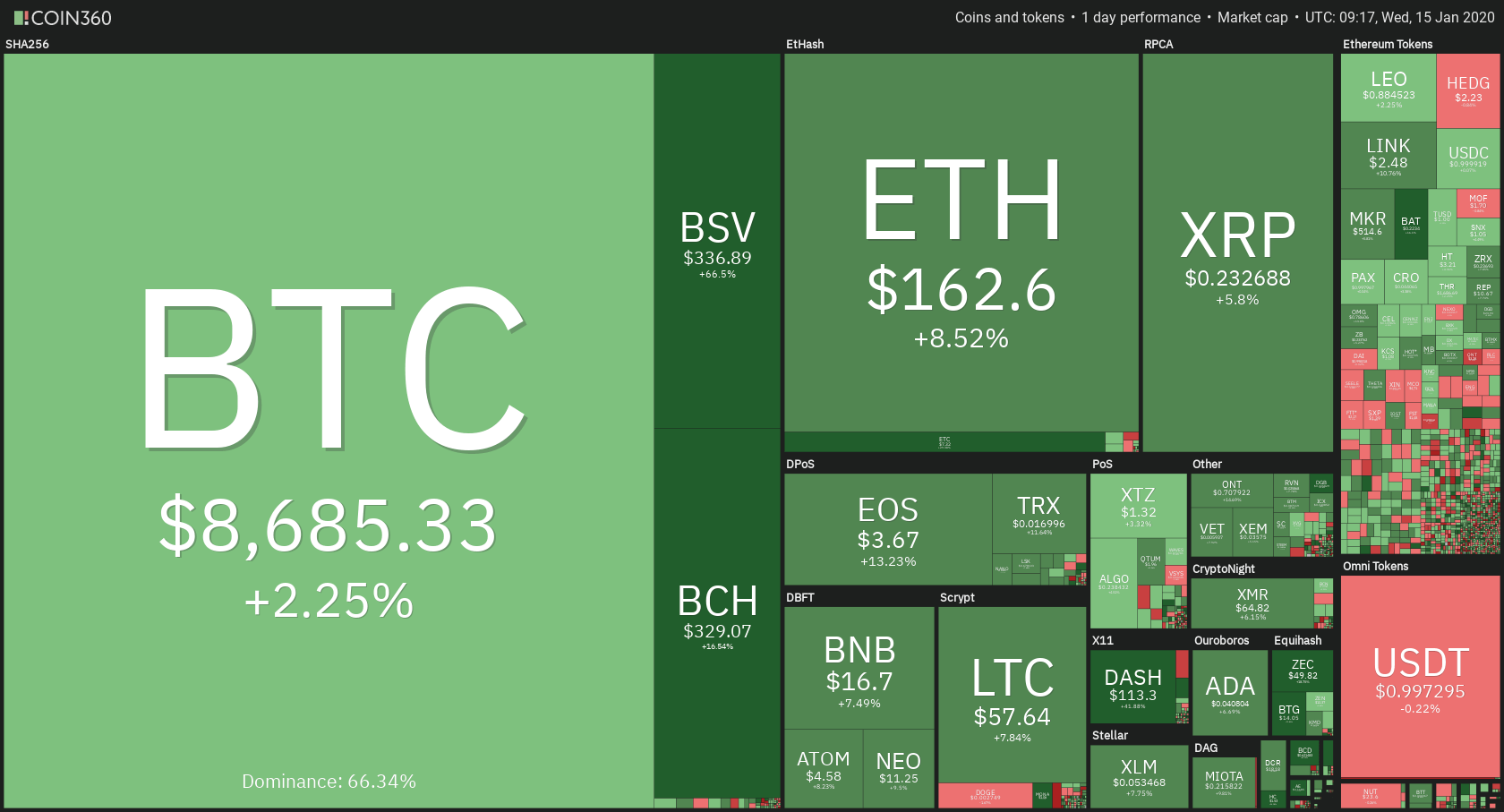 The past 24 hours had many big gainers. Bitcoin Gold and Bitcoin SV went up the most, gaining 72.48% and 65.23% on the day, respectively. On the other side, MaidSafeCoin lost 22.82% of its value when compared to yesterday, making it the biggest daily loser.
Worth mentioning is Dash, the private cryptocurrency which got lost in the news of Bitcoin SV. Dash went up 45.28%. Many attributed Dash's rising price to its popularity in Venezuela. Burger King announced that they would accept Dash in forty of the country's restaurants. This fact could have sparked up speculative investing.
Bitcoin's dominance had a major drop over the past 24 hours. It is now at 66.34%, which represents a decrease of 1.62% when compared to the value it had yesterday.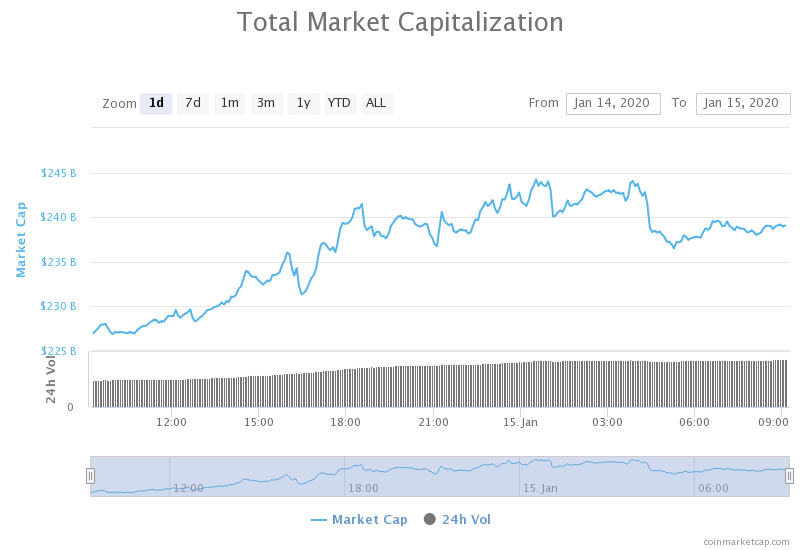 The cryptocurrency market capitalization increased significantly to yesterday's value. It is currently valued at $238.82 billion, which represents an increase of $15.92 billion compared to yesterday.
What happened in the past 24 hours
The big talk of the market in the past 24 hours definitely seems to be the price gain of Bitcoin SV. This parabolic move happened as the rumor has it that Craig Wright, the man behind Bitcoin SV and the person that claims he is Satoshi Nakamoto, announced that he received the other part of the Tullip Trust keys. If this is true, Wright could unlock the 1.1 million Bitcoin held in the trust.
On Jan 14, Craig Wright, filed a notice of compliance with the U.S. District Court of Southern Florida that states that he recieved the private keys that can, in conjunction with the ones he currently have, unlock 1.1 million Bitcoin.
_______________________________________________________________________
Technical analysis
_______________________________________________________________________
Bitcoin
Even though Bitcoin made gains yet again today, its moves lagged behind some other top cryptocurrencies. Its price went up and above $8,900 atfirst, but then died down and slowly reduced to its current state of around $8,650. This happened as bulls could not pass through the $8,810 resistance leve. However, they did pass the $8,640 support.
Bitcoin's volume increased dramatically over the past 24 hours. Its RSI instantly went up to the overbought territory on the 4-hour chart, but has now gone below and is hovering near it.
Key levels to the upside                    Key levels to the downside
1: $8,815                                           1: $8,640
2: $8,905                                           2: $8,165
3: $9,120                                           3: $8,000
---
Ethereum
Unlike Bitcoin, Ethereum did make some great gains. Its price skyrocketed past its immediate resistance of $148.5. However, it did not stop there. It also went above the $154.2 and $160 resistances and managed to reach $171.25 before cooling off and consolidating at the ~$160 mark. Its current pivot point is the $164 level. Ethereum is currently fighting on whether its price will consolidate above or below it.
Ethereum's volume is disproportionally huge when compared to the previous days, while its RSI is in the overbought territory for some time now.
Key levels to the upside                    Key levels to the downside
1: $167.8                                             1: $160
2: $178.5                                            2: $154.2
3: $185                                               3: $148.5
---
Ripple
XRP is also making some great daily gains. Its price went from $0.211 to $0.245 in less than a day. However, the $0.24545 resistance was too strong, and XRP bulls could not get past it. Its price started settling below the $0.235 level, where it currently is. Still, this bull move managed to break two resistances, namely $0.221, $0.227, and resistance levels. Its price is currently fighting with the $0.235 resistance level, which is the current pivot point.
XRP's volume spiked significantly during the uptick, while its RSI is on the edge of the overbought zone, often going in and then out of it.
Key levels to the upside                    Key levels to the downside
1: $0.24545                                        1: $0.2332
2: $0.266                                           2: $0.227
3: $0.285                                           3: $0.221