Another green day for the crypto industry is on its way, as bullish sentiment rises. Many people are talking about Bitcoin going over $10,000 very soon. The majority of the market made some gains in the past 24 hours. Bitcoin is currently trading for $9797, which represents a 1.73% decrease on the day. Meanwhile, Ethereum gained4.61% on the day, while XRP lost 0.43%.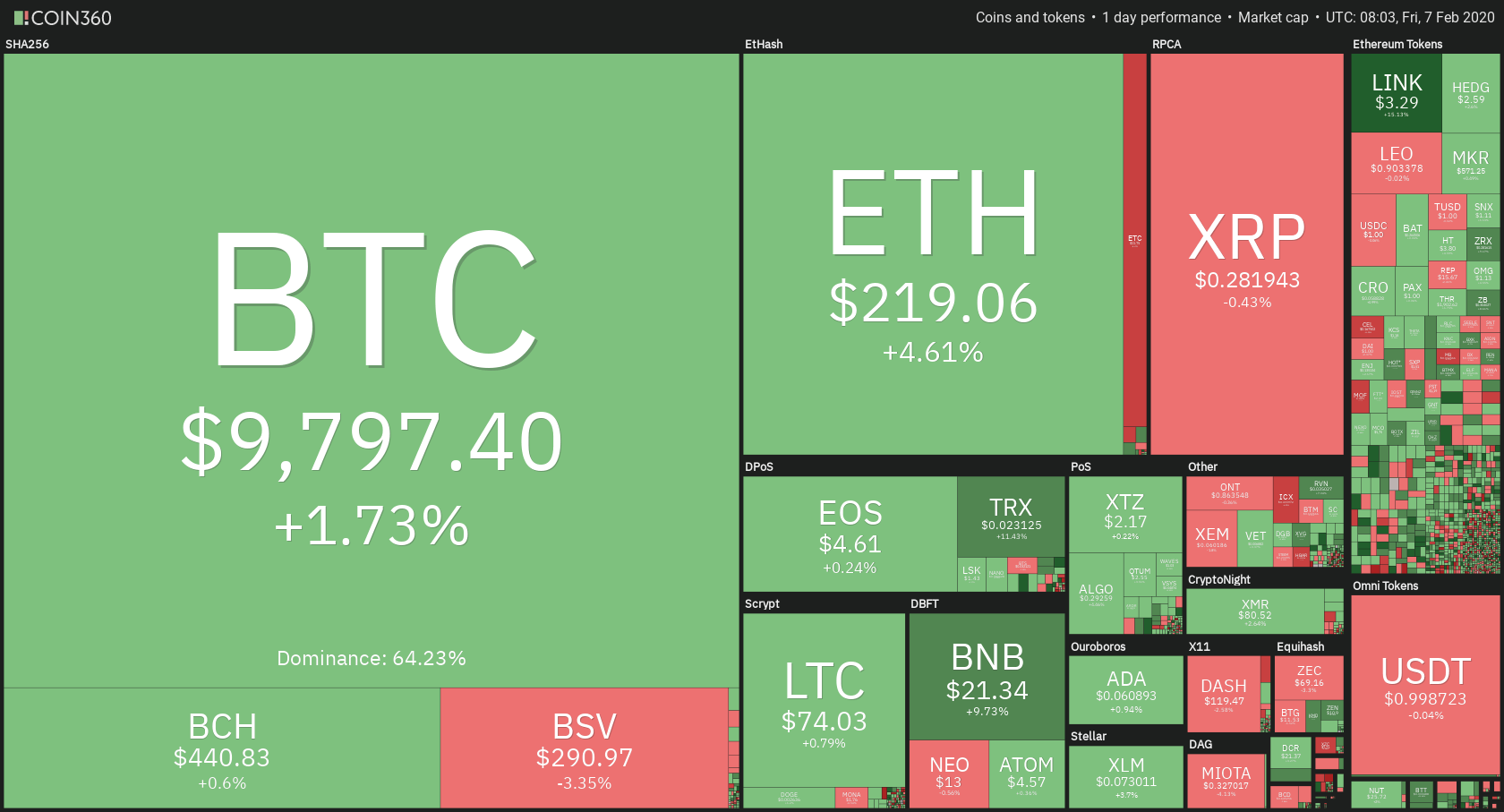 Kick Token took the position of today's most prominent daily gainer, with gains of 26.17%. On the other side, Molecular Future lost 15.29% on the day, which made it the most prominent daily loser.
Bitcoin's dominance increased by quite a lot in the past 24 hours. It is now at 64.23%, which represents an increase of 3.58% when compared to the value it had yesterday.
The cryptocurrency market capitalization gained quite a bit over the past 24 hours as cryptocurrencies gained some more value. It is currently valued at $277.71 billion, which represents an increase of $4.54 billion when compared to yesterday's value.
What happened in the past 24 hours
The bullish sentiment continues to rise in the crypto market. Numerous altcoins score double-digit gains on a daily basis, while Bitcoin's price on crypto exchanges also continues to push higher and higher.
Skew Markets has recently published data showing Bitcoin futures that expire in May 2020 and June 2020 rose above $10,000 at more than one exchange. On top of that, Bitcoin futures at BitMEX recently expanded to a new high of $1.5 billion.
Honorable mention
Ripple 
We are mentioning Ripple yet again today, as the company seems like it's in quite a spotlight with all the partnerships and deals it made. An advocacy group called the Blockchain Association, which is representing many high-profile cryptocurrency firms, launched a working group with the aim to push for a U.S.-wide regulatory framework earlier this month.
This new working group is led by senior employees of Ripple and Coinbase. Its main aim is, as mentioned above, to advise United States regulators on how to approach crypto-friendly policies. However, the congresspeople are too busy preparing for the upcoming elections, so these policies are put to the side. U.S. crypto firms, in the meantime, have to work by complying with state-by-state regulations or avioding specific states in the near future.
_______________________________________________________________________
Technical analysis
_______________________________________________________________________
Bitcoin
Another day, another swing to the upside with Bitcoin trying to climb its way to 10,000. The price slowly moved above the $9,732 resistance level and is currently safe above it. The move was not accompanied by a significant volume increase. While Bitcoin's outlook is bullish, its 4-hour time frame RSI level is still in the overbought territory.
One thing to note is that Bitcoin returned its dominance after losing 4% yesterday.
Key levels to the upside                    Key levels to the downside
1: $9,872                                           1: $9,732
2: $10,010                                         2: $9,585
                                                         3: $9,251
---
Ethereum
Ethereum gained quite a bit today as well. Its price continued moving upwards after a brief consolidation and just one 4-hour red candle. While the price is currently broken, the resistance of $217.5, it is unknown whether Ethereum will stay above the price line. However, the outlook is still bullish.
Ethereum's volume increased massively during yesterday's upswing, but it has reduced by a lot today. However, it is still elevated. Its RSI level is deep in the overbought territory for a couple of days now. The key level of $217.5 will remain on our left side of key levels until Ethereum spends at least a couple more hours above it.
Key levels to the upside                    Key levels to the downside
1: $217.5                                             1: $198
2: $225.5                                            2: $193.6 
                                                          3: $185
---
Ripple
XRP spent the day attempting to break the $0.285 resistance. However, all of its attempts were unsuccessful. For that reason, XRP is now just below the resistance line and consolidating. XRP had one 4-hour candle where its price suddenly dropped from $0.2848 all the way down to $0.261. However, the move was quite short, and XRP quickly recovered to the previous levels.
XRP's volume is still a bit elevated, while its RSI level is moving out from the overbought area.
Key levels to the upside                    Key levels to the downside
1: $0.285                                            1: $0.266
2: $0.31                                              2: $0.2454
3: $0.324                                            3: $0.235