Most cryptocurrencies continue trading sideways or in the slight red, including Bitcoin which has not been able to find the strength to push for higher prices in the past few days. The majority of the moves were insignificant but bears prevailed in the past few hours, reducing the overall market cap of the crypto industry. If we take a look at the past 24 hours, Bitcoin went down 1.58% and is now trading at the price of $7,164. Ethereum managed to lose 2.4% of its value on the day. XRP lost 3.23%.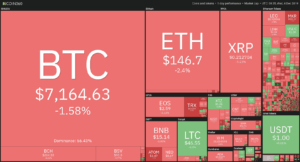 Of the top100 cryptocurrencies by market cap, the biggest gainer is Dx Chain Token, which managed to gain 19.24% on the day. The biggest loser of the day was MINDOL, which lost 25.19% of its value.
Bitcoin's dominance has increased slightly, as its drop in price was smaller than the drop of the industry itself. Its dominance is currently 66.43%, which represents an increase of 0.44% from yesterday's value.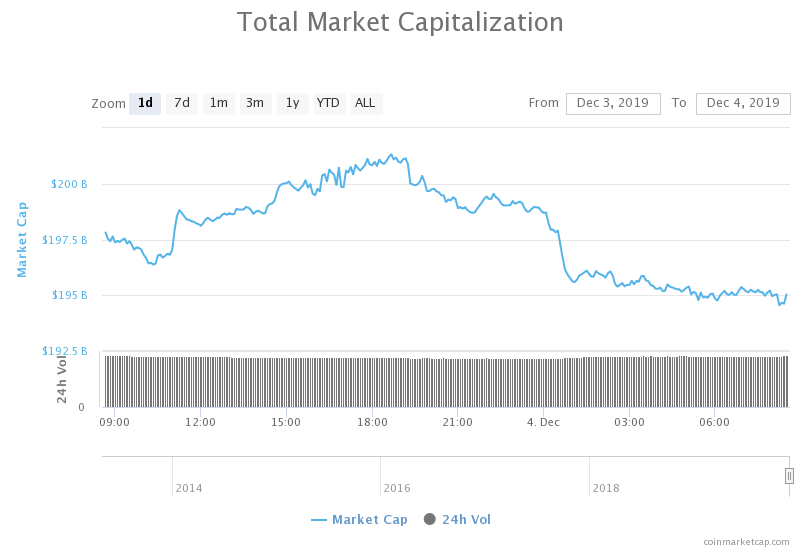 The cryptocurrency market managed to lose value in terms of market capitalization. Its market cap is currently sitting at $195.1 billion. This value represents a decrease of around $3.5 billion when compared to the value it had yesterday.
What happened in the past 24 hours
Binance has announced that they will support Tezos (XTZ) staking starting Dec 4. Binance's users will be able to trade with Tezos and receive XTZ rewards which will be calculated daily based on live snapshots. The rewards will be then distributed monthly.
The users must hold at least 1 XTZ in order to qualify for staking rewards. Tezos's current price is $1.30.
On a less bright side, more than 1.5 million AUD in cryptocurrency has been seized during a drug bust in Western Australia. Western Australian police has charged two people with the attempted import of MDMA. As part of the search, the polica also found $1,524,102 of cryptocurrency on an electronic device.
_______________________________________________________________________
Technical analysis
_______________________________________________________________________
Bitcoin
Bitcoin did not move much relative to the market as a whole in the past 24 hours, though he did lose some of its value. It did end up being in the red when it comes to daily price movement, as it traded sideways and then suddenly dropped around $150. It is still trading below the $7,415 line, but as it cannot pass it, Bitcoin decided to step away from it and consolidate at a lower price.
Bitcoin's volume is currently lower than when compared to its values from yesterday. The RSI value seems to be slowly falling towards oversold levels again.
Key levels to the upside                    Key levels to the downside                            1: $7,415                                           1: $6,620
2: $8,000
3: $8,425
---
Ethereum
Ethereum had a pretty bad day. It fell under the support zone's lower line of 147 and is now trading right below it. As its price is no longer contained within the support zone, Ethereum has no immediate support and its next big support level is all the way down to $127.
Ethereum's price is currently in limbo and its short-term direction is unknown, and so are its immediate key support levels.
Key levels to the upside                    Key levels to the downside
1: $167.8                                            1: $127
2: $178.6
3: $185
---
Ripple
XRP spent the day losing quite a bit of its value. It could not hold its gains from the last bull move and started bleeding out during the past 24 hours. Its price breezed through the 50% Fib retracement line and continued downwards, stopping at around $0.211 and then changing direction and stabilizing around the 61.8% Fib retracement. While the support and resistance lines marked green on the chart are not as strong as to be considered key levels, we can see that Ripple's price did respond quite well to almost every level of the green Fib retracement.
Key levels to the upside                    Key levels to the downside
1: $0.235                                            1: $0.202
2: $0.245
3: $0.266