The Currency Strength28 indicator is original because a series of its own features and a new formula have been incorporated into its development. These features have been designed to help make their use easier for the user, and not only to identify which currencies are strong and weak, but also to show when the time is right to trade, and when it is not time to negotiate and it is better to take profit.
The Currency Strength28 indicator works on all 28 currency pairs. It contains several formulas, and many new features in Forex, such as, the timing of the market, and the market according to Fibonacci, an indicator that alone adapts to the current market.
When you learn to use your own features such as the market moment and Fibonacci lines of the market, you can say that you are negotiating in favor of the trend, a continuation of the trend, or a pullback. The strength lines of currencies are very smooth in all time frames and work very well when you use a higher time frame to identify the overall trend, and then using the shorter time frames to identify precise entries in the short term.
Why Currency Strength28 is a genuine indicator:
The Currency strength28 indicator is built with an underlying algorithm and makes it even easier to identify and confirm potential transactions. This is because it graphically shows whether a coin's strength or weakness is accelerating or not and measures the speed of that acceleration. It's like thinking about the speedometer in your car. When things accelerate they obviously happen faster, which is what often occurs in the currency market, that is, if you pair a currency that is accelerating with a currency that is slowing down, you have identified a potentially profitable trade.
This acceleration and deceleration can be used by both swing traders and scalping traders. For swing, operations are shown when a new trend has skyrocketed and scalpers, it shows which pairs will have movement. The developers of the indicator claim that, from their experience, the two indicators work very well together.
The current version of the indicator includes further improvements, such as:
Buttons for a couple of quick changes (new chart or the same chart)

Name of the currency labeled at the end of the lines

More options of color

Reset time Mfib editable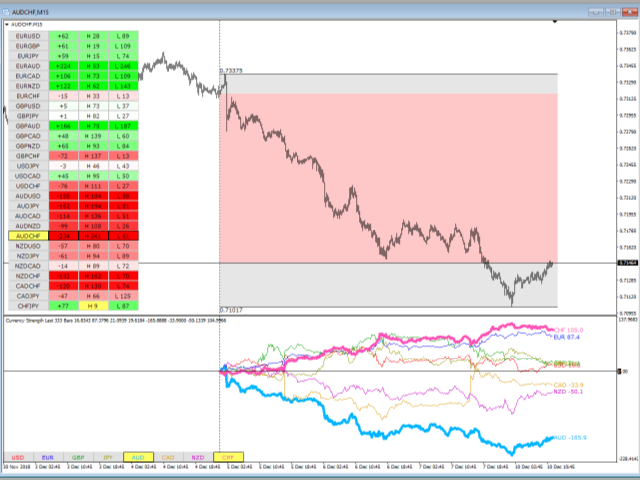 The new features are:
Setting multiple time intervals. This allows you to see more time frames on the same chart, that is, you could have H1, M15, and M5 all visible on the same chart. You have full flexibility to choose from the nine different time frames available so you can customize the settings to suit your trading style.
New visual settings to hide funds, hide markets.
Rules have been added on how to use the indicator several times in the same chart.
In short, this is a really interesting indicator, which can be used as a strategy by itself. The indicator was created in December 2018, and since then has received numerous positive reviews from its users, so we understand that it is a recommended product. In addition, developers are in charge of making continuous updates to improve the product and keep it up to date.
This indicator can be found in the MQL market for only 68 USD, you can also rent it for one month for 28 USD and make use of the free trial version.