A Crypto daily topic is a hot piece of news, amazing fact about cryptocurrencies or some aspect of it in regards to trading, regulatory, market manipulation, heated debates in social networks, and the like.
Bitcoin's underlying technology – blockchain – is hailed as an unrivaled, ultra-secure technology. And it's true – Bitcoin's cryptographic encryptions are some of the strongest in contemporary times. However, as is the norm with technology, the reality of 'bigger and better' is always looming.

The year 2019 may have been pretty uneventful for those in the crypto space. Still, if you thought the blockchain and cryptocurrency technologies had peaked, the year 2020 promises to bring with it ground shaking surprises in the crypto sphere.

Sting operations coordinated and carried out by international crime-fighting agency Interpol in Southeast Asia to stem the proliferation of cryptojacking malware has resulted in a massive 78 percent drop in infections.

Bitcoin mining was Satoshi Nakamoto's idea to release new Bitcoins into circulation only after solving some complex puzzles. The mining system, which verifies transactions after ten minutes, was so designed in order to secure the network. And as Bitcoin has become more popular, so has mining increased. 

Environmental sustainability is an issue that keeps a lot of environment-conscious people awake at night these days. With scientists ringing the alarm louder than...
Bitcoin and Litecoin are two of the most popular cryptocurrencies. Bitcoin has long maintained peak position in market capitalization, with Litecoin not far behind...
Bitcoin's hash rate has reached an all-time high of almost 120 exahash per second. The crypto reached this milestone two days shy of its birthday – on January 1st. (January 3rd is Bitcoin's birthday, being the day the first block of Bitcoins was mined.) On new year's eve, Jameson Lopp, CTO of CASA, the multisig wallet company, tweeted that "Bitcoin's network hash rate increased by 162% during 2019, from 38 to 100 exahash per second."

Indices are a construct that's been in the financial world for ages. Many people are already acquainted with stock indices that track the performance of the stock market as accurately as possible.

Sending and receiving cryptocurrencies has always been complicated. You always have to deal with the rather complex crypto addresses. But all this is about to change with the introduction of .crypto domains by Unstoppable Domains to the crypto world. According to the software company, the .crypto domains will gradually phase out the need for complicated wallet addresses.

It is already a cliché today to say blockchain and cryptocurrency have revolutionized pretty much every industry. Blockchain started a revolution. The old system of the banking industry and governments were quick to realize the revolutionary power of the tech. That is why there were attempts to regulate or outright ban blockchain and crypto in some countries.

The United States government has been one of the first governments in the world to embrace the blockchain technology. While it was very apprehensive of it largely because of the threat of blockchain, but it has not been long before it realized its many other benefits.

Netherlands-based cryptocurrency mining pool Simplecoin and Bitcoin gaming platform Chopcoin are shutting down over the fifth European Union Anti Money-Laundering Directive that is set to come into force on January 10, 2020. The proposed directive will require crypto operations in the EU territory to conduct Know Your Customer procedures on customers for anti-money laundering purposes.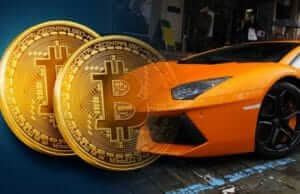 Ten years after blockchain came to life, we're seeing new adoptions of the technology on a larger scale than ever before. These days, barely a week passes without hearing another blockchain application in news headlines. The latest to enter the fray has been none other than sports car favorite Lamborghini – which is now using Salesforce blockchain to authenticate cars.

Sending money across borders - whether to friends and family or paying for goods and services - is expensive, cumbersome, highly inconvenient and takes a lot of time. Sending money from one country to another may have gotten better in the age of the Internet, but you will agree that there is still a long way to go before the whole world becomes one village - financially.

Bitcoin has been ranked as the best asset of the decade. This is according to Bank of America Merrill Lynch (BAML), which has made a list of the best and worst asset classes of the last ten years.

Even though blockchain is mostly known for being the technology behind Bitcoin – and other cryptocurrencies, it is more than that. And yes, the revolutionary nature of cryptocurrencies is what makes cryptocurrencies stand out from other digital currencies. Blockchain is known for many things – but its immutability, transparency, and decentralization are what make it such an object of frenzied interest, research, and even apprehension from traditional systems.

Cryptocurrency nowadays is a far cry from the time it was introduced to the world. With nearly 3,000 cryptocurrencies and more investors moving in to cash on this digital asset, cryptocurrencies are more popular than ever.

Bitcoin inspires all sorts of motivations - from noble ones to less noble ones. It's an asset class that's targeted by scammers at an incredibly high rate. Each year, individuals and crypto exchanges lose millions of dollars to such theft.

Blockchain is the future. Yes, the technology powering cryptocurrencies has incredible potential to change how institutions and industries work – and our very lives. When you're talking about radical transparency
Are you considering investing in cryptocurrencies? Read on to understand just why NANO and BAT should form part of your portfolio. The meteoric rise of digital assets over the past
The very first public critique of Bitcoin right after Satoshi Nakamoto proposed it was made by James A. Donald. He said that while such a system (Bitcoin network) was very
Blockchain was conceptualized the first time in 2008 with the launch of Bitcoin. However, it took almost a decade to be fully appreciated as an invaluable public ledger with the
When the first cryptocurrency – Bitcoin, came into existence, it brought with it more
The first-ever cryptocurrency – Bitcoin, brought along with it a host of possibilities that couldn't be imagined before. The technology behind it – blockchain, is now being incorporated into various
If you thought the report by Nature.com a few days ago that it takes more energy to mine Bitcoin than mining gold of similar value was the most surprising thing
Ethereum, the world's most popular blockchain platform for decentralized applications, is undergoing a revolution, and it promises to be BIG! If you are savvy with the developments in the tech
For most of human history, money has been used not only as a measure and exchange of value but also a tool for elites and governments to oppress and control
Blockchain has been a breakthrough technology, but would you believe it if I told you a new kind of DLT that promises to render it useless is almost ready for
Many tech experts believe that blockchain may have been the best thing to happen to humanity since the internet. Considering how revolutionary this technology is, and how disruptive it has
Cryptocurrencies present a world of possibilities. Trading in cryptos can be a thrilling endeavor, not just because of their novelty but also their volatility. Many traders and investors - new
The unexpected growth and ultimate dominance of messaging apps in the tech world - prime examples being WhatsApp, Facebook messenger, Viber, Telegram, and WeChat - has been phenomenal. Everyone who
Ripple has long generated a lot of debate as to whether it's even a cryptocurrency after all. Crypto enthusiasts and experts have always been at loggerheads on whether Ripple meets
Since most cryptocurrencies in use today are open and decentralized, anyone can join the network and set up a wallet without providing any personal or identifying information. This is what
Michael Terpin is a well-known investor in the cryptocurrency industry, but you perhaps know him best as the individual who lost a whopping $24 million in one of the most
EOS has something of a celebrity status in cryptoverse. The cryptocurrency broke into the scene in 2018 after the largest Initial Coin Offering in history – a staggering $4.1 billion.
This week marks a milestone in the life of the world's first cryptocurrency – Bitcoin. Blockchain.com, the cryptocurrency monitoring platform, reported that the total Bitcoins in circulation had reached 17.72
Advancements in the IT technology sector globalized almost every single market in the world. People are exposed to more information and content than ever. This brings many opportunities but also
Blockchain is a form of distributed ledger technology. It has very specific technological features that differentiate it from other forms of a distributed ledger. Every transaction that blockchain processes is
If you are a bitcoin enthusiast or trader, you probably know that the markets are prone to price swings triggered by such things as government regulations, market news, and the