AION (AION)
Market Cap. $540.93M
Circulating Supply: 133.07M AION
Max Supply: 0 AION
Volume (24h) $13.15M
AION/USD rose and seems determined to climb much higher in the short term after the last minor drop. The failure to retest its dynamic support (resistance has turned into support) it has shown that the bulls are strong in the short term.
However, we still need a confirmation that the rate could increase significantly in the upcoming period. Price is ready to escape from an extended sideways movement so a valid breakout will confirm a further increase.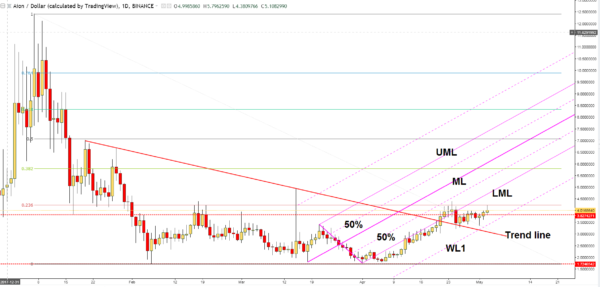 The AION/USD has finally managed to breakout above the downtrend line. It has come back to test and retest the broken dynamic resistance and now is struggling to climb towards fresh new highs. It seems like we have a valid breakout and the rate should make new highs soon.
AION/USD has jumped above the 3.8274271 static resistance, but we need a valid breakout to be sure that the rate will climb much higher in the upcoming period.
You can see that we had a false breakout above the 3.8274 level and above the 23.6% retracement level on April 24, that's why the breakout needs confirmation. The failure to approach and test the first warning line (WL1) of the ascending pitchfork has signalled another bullish momentum.
The rate will become strongly bullish only after a valid breakout above the lower median line (LML) of the ascending pitchfork.
Conclusion
You can go long on this crypto if the rate will close above the 23.6% retracement level and you could place your Stop Loss somewhere below the 3.3446578 former low. A breakdown below the WL1 could invalidate a potential upside movement. We have an important upside target at the 38.2% retracement level and higher at the median line (ML).
©Forex.Academy