As a brokerage firm that prides itself on its usage of innovative technology, CJC Markets offers account holders competitively fast trade execution times, multi-account management tools, and access to advanced trading platforms. The firm is headquartered in New Zealand, but it allows traders from around the globe to open an account, manage their portfolios, and place orders. Moreover, we found that CJC Markets' leverage to be amongst the highest offered in the brokerage industry. Their educational content, diverse trading tools, and user-friendly approach are 3 other great features about this firm. However, there may be certain limitations, as well, including geographical restrictions. Continue reading and learn more about what CJC Markets has to offer.
Account Types
CJC Markets only offer 1 account type, which is a traditional retail trading portfolio. However, they do have a Multi-Account Manager (MAM) services for professionals that manage multiple accounts (such as their clients' investments).
Minimum Deposits: NA
Spreads: NA
Commission: Varies
This broker has an introducing brokers program. After participants convince their friends or family members to open an account through CJC Markets, they receive a commission whenever their referral makes a trade. Because of this, the broker doesn't have an across-the-board commission policy. In order to reward and motivate introducing brokers, they may charge their referrals a fee when they trade. Yet, at the same time, other clients (such as those who found the broker online or through an advertisement) might enjoy commission-free trading. CJC Markets doesn't specify any minimum deposit requirements, nor do they show you their spreads on the website.
Platforms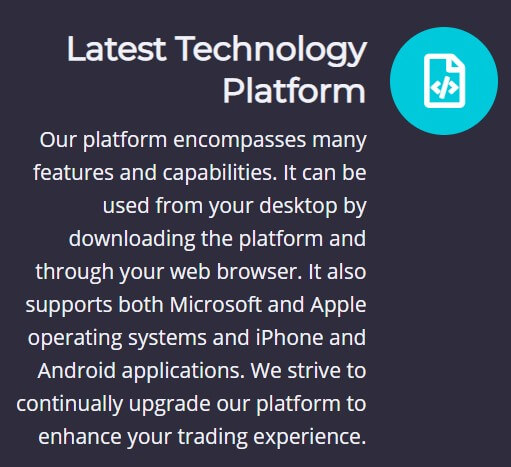 MetaTrader 4 (MT4) is arguably the most popular forex trading platform on the market. You can place orders, open or close positions, and transfer funds from any device, whether it's a desktop or a smartphone. Windows users can download the app directly from CJC Markets's website, the same applies if you have an iPhone and Android. Those with a Mac computer, on the other hand, may need to install special software (usually for free) before downloading MT4's app. Moreover, they have to do so directly from the platform's website, rather than CJC Markets's. However, there is a browser version, WebTrader, that is compatible with different browsers (such as Chrome, Safari, Firefox, ..etc.) and accessible on desktop devices (both MacBooks and Windows).
MT4 is popular because it is easy to use for all types of traders, including beginners and those who are transitioning from other trading platforms. In addition, the platform offers various technical indicators, aggregated live news streams, and different chart timeframes. MT4 also allows you to create a demo account. Users can trade different forex pairs, CFD contracts, and other financial instruments through this platform.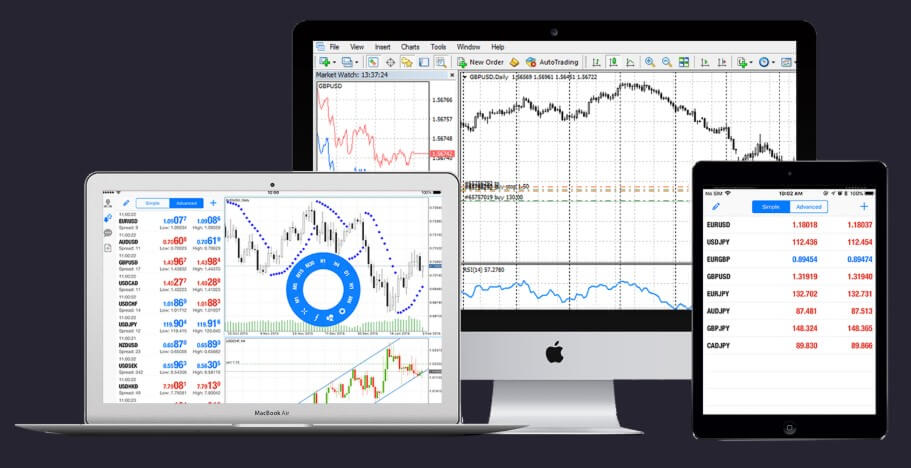 Leverage
CJC Markets offers very competitive leverage at 600:1. In most cases, brokers will offer up to 400:1 and firms rarely exceed that. CJC Markets's leverage applies to all ForEx pairs that they offer, which are mostly limited to major currencies. Amongst commodities, only gold (XAU.USD) has 600:1 in leverage. Silver (XAG.USD), on the other hand, is limited to 40:1. Crude US oil, crude UK oil, and the commodities offered through CJC Markets have 200:1 in leverage.
Trade Sizes
The standard lot is $100,000 (or 100,000 in the base currency) and the smallest permissible trade size is 0.01 lots. However, your volume cannot be more than 20 lots in a single position.
Stop-Out: 100%
CJC Markets doesn't have a specific margin call level. However, they do advise traders to immediately close positions that incur significant losses or, alternatively, deposit Moree funds into the account to minimize risks. Either way, if your balance falls below the 100% stop-out level, the broker will immediately liquidate your positions and close all trades after notifying you. It is very important to keep an eye on your available capital. CJC Markets warn that, even if your account falls below the stop-out level, there are circumstances where it could turn negative. This is especially true during volatile and fast-moving markets when trades become illiquid and difficult to close at a desirable price.
A price movement of 1 pip, for each lot, is 10 units of the quote currency. The exception to this is the Japanese yen, where a 1 pip change is the equivalent of 1,000 yens. For example, if you buy 1 lot of the USD.NOK, you gain or lose 10 Norwegian Krones on each pip that goes up or down. With the USD.JPY pair, however, your change in profits is 1,000 Japanese yens per pip.
Trading Costs
Positions that are kept open overnight incur a swap fee on each day-to-day rollover. Traders also have to pay spreads. To a great degree, CJC Markets has no influence on the amount of these costs. Swaps depend on the interest rates of the currencies that you buy or sell, which are determined by economic developments and central banks' decisions. Spreads, the difference between a currency or CFD's bid and ask prices, tend to be wider (and, therefore, more costly) during periods of high volatility. They also vary from one forex pair to another.
Commissions aren't exactly specified, mainly because CJC Markets sets those fees on an individual basis. For example, traders who found the broker online might have different commissions than those join CJC Markets because an existing account holder referred them. Moreover, the commissions are not fixed and can come in the form of a specified dollar amount per trade or as a percentage of the position's total volume.
Assets
You can trade up to 29 forex pairs, alongside the CFDs of 4 commodities and 7 market indices. CJC Markets only gives you access to major currencies, with the Norwegian krone being the only exotic one. In fact, you can only trade it through the USD.NOK pair. All of them share the same leverage (1:600), minimum trade size (0.01 lots), and maximum volume per position (20 lots).

The available commodities are US Oil (WTI crude), UK Oil (British crude), XAU.USD (Gold), and XAG.USD (Silver). You can also trade the 3 major US indices (the Dow, Nasdaq, and S&P 500). The other available 4 indexes are China's FTSE China A50, Germany's DAX 30, Hong Kong's Hang Seng, and Japan's Nikkei 225. All commodities and indices are traded as CFDs. CJC Markets doesn't provide traders with access to stocks or cryptocurrencies.
Spreads
Each currency pair and CFD has its own spreads. It is important to note, however, that CJC Markets utilizes the NDD Model. This allows you to immediately trade and exchange currencies with banks, which almost guarantees a much lower spread than going through third parties or platforms.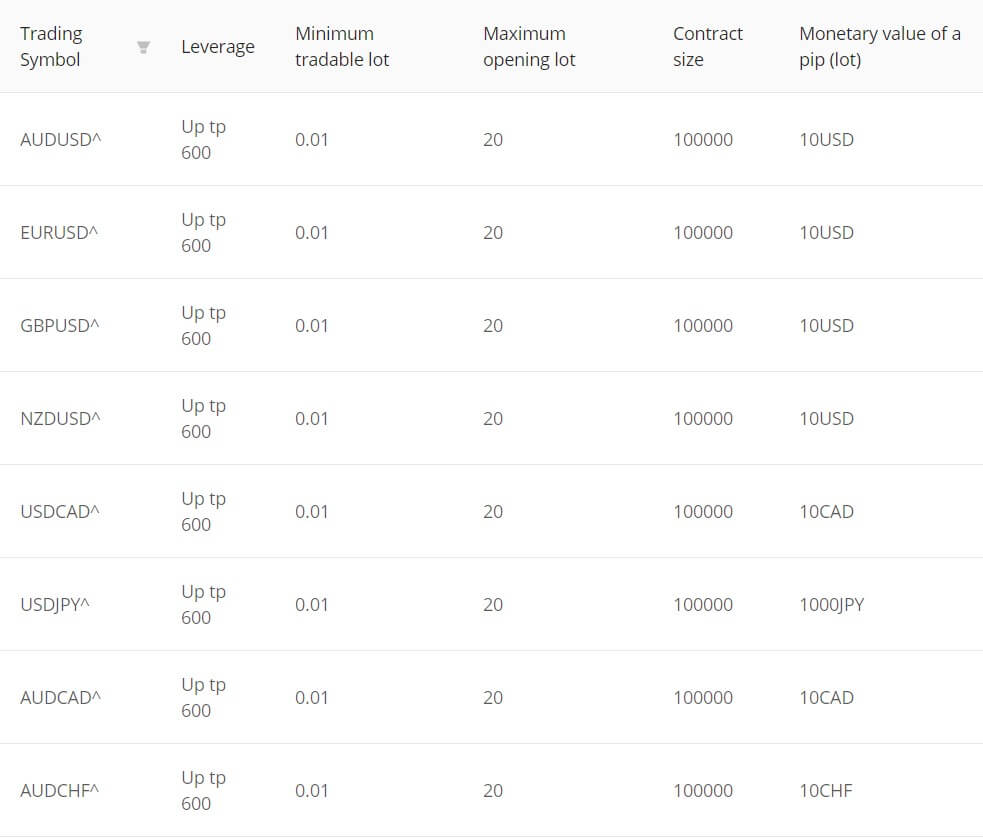 Minimum Deposit
CJC Markets doesn't offer any information about minimum deposits. Some brokers will let you start trading if you have enough money to buy the minimum contract size. CJC Markets may be one of them.
Deposit Methods & Costs
The only listed deposit method on CJC Markets's website is bank transfers. When you first apply to open an account, the broker will ask for your bank information. The initial routing and account numbers that you provide will be used for future deposits and withdrawals. Whether traders deposit funds in USD or NZD, CJC Markets will not charge them any transfer fees.
Withdrawal Methods & Costs
The same bank accounts that traders provide for deposits will be used for withdrawals. However, you can change your preferred transfer method if needed. Withdrawing funds via the New Zealand Dollar is free, but USD transfers are charged $25 per outbound transaction. Just as importantly, CJC Markets cautions traders that if their financial institutions need to verify additional documents, some banks might require additional fees.
Withdrawal Processing & Wait Time
No transfer times are specified on the broker's website, but missing or inconsistent information when making a transfer request can cause delays.
Bonuses & Promotions
CJC Markets has an 'Introducing Broker' program. When you refer other traders to the firm and they open an account, CJC Markets will pay you a commission. Most brokers that offer this type of promotion reward you on each trade that your referral makes. Others use an Introducing broker program to incentivize professionals who manage other people's money to open accounts for their clients. In turn, the broker pays the said professional a commission on every trade executed on a client's portfolio. CJC Markets encourage interested traders to directly contact them for more details about the introducing broker offerings. Apart from that, there are no ongoing bonuses or promotions offered by CJC Markets.
Educational & Trading Tools
This broker's website has a list of each currency pair alongside the leverage, minimum and maximum contract sizes, the value of each pip, and other trading specifications for each forex instrument. CJC Markets also outlines the different indices and commodities' details. There aren't any other educational and trading tools displayed. However, if you are a beginner, MT4 still has valuable tutorials and training content that CJC Markets's account holders can access. This comes alongside economic calendars, breaking news notifications, and other tools that both new and experienced traders can take advantage of.
Customer Service
You can contact CJC Markets by filling out a form on their website, giving them a call, sending an email, or visiting the broker's office (located in Auckland, New Zealand).
Phone: +64 (9) 2803716
Email: [email protected]

Demo Account
MT4's demo accounts enjoy access to live market prices, real-time trading conditions, and almost all other features that an actual portfolio has. It is perfect for beginners and traders who are new to MT4. You can test different methods and get comfortable with the platform before trading (and potentially losing) your real money. To open a demo, users complete a signup form on CJC Markets's website. After that, they can start trading fake/paper money on MT4.
Countries Accepted
CJC Markets is available to traders in different countries across the world, including the US. The broker is headquartered in New Zealand and registered with the company's regulatory government agencies. Traders who live in China or Hong Kong, however, cannot open an account with CJC Markets.
Conclusion
In short, the pros of using CJC Markets are the buying power, introducing broker promotion, and advanced portfolio management instruments. Meanwhile, the small number of forex pairs, as well as relatively confined trading and educational content, are the main cons. Aside from geographical restrictions, the broker's customer support team can be easily contacted. Additionally, CJC Markets's 600:1 leverage is highly desirable, so are many of the features that are offered on the popular MT4 platform, which this broker's account holders have access to.
However, some details, such as the spreads and transfer processing times, are barely mentioned on CJC Markets's website. Because of this, interested traders should get in touch with customer support to ask about the details that matter to their strategy and personal preferences.
CJC Markets's educational content only includes trading information about different forex pairs and assets that they offer, but account holders still benefit by accessing MT4's wide selection of tools and guides. This broker only offers 29 forex pairs, which is considered low when compared to the larger industry. They do, however, also have energy commodities and stock market indices.
CJC Markets only have 1 account type, alongside a multi-portfolio management service. In fact, this broker has especially lucrative features to those who oversee the funds of clients and business associates. For a start, CJC Markets's introducing broker promotions allows professionals to earn commissions whenever their client (or referral, such as a family member or friend) makes a trade.
When combined with the MAM service, this feature is very powerful and advantageous. Traders, in general, may uncover other benefits by inquiring about certain aspects, like spreads. It can suit those who use different styles and methodologies.