The price of Bitcoin Cash (BCH/USD) is preparing to develop a new rally that could take it to beat the previous highs of March, located in the area of 352.96.
BCH/USD, in its 4-hour chart, shows the advance of a potential upward impulsive sequence that began when the price found its bottom at level 133.67 last March 13th.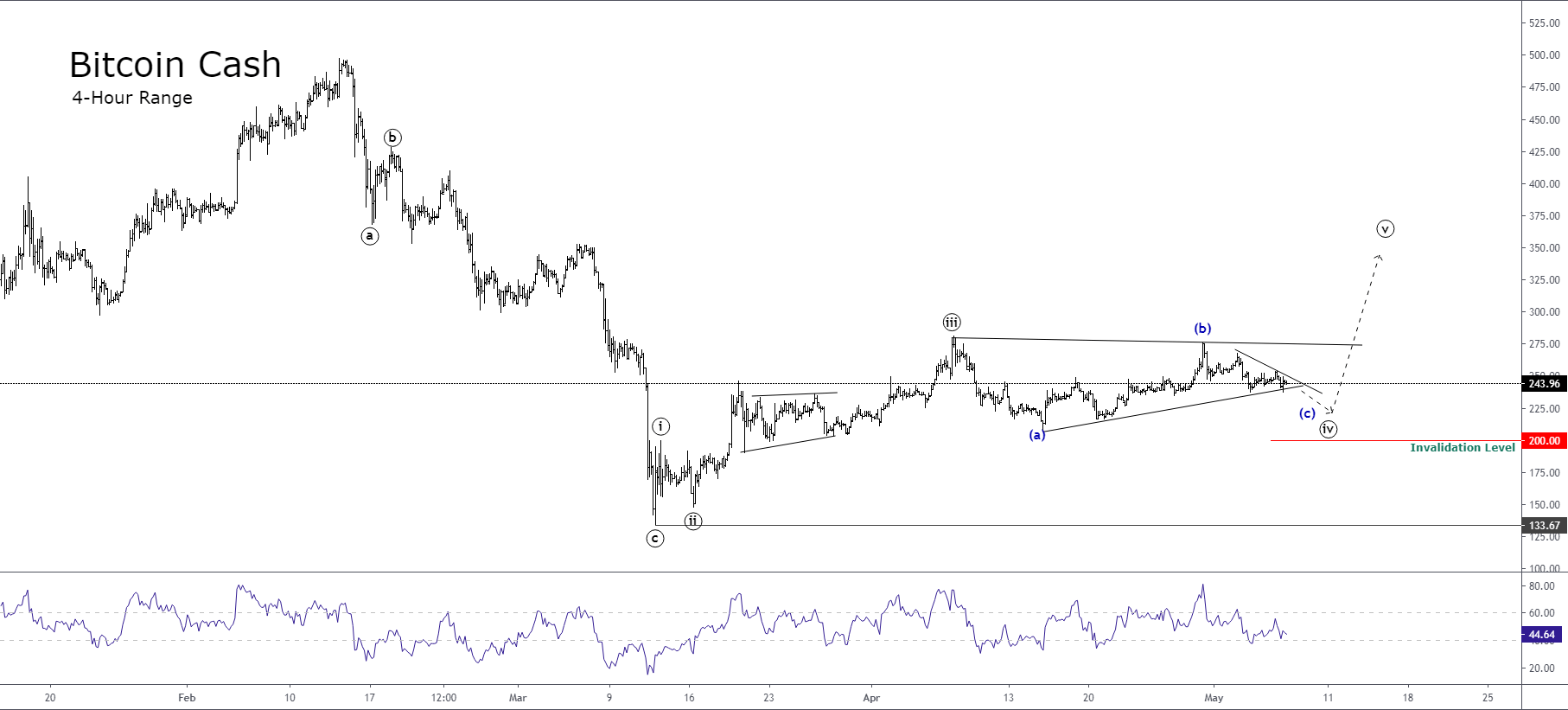 From the previous chart, we observe the price action advancing in its wave ((iv)) of Minute degree labeled in black. At the same time, this ongoing structural series is forming the internal segment corresponding to wave (c) of the Minuette degree identified in blue.
The wave (c) in progress began at the top of April 30th, located at level 275.95, when Bitcoin Cash completed its wave (b).
The internal structure of the wave (c) shows the intraday downward trendline joining the sequence of lower highs, which leads us to conclude that the short-term sentiment maintains on the bearish side.
On the other hand, according to the Elliott wave theory, for the long-term structural series to be a valid impulsive sequence, the wave ((iv)) must not penetrate the area of wave ((i)).
In this context, the corrective downward movement currently being developed by BCH/USD should not fall below the 200 level, which corresponds to the top of the wave ((i)).
On the other hand, one of the aspects that consider both the alternation principle and the construction of the extended wave indicates that an extended wave will be preceded or followed by a complex corrective structure.
Considering this Elliott wave concept, from the 4-hour chart, we observe that the current corrective sequence shows a level of complexity higher than the complexity level developed by wave ((ii)). Consequently, once the structural series of wave ((iv)) will complete, BCH/USD should perform a new upward impulsive movement that should present the characteristic of an extended wave, which could surpass the level 352.
In conclusion, as long as the wave ((iv)) of Minute degree does not finish, our preferred positioning will remain neutral, waiting for confirmation to enter on the bullish side that allows incorporation to the wave ((v)).